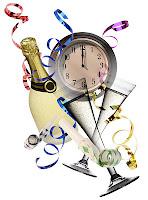 The New Year is upon us. For me it is always a double celebration. I turn one year older every year on the day before NYE. Yes, tomorrow is my birthday, so not only am I making resolutions for a new calendar year, but also for what I plan to achieve from one birthday to the next.
Now that I've reviewed my resolutions of 2011 (you can read how I did here), I'm ready to set new goals. Are you? Let's talk for a minute about how to set effective, achievable goals that won't get thrown out the window in 2 weeks time.
Set goals that you can keep. How?
Be specific.
Don't just say, "I want to lose weight." Say exactly how much you want to lose and make it achievable. Maybe losing 50lbs would be great, but in 12 months, a slow steady, healthy weight loss would be more like 25lbs. It's not as much, but it's easier to grasp.
Make a plan.
How are you going to lose those 25lbs? Are you going to go on a crash diet, lose them all in 3 months and spend the next 9 gaining them back? Or are you going to make small changes in your diet and lifestyle? 25lbs is just over 2lbs a month. You can do that. Incorporate more activity, even if it means you will just run up the stairs instead of walk or jog in place while you brush your teeth like I do (and I lost 10 lbs this past year). Small changes add up when it comes to calories too - take your Grande Mocha down to a Tall. You still get the enjoyment, but you've just cut about 300 calories! I apparently need to write a whole weight-loss post, so I'll stop here. You get the picture.
Stick with it.
Most people want immediate results, but that's not how healthy weight-loss happens or how any resolution is kept. Big changes require baby steps. Habits take 3 weeks to make or break. You might not lose 25lbs quickly, but one year from now you'll be happy to weigh 25lbs less than you do right now. If you do nothing, you achieve nothing.
So, on to my own resolutions for this year. Many say you should only make 1 or 2 resolutions, but I'm an over-achiever, so on with it!
By December 31st, 2012 I will have:
1. Lost the final 5lbs, putting me back at my pre-baby weight of 125lbs (that's 3 babies in 6 years, in case you don't know much about me). In fact, I'm really going to lose 7 and get to my truly happy weight of 123lbs. I'm only 5 "4, so this is a healthy weight for me.
2. Reduce my family's dietary intake of animal products to a maximum of 30% (that will help with my weight-loss goal!). I really want to get down to 20%, but I don't feel that's an achievable goal this year. We're at least at 60% animal based today, so cutting that in half will be a challenge, but one we can achieve. Watch for my review and recipes from Forks Over Knives coming soon! Read my brief review of the movie here.
3. Be a published, author, in print. The least I'll settle for is a contract and an advance for my picture book! I will also consider myself successful in this goal if I publish an e-book that sells!
4. Earn a viable income from writing. At the least, I want to earn enough to pay the bills and buy the groceries. At the most... well, why put a ceiling on income?! By this time next year, my writing will support my family and income earned from our retail business will be extra. Goals #3 & #4 go hand-in-hand, I think.
5. Give my blog a face lift. This one is already in progress (do you like my changes so far?)! Who says you have to wait for the ball to drop before getting started on those resolutions!
There they are! My 2012 New Year Resolutions. What do you think?
What are yours? What is the one resolution most important to you and what is your plan to acheive it? Leave a comment and let me know! Putting it in writing is a good first step!