2 posts in 1 day...oh yeah! Today is special, because I get to post about a link party that I took part in :)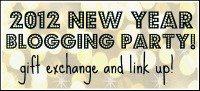 Each blogger was given a partner. Then those 2 were supposed to get to know each other and send a gift that seemed to fit their partner. Just a fun way to get to know new bloggers - and I'm so glad that I participated!
Before I show you the gift that I got, I want to introduce you to my new friend, Elise! Go check out her blog, Sparkle at Twenty-Something :) She's been blogging since April of last year & she tries to sparkle everyday. She likes doing yoga, pinning on Pinterest, & snuggling. Plus, she's such a sweetheart! 
The gift she got me was PERFECT for me!



I'm an earring junkie, so needless to say, I'm stoked about adding these to my collection. You did an awesome job, Elise - thanks girl :)