Home: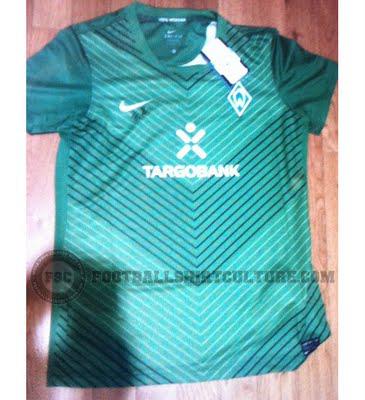 3/5 Stars
Werder Bremen has certainly had some interesting designs over the years, and this one is definitely an improvement on
last year's look
.  The poor quality image doesn't help with the first impression, but it's definitely continuing to grow on me even as I continue to write.  I'm a big fan of pinstripes, and the alternating colors in the V-shaped pattern give the shirt a nice effect.  The Werder Bremen logo has always been a favorite of mine, and it pairs nicely with this design.  The sponsor logo is also not entirely off-putting.  I may have to jump the rating up to a solid four.
Away: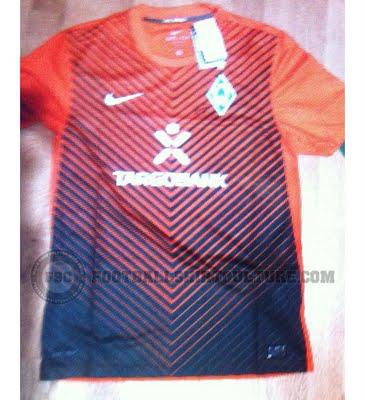 2/5 Stars
There is obvious symmetry between the 2011/12 home and away kits for Werder.  I'm not thrilled about the color scheme on this shirt, just as I wasn't about
jack-o-lanterns
Chelsea sported last EPL campaign, but I
will
admit I'm in love with the color-fade idea.  I'm expecting (hoping) it's a little more appealing when a better image of the shirt is released, and I'm not completely sold on the overall look as of yet, but it definitely has potential.