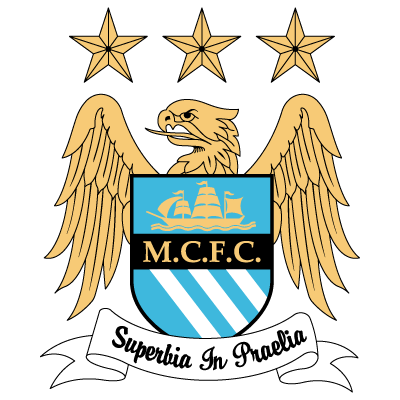 Manchester City
Last year: 3rd
City have officially bought their way into the Champion's League.
And good for them. While I'm by no means a City fan, I appreciate the added parity to one of the most imbalanced leagues in all of sports.
It's no secret City have been buying up every top player willing to move to Manchester. From the summer of '09 to the start of the current transfer window, City have brought in Garreth Barry, Santa Cruz, Kolo Toure, Emmanuel Adebayor, Carlos Tevez, Joleon Lescott, Jerome Boateng, Toure Yaya, Kolarov, Mario Balotelli, James Milner, Edin Dzeko, Adam Johnson, David Silva, and Stuart Taylor.
They've cut back on their incoming transfer volume this year, thus far only bringing in Sergio Aguero from Atletico Madrid, Stefan Savic from Partizan Belgrade, and Gael Clichy from Arsenal. Savic and Clichy will bolster a defense that gave up only 33 goals last year, tied for fewest in the league. Savic, only 20 years of age, will have an opportunity to learn and develop under, obviously, one of the better defensive clubs in world. Clichy is a depth move. The entire Citizen defense is returning and will likely see an equal amount of playing time as last year. City faced setbacks last year due to injury concerns, especially in the heart of the season when clubs are competing in up to four separate competitions. That's where Clichy comes in. He's an experienced left back that will likely be used interchangeably with Kolarov and Micah Richards, depending on form and fitness.
Sergio Aguero is the showpiece of the group, costing city somewhere between 35 and 38M pounds. Aguero scored 27 goals in 41 total games for Atletico Madrid last year, adding to the harem of attacking options City already possess. He's a young striker (23) ready for consistent minutes and immediate contribution. He'll be fighting for minutes though, as City have several big money options up front.
It's looking more and more as though Carlos Tevez will remain in Manchester, at least for this year.  Though heavily linked with a move to Argentine side, Corinthians, the deal wasn't able to be completed.  City will be happy, however, as they managed to hold onto their co-golden boot winner that they weren't looking to give up in the first place.  I expect he and Aguero will get a lot of the early nods up top, and Adebayor to eventually go back out on loan until they decide what they want to do with the enigmatic striker long term.  Speaking of enigmatic, Balotelli will likely continue to come off the bench - if for no other reason than the amount of toes he's stepped on in the short time he's been with the club.   
There is no reason why City won't remain relevant in the Premier League for the foreseeable future. For the first time in three years, the Blues have an opportunity to share the pitch with some familiar faces. As their continuity and familiarity rise, so will their success.