With Thanksgiving, Gløgg, and a nearly comatose long weekend behind us, it's time at last to take a look back at this year's Brewfest hosted by the Pittsburgh Rugby Club. Held on November 19th – seemingly ages ago now – in the Saddle Ridge/Bar Room/Steelhouse complex at Station Square, Brewfest brought together nearly 30 breweries including local talent, national brands, and international giants.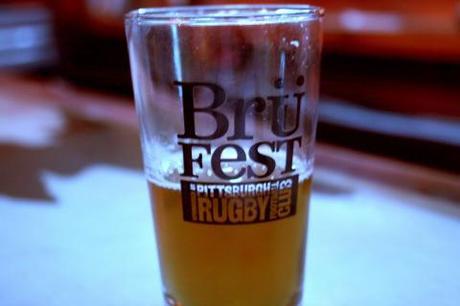 2011 Pittsburgh Rugby Brewfest
Initially Shanna and I wrote to the organizers to ask about covering the event (read: mooch free VIP passes) but almost immediately we were offered the opportunity to serve on the panel of judges. Now, as booze bloggers I can see how we might be mistaken for authorities on the subject. However, our blogging process has generally followed the three step method of research, taste, and post. In this way we're learning and exploring booze right along with our readers. We never claim to be experts, just thirsty. And yet, when asked if we'd like to drink as much fantastic beer as we possibly can, provide our opinions for serious consideration, and not pay a dime – why, it's as if the word "no" never existed.
So on the day of the event we arrived at Station Square just before the doors opened for an hour of VIP-only access. The Brewfest was spread out over three interconnected establishments, each starkly different in atmosphere and décor from country saloon to dance club to sports bar. Now maybe I'm exposing myself as a 25 year old grumpy old man, but I really much preferred the VIP hour to the chaos that followed. For that first hour we were able to take our time, talk to the brewery reps, and be heard without shouting to the person next to you. You know, an atmosphere that's generally conducive to tasting and judging good beer. But as the place filled up, the music got louder, the lights got dimmer, and the lines got longer. I began to think that this must be were frat parties go when they graduate.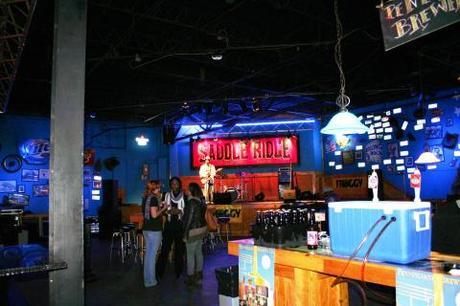 Before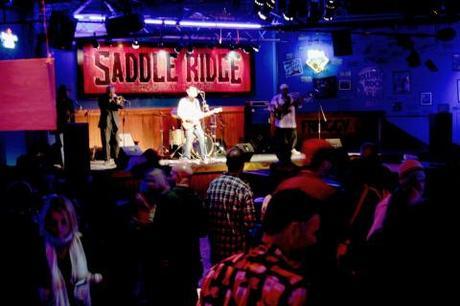 After
All that aside though, there was a tremendous sampling of beer on hand. Big names included Guinness, Blue Moon, Magic Hat and Sierra Nevada alongside national craft breweries like Harpoon, Great Lakes, Brooklyn, Southern Tier, and Rogue. And though a few of these larger-scale labels brought some pleasant surprises with them, these are essentially known quantities. A Brooklyn Lager, while one of the better lagers on the market, is no different at Brewfest than the dozen or so I've knocked back in a bar. I was really more interested in the local boys, and with good reason. Among the Pittsburgh-based brewers we sampled beers from The Three Rivers Underground Brewers, Penn Brewery, Duquesne Pilsner, Milkman Brewing, and The Church Brew Works.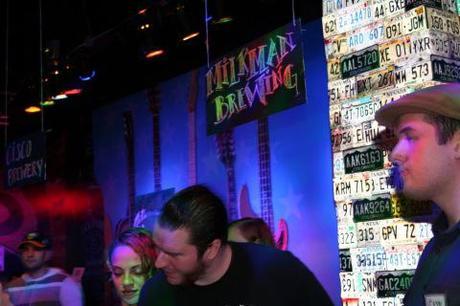 Local champs Milkman Brewing
Hops are definitely on the rise, as they have been for several years now. Despite autumn and winter traditionally being stout season, a large percentage of the contenders were hopped-up IPAs. Last year's champ, actually, was Southern Tier's 2xIPA. They made a strong showing again this year, along with the IPAs from Great Lakes and Rogue. But without question, this year's winner was Milkman Brewing's Peppercorn Rye Ale. Having sampled over a dozen beers after visiting the Milkmen's table and letting a week slip by before writing this article, I wish I could give you an accurate description of the winning beer. Suffice to say that it was bold without overpowering, strong enough to be noticed in a sea of IPAs, but complex enough to delight the tongue. I certainly would take any opportunity for a second taste.
What made Milkman Brewing's victory all the more impressive is knowing that at present the brewery consists of four individuals who are essentially home brewers. Milkman Brewing is not currently a commercial enterprise, though you can help change that. The Milkmen (and Milklady) are running a Kickstarter to get their operation off the ground. At time of publishing they have 50 days left to reach their goal and are going strong at just over 25% funded. They still need your support though. IPTB has already pledged $30 to help ensure that we'll have a reliable source for that fantastic Peppercorn Ale and you should do the same.
Overall, despite crowds and loud country music, the 2011 Brewfest was a fantastic event. Anything that puts good beer in the hands of people who truly enjoy it can't help but result in a good time. Not to mention the heap of money and food that was donated to the Greater Pittsburgh Community Food Bank. If you have an opportunity to attend next year, do so. And make sure to put up the extra $10 for the VIP pass.
In the mean time, check out the rest of our photos below.
This slideshow requires JavaScript.