This weekend we took an extra long drive up to Pittsburgh to check out Handmade Arcade. It was my first time at a cool craft show where I wasn't a vendor. How nice to have time to look around! My first purchase was at My Paper Crane. I have bought from her online shop and from Spoonflower but I never had time to spend at her booth when we were vending at the same shows so it was nice to be able to say hi.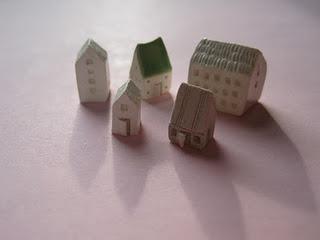 How amazing are these little houses from The Oak Leaves? These will definitely be finding a home in the studio apartMac.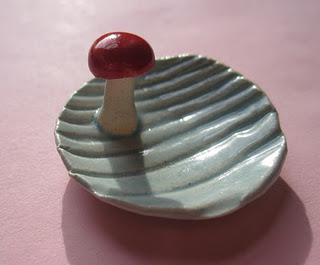 For the dollhouse we also bought this cute mushroom birdbath. I'm sure Tasha McKelvey calls it a ring holder but we have other plans. I wish I had bought more but I was a little overwhelmed by the cuteness.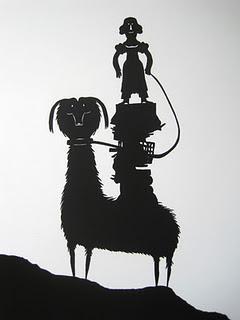 I love everything that Renee Ruth had out there. It was so hard to choose but I'm happy with this. It's really amazing. Her papercuts are phenomenal. This is a bad photo.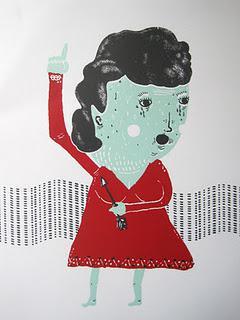 This print by Kin Ship Press is too cool. Z picked it out for her room. It's perfect. And it was only $5.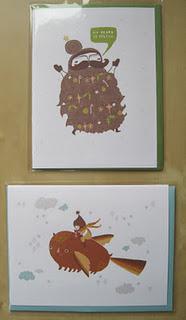 I loved everything at Laura George but my budget wouldn't allow it. I had to settle on these cards. The beard will become part of the permanent holiday collection. I'm going to frame it and hang it on the wall. Next time I will plan to buy an original.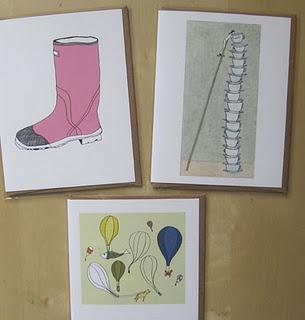 Finally, we picked out a few cards from Sloe Gin Fizz. Lots of cuteness. I like her style. These wellies will probably hang in Z's room too (once we figure out how to hang pictures without frames just in case we have another earthquake.
I also bought a funny shirt for my nephew but just in case he's reading I won't post it.
Overall, it sucked to have to pay so much for parking but with a toddler in tow, we weren't willing to park anywhere else. I was surprised that the things that bothered me as a vendor bothered me even more as a shopper: super loud music (I think we're there to buy stuff, not dance or see a concert) and food. While the food was really good, there wasn't much of a selection. I think craft shows should always have food so the shoppers stay longer. If you get hungry and leave to eat, there's a pretty good chance that you won't bother going back. I remember before that there were more local vendors. I am assuming that the venue wouldn't allow it.
The vendor selection, as usual, was pretty broad. I would like to have seen more kids clothes but I know (having been there) that it's a tough market.