2011 Hairstyles For Girls
Short Spiky Hairstyles for Women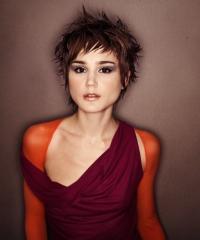 Short hairstyles have gained a lot of popularity among many women who let go of the idea that in order to be sexy you should have long tresses. As a result short hairstyles for girls now have a greater variety and the versatility of these hairstyles has increased dramatically. Short spiky hairstyles are on the top preferences of women of all ages so check out a few spiky hairstyles for inspiration to see if they might suit you.


Due to the incredible diversity of hair cutting techniques and the multitude of styling techniques available short hairstyles have come to be one of the top choices for women of all ages. Several female celebrities have willingly gave up their long locks in favor of shorter, edgier and sexier hairstyles, contributing to the development of this interesting hairstyle trend. With the huge selection of hairstyles available, any girl can find a hair style to suit her face shape as well as her personality and preferences. As far as the the styling methods use to style short hair, most women like to create spikes to highlight the style of the cut as well as for adding edginess.
The style of the haircut, the hair texture as well as your face shape are all factors you should take into account before deciding to go short to be able to get the best results. Spiky short hairstyles are generally not recommended for those who are trying to minimize the length of the face but they can be successfully pulled off by those who have square faces. You should also be aware that if you have fine hair it will be very difficult for you to get punk spiky hairstyles as these generally require athick hair texture.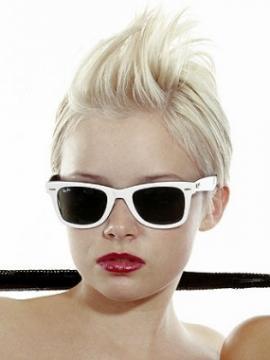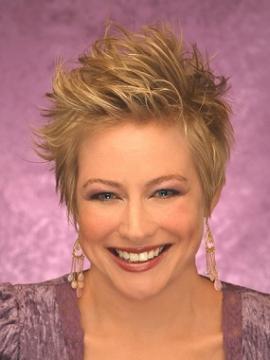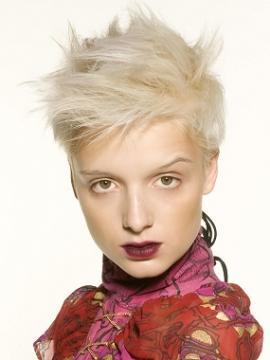 Another aspect you should think of when choosing a short haircut is what are the features you should draw attention upon and which are the ones that you would rather hide. If you decide to go super short, you won't be able to camouflage any of the facial features that might bother you. On the other hand your key features, like your eyes and your lips will be on the spotlight, increasing your attractiveness.
While short hairstyles tend to be low maintenance if you want interesting, modern hairstyles, you have to be prepared to invest time when it comes to styling, at least at first. However, once you get used to to the basic technique it will get a lot easier to find hair styling shortcuts that will be allow you to get out of the house quicker. When you are going for short spiky hairstyle regardless of whether you go for edgy hairstyles or you are just trying to get a little volume on the crown of the hair, the styling rules are basically the same.
You first distribute a generous amount of gel evenly on your tresses, you then apply hair wax or hair mousse depending on the style you're going for and you use your fingers to create the desired shape. After this step is completed it is generally recommended to apply hairspray for a stronger hold. If you need touch ups during the day the only thing you need to do is to use a small amount of water to reactivate the hairspray.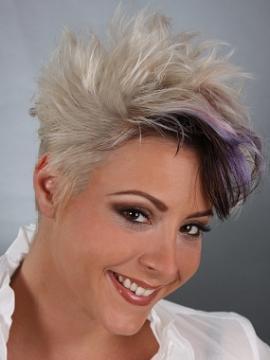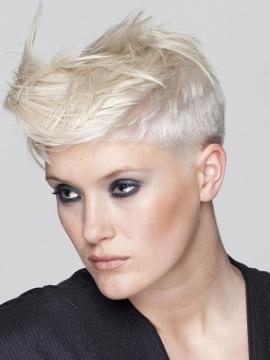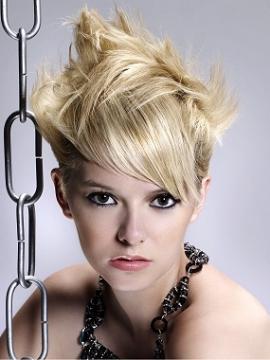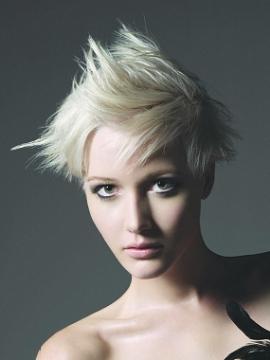 While these techniques can apply to almost any short spiky hairstyle, it is up to you to find ways to make the hair style stand out. To be able to get original hairstyles you will have to experiment with a lot of different styling techniques in order to have a better understanding of what hairstyles are going to work best for your hair as well as your personality. You can get easy variations of the same hairstyle by altering the hair texture, the height of the spikes or even accentuate different hair sections from different parts of the head. If you use hair products with a light hold, you can alter the style of the hair multiple times during the same styling session.
While wavy and curly hair might prove to be more challenging when trying to get this kind of hair style, they also offer you the possibility to break the patterns and to create more interesting style. Although it might take you more time to get the style you want, if you keep an open mind and use your ingenuity wisely you will surely be pleased with the results you will get.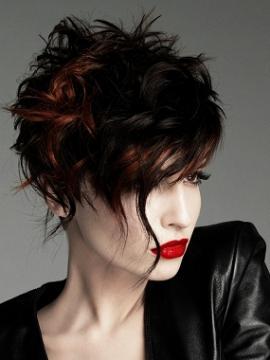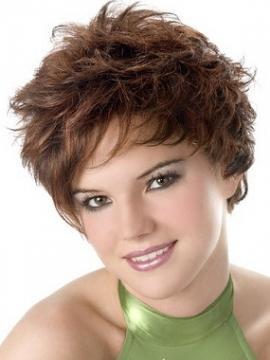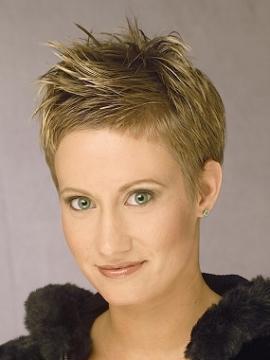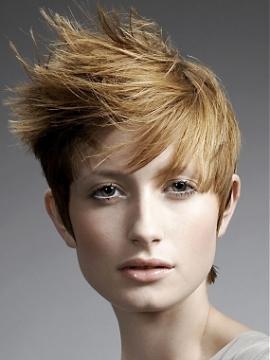 Cute School Hairstyles for Girls

Hairstyles are very important for school or for any occasion, so try to inspire your hairstyle from the following cute school hairstyles ideas for girls. Your stylish appearance will count for you as well as the people surrounding you so care for your tresses.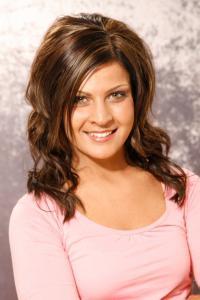 There are a variety of cute school hairstyles for girls for you to choose from depending of personal preference and obviously hair type and hair length. The type of hair is very important when choosing a hairstyle as it can turn the hairstyle into a disaster. Fortunately there are a variety of styling tools and products available for hairstyling which can give your hair a temporary change in texture.
Cute hairstyles for girls are meant to offer you the stylish look you need to benefit from as style doesn't keep count of age. Caring for your physical appearance can only be beneficial for you as femininity and beauty are strongly related to maintaining a beauty ritual. Because different hair lengths require different hairstyles try to inspire yourself from the following cut school hairstyles for girls:
For short hairstyles
Short hairstyles offer you the advantage of being trendy as they are among the most popular hairstyles of the moment. Because of the hairs length you can also benefit from a low maintenance hairstyle, but the downside to short hairstyles is their versatility. 
Short hairstyles
 don't offer as many styling options as longer hairstyles but still, if the right haircut is created one can style the hair in various ways. It is important to choose a versatile haircut which features longer hair cut on top and shorter on the sides. This is a popular hairstyle which will allow you to style your hair straight, curly, messy, spiky, in a quiff, etc. Try to use the right styling tools and products for your hair type and be as diverse with your hair styling as possible. Opt for 
hair accessories
 if you wish as they can give your hair little bit of a twist.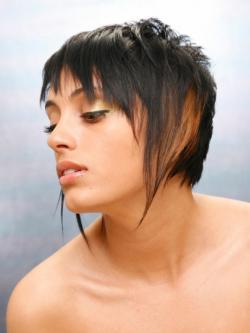 Photo by Tom Carson, The Brown Aveda Institute, Mentor, OH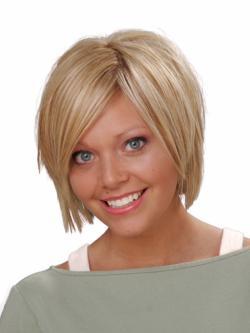 Photo by Tom Carson Hair by Future Wave, Oregon, OH
For medium hairstyles
Medium hairstyles are the hair length preferred by the majority of girls and women as they offer more versatility that short hairstyles but they are a lower maintenance than long hairstyles. If you have medium hair try to opt for loose straight hairstyles, curly or wavy loose hairstyles, messy buns, ballerina bun hairstyles. Bob hairstyles can do wonders for most girls so they can be a great solution for you as there are a variety of bob hairstyles to choose from. Style your hair using the proper hairstyling tools and products for your hair type so you can look fabulous.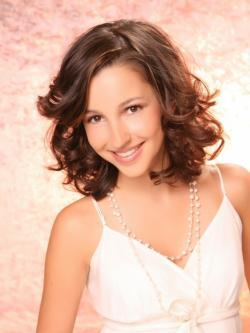 Photo by Tom Carson,Yellow Strawberry Global Salon, Sarasota, FL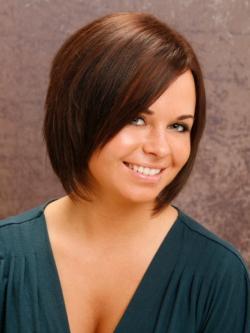 Photo by Tom Carson, Bella Capelli Sanctuario, Westlake, OH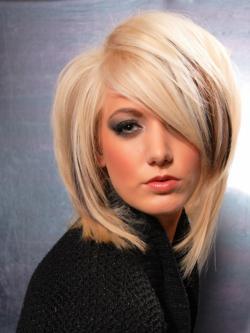 Photo by Tom Carson, Ladies & Gentlemen Salon & Spa, Mentor, OH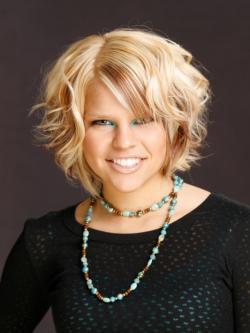 Photo by Tom Carson, Sheer Professionals Salon, Wooster, OH
For long hairstyles
If you have long hair your hair styling options will be endless. Long hairstyles benefit from the most versatility but the styling time required is also the highest. For school you can choose to leave your hair down and style it straight, curly or wavy. For a more interesting approach you can try half-up/half down hairstyles, pinned up hairstyles, ponytail hairstyles, braided hairstyles, bohemian hairstyles, scene hairstyles. Be diverse and choose a different hairstyle every time you wish. You will look fabulous and enviable for sure if the hairstyle suite your facial features.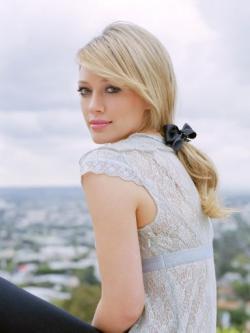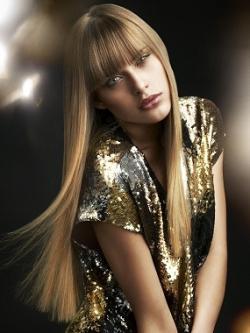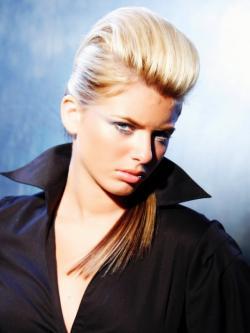 Photo by Tom Carson, Angelito's Hair Co. & Spa, Somerset, PA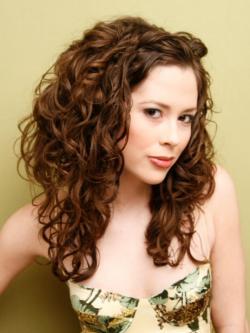 Photo by Tom Carson, John Roberts Salon & Spa, Cleveland, OH
Spring/Summer 2011 Long Hairstyle Trends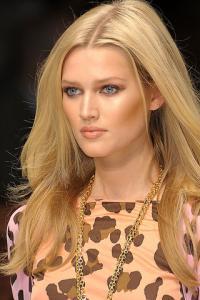 Embrace your natural beauty for spring/summer 2011 whether we are talking about straight or curly hair. Silky, smooth, healthy, tousled locks are perfect for a sweet and chic look, while sexy waves are a great way of spicing up your long hair by adding bouncy texture. Besides, ponytails, chignons, top knots, braids and the already famous slicked-back hair represent some of the hottest spring/summer 2011 hairstyles for long hair.
Natural, classic and elegant represent those timeless trends that will never go out of fashion. They are versatile and practical and allow you to make different hairstyles appropriate for various occasions.
Long, natural, free hair seems to be one of the hottest hairstyle trends for spring/summer 2011. A natural look for perfect holidays in the sun. This is one practical look for summer as it allows you to style your hair without giving the impression of trying too hard or being too sophisticated, but still be able to get a feminine hairstyle. Moreover, the 2011 warm season marks the comeback of the middle parting for long hair, a clear, straight parting for an almost flawless symmetry as spotted at Burberry Prorsum or D&G.
As for the colors, the sun-kissed look is so hot even when it comes to your hair especially for long tresses. There are different versions for the natural-looking hair next season. You can go for the simple touch specific for summer and keep your hair as natural as possible, even messy, or you can opt for gentle waves or curls in order to add movement and volume as seen at Tommy Hilfiger or Anna Sui. On the other hand, for a super glamorous and sexy look you can choose to make beautiful, chic curls (John Richmond) and set the parting on one side (Sonia Rykiel) for a retro, feminine look.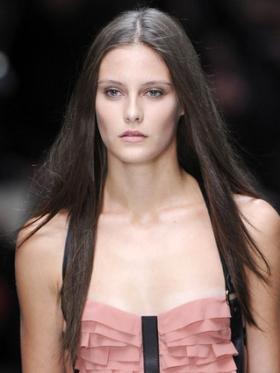 Burberry Prorsum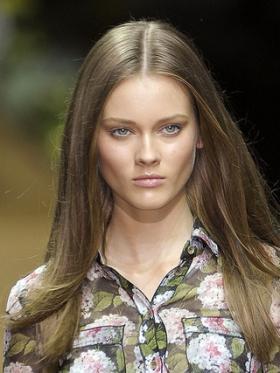 D&G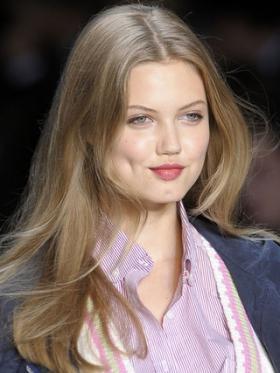 Tommy Hilfiger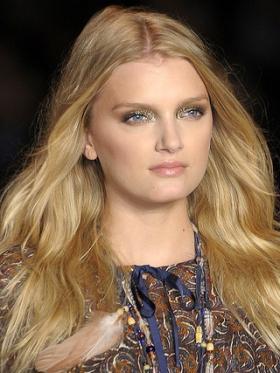 Anna Sui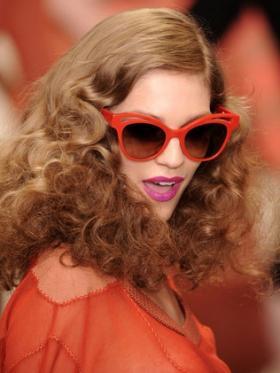 Sonia Rykiel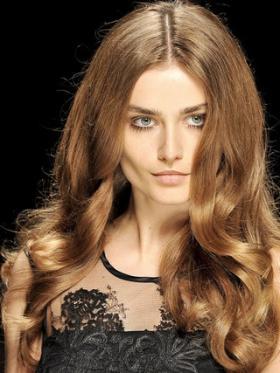 John Richmond
There is no summer without the classic ponytail. A timeless choice that will never go out of style, the famous pony comes back season after season with newer versions, reinventing itself and adapting according to the trends. For spring/summer 2011, it comes in different stylish variants from the most simple, playful to retro-chic or elegant ones.
The ponytail is no longer a way to make your hair or a lifesaver on a bad hair day, but it can be chic, worn both for a daytime look or for an evening event. You can wear it at the nape of the neck with a lock of hair hiding the elastic band such as seen at Issey Miyake for a business meeting or with a backcombed effect such as spotted at Celine.
As summer is all about colors and youthful appearances, you can dare the girly ponytail with a fine French braid (Lacoste). For a bohemian look, try to add a colorful scarf at the base of the ponytail (Blugirl). This will instantaneously transform a simple, common hairstyle into something more elegant, yet feminine and romantic. When making a ponytail make sure the hair is smooth and straight by running your fingers through your hair. If you realize that the elastic band is too low, divide the pony in two and gently and simultaneously draw towards the sides. The ends should be parallel with your shoulders.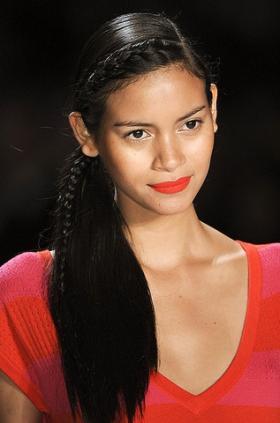 Lacoste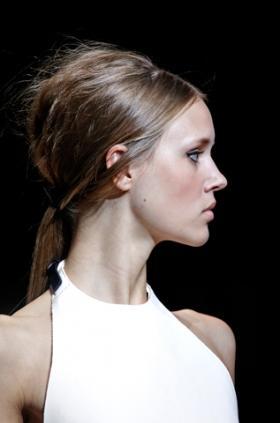 Celine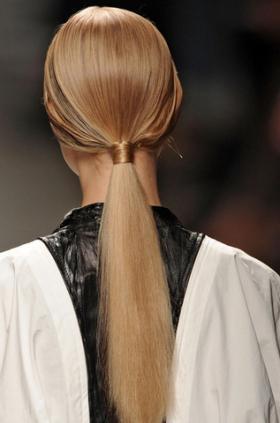 Issey Miyake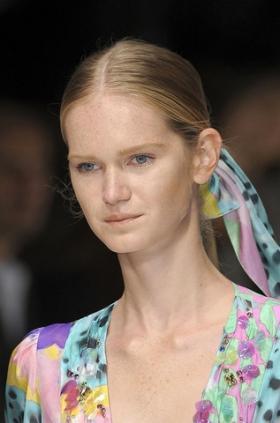 Blugirl


Following the trends, hairstyles reinvent themselves every season based on different visions and ideas. However, despite every possible trend, elegance and femininity have always been "in". The beautiful and the classic will never go out of style. And what better way to be elegant, classic, yet very modern than trying a chignon? Spring/summer 2011 brings so many different versions for every taste and style. The best two things about chignons are their amazing versatility and practicality. You can adapt a simple bun (Dolce & Gabbana, Diane von Furstenberg) to various outfits and events.
If what you want is something more classic and chic, you can go for a higher bun (Oscar de la Renta) that seems to flatter everyone. This is the symbol of the flawless elegance, a perfect option for a formal event that requires a sophisticated, feminine look. Make sure your hair is perfectly smooth and straight before making the bun. Another versatile bun is the one seen at Nina Ricci. Set at the nape of the neck with a slight effortless touch, this is the right option for romantic girls that want to emphasize their innocent and sweet character with the appropriate hairstyle.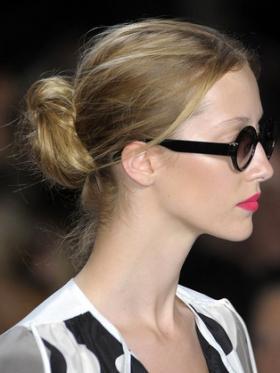 Diane von Furstenberg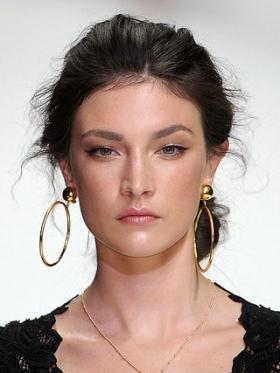 Dolce & Gabbana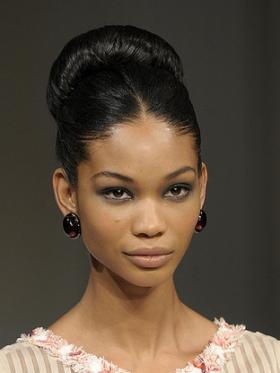 Oscar de la Renta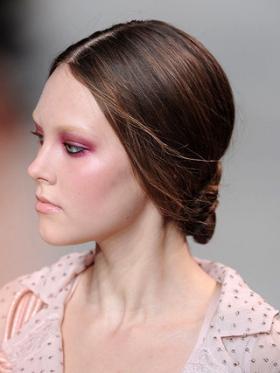 Nina Ricci


If you are more the playful type, a top knot will seduce you without any doubt. A quick and easy hairstyle you can make in an instant without too much effort. A youthful, messy top knot that seems to remind us of the fresh and soft look of a ballerina. It works great for both straight or curly hair adding high drama to a day or evening outfit. For spring/summer 2011 forget the too-tight-to-the-head knot and wear softer versions with face-framing flyaways. The effect will be a girly look that matches perfectly with soft pink lips (Z Spoke by Zac Posen). You can make a statement and embellish your top knot using different hair accessories (Moschino).
Last summer, braids were everywhere and they seem to make a strong comeback for spring/summer 2011. Braiding your hair allows you to be creative and play with different styles. The hardest thing is to learn how to manage your hair and make more complex braids. If what you need is something more simple and casual, opt for a basic braid that you can make in no time. Dishevel hair was replaced by a more polished look with healthy, long, shiny braid (Hermès). For a more hippie look, try to make bohemian braided hairstyles as seen at Erdem.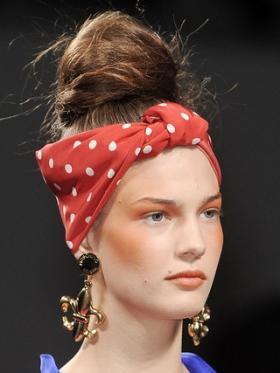 Moschino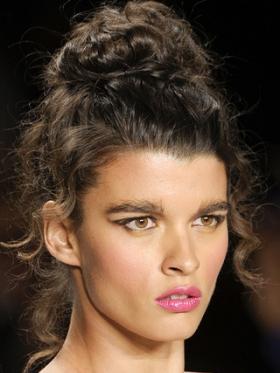 Z Spoke by Zac Posen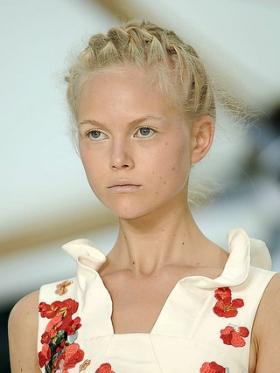 Erdem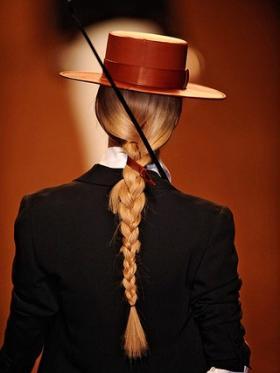 Hermes


The wet effect will be one of the hottest hairstyle trends for spring/summer 2011. Spotted on many fashion runways, slicked hair exudes an interesting combination between masculinity and femininity. The warmer season allows you to use the wet effect in order to create different, stylish hairstyles. You can try a minimalist approach prevailed in the form of sharp partings and tight chignons (Gucci and Yves Saint Laurent), or you can opt for a glassy shine and leave the ends dry and loose (Dries Van Noten). You just need a wide tooth comb and some soft wax or a special hair gel with a dense texture and long-lasting effect. For a more interesting result, leave the marks of the comb visible (Kenzo). As the facial features are fully exposed by a wet look, this hairstyle is not flattering for everyone.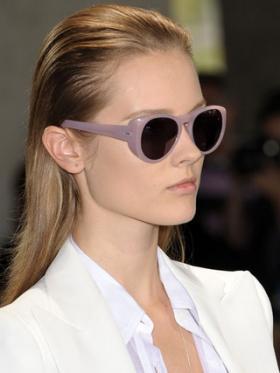 Dries Van Noten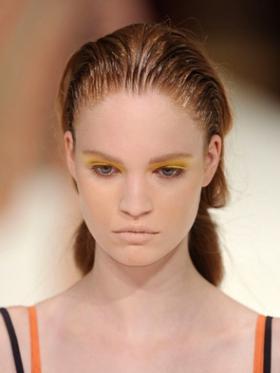 Kenzo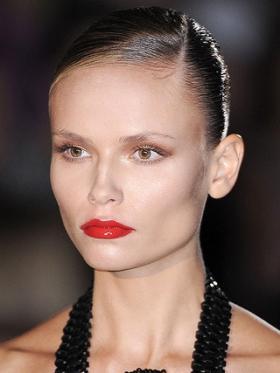 Gucci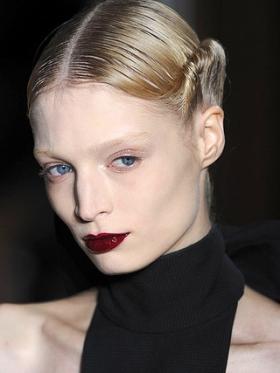 Yves Saint Laurent


Photos via style.com

Best Anime Hairstyles for Girls
Anime hairstyles are increasing in popularity so check out the most desired and popular Anime hairstyles for girls so you can look just like your favorite character!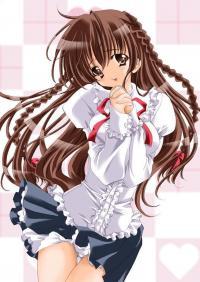 Anime cartoons have exploded in popularity since they were first created in Japan and they have become a source of inspiration for people in real life. Anime cartoon characters look great, the really big eyes, the gorgeous looking hairstyles and the fabulous clothes take people on a dream journey, in which everything is perfect.
Because cosplay (costume play, dressing up like a cartoon character) is a new trend which is taking over, more and more people opt for Anime hairstyles and costumes that resemble their favorite Anime character. Because making the right choice is not easy, we have selected some of the best Anime hairstyles for girls which can be created through different hair cutting and hair styling techniques:
Bob hairstyles
Sleek straight bob hairstyles are very popular hairstyles for girls among Anime characters and not only. It is absolutely essential to choose the right type of bob and the most common bob hairstyle worn by Anime characters is the classic cut bob. When choosing a bob haircut it is essential to take the face shape into account as your face shape needs to benefit from the cut in order for the desired result to be obtained. Straighten your tresses using a flat iron to obtain a fabulous and flawless sleek straight bob just like your favorite Anime.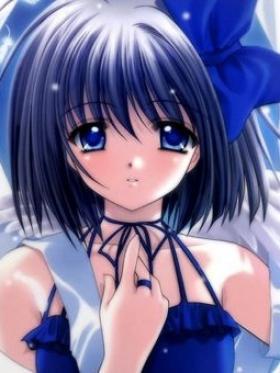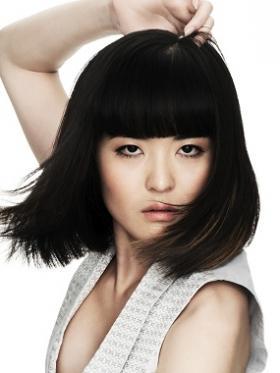 Long layered hairstyles
Long layered hairstyles look amazing and can allow you to benefit from a great amount of versatility when it come to hair styling. Choosing a long layered haircut will allow your tresses to receive the right posture and bring out the facial features.
Most Anime characters featuring this type of haircut have their tresses styled sleek straight as this type of hairstyle benefits the most from the hair layers incorporated.
There are a variety of hair styling products and tools available to allow you to create perfectly straight tresses so purchase the right hair products for your hair.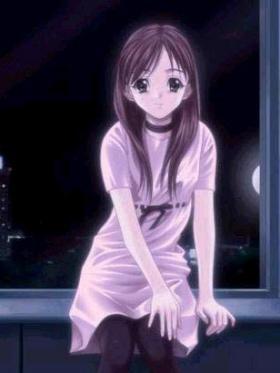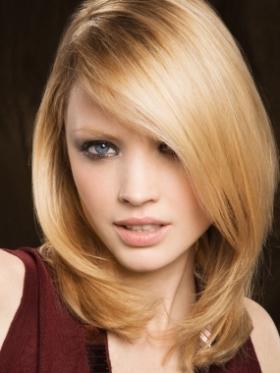 Extra long hairstyles
Everyone loves long hairstyles as there is just something that acts as a magnet of beauty. Gorgeous and perfect for wavy hairstyles, extra long hairstyles can be easily achieved using hair extensions. There are a variety of hair extensions types available to choose from just so you can find the right type for you. This type of hairstyle can be worn long or tied up into a ponytail as these styles are the most popular among Anime characters with extra long hair. Give the hair the right hair texture using the right hair styling products so your hair will receive the desired shape.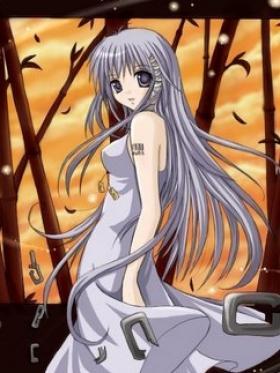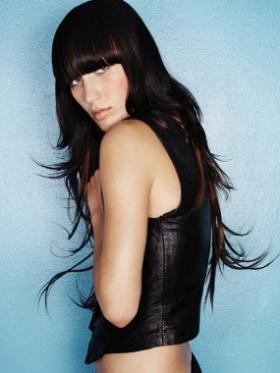 Bangs are highly popular among all Anime hairstyles so choose the right bangs style for your face shape. Choose the Anime hairstyle that suits your personality, face shape and hair type best so you can be admired by everyone for your great Anime style.
Short Hipster Hairstyles for Girls
A cool hipster style asks for hip hairstyles! If you've decided to go for the quickly emerging fashion trend of hipsters you might also consider sporting your tresses according to hipster textbook style. Make sure you go for edgy and mainstream trend-busting hairdo to pull off a dazzling look. Look for inspiration for short hipster hairstyles for girls below!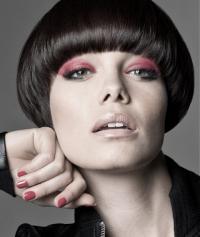 Hipsters are often associated with the tribute movement of the Beat Generation. Indeed their world view opposes rules and mediocrity. They are IN and not PART Of society. This is one of the main principle to adopt when joining their party.
Hairstyles reflect their attitude, asymmetry and sharp angles as well as the effortless look all are signature traits of hipsters. As the devoted fans of this anti-style more and more teens go for a spontaneous haircut often done in their own room.
Hipsters sport their tresses at all lengths, experimenting with colorful methods to flash their fashion-forwardness. Refusing to adopt the mainstream and especially celebrity hairstyle trendsthey opt for unique accessories and hairdos.
If you're flirting with the idea of a hip hairdo you should pay special attention to these styling tricks. Pair your hoodie and skinnies with a brand new eye-popping short cut.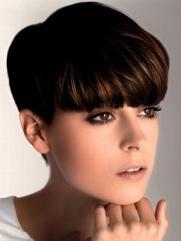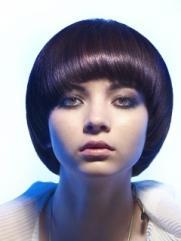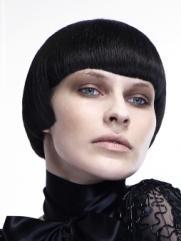 Short crops are top favorite hairstyles of hipsters since both society and fashion in general is dominated by long cascading tresses. Those who are true to hip style principles, make the cut to sport these fab hairstyles. Moreover as a must have accessory of the do, they opt for blunthairstyles with bangs.
Pulling off the retro and futuristic hybrid look they transgress the barriers of the traditional hair styling. Bowl-cuts and polished looks are trademarks of hip girls.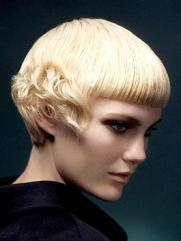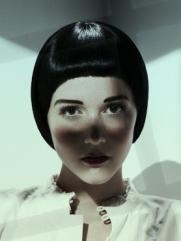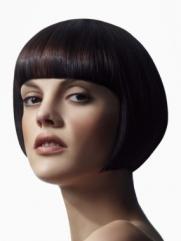 Exposing their face is another compulsory element of the hairstyle. The XXL bangs are real faux pas among the hipster groups. Instead they sport either short baby or eyebrow-sweeping bangs that will add a classy and ultra-polished flair to their image. Choppy layers are also no-no options. The barriers of feminine and boyish cut fade shaping the tresses into unisex hairdos.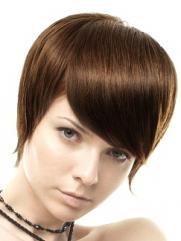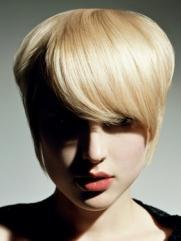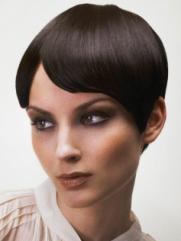 Unclear partings and extremely fixed angles and lines further polish the hip look. Hipsters by standing in the way of fashion control establish their own rules for styling their strands. In order to distance yourself from the mass trends it is essential to keep the sophisticated and kitschy look.
This you can achieve on the spot by ditching out all the latest fashion magazines and experimenting with the colors and snips that lead you through an overall hip makeover. Whether you ask the help of a hair stylist or you launch a one man project the point is to draw some inspiration from the artful fellow hipsters' look.
Easy to Do School Hairstyles for Long Hair
Hairstyles are of great importance for girls, but it is the time spent styling the hair which poses a problem. Here are some stylish easy to do hairstyles appropriate for school and not only so you can look fabulous every day.


Looking gorgeous doesn't keep count of age and easy to do school hairstyles for long hair are meant to make girls all over the world look fabulous. Hairstyles are very important in physical appearance, this is why it is important to take good care of your tresses. The right hairstyle can complete your look and take you from simple to fabulous in an instant.
Hairstylists have created a variety of easy to do hairstyles just so you can look gorgeous every time with a minimum effort.
Short hairstyles can easily be styled especially if the right cut is performed. It is the long hairstyles which are the most difficult to style, as long hairstyles are more versatile, but require more styling time than shorter hairstyles. Girls usually opt for long hairstyles because of the hair's versatility. Styling your hair will now take you only a few minutes so you can have more time for yourself while still looking fabulous.
Pulled back hairstyles
Buns and chignons are very popular as they are one of the quickest ways to style your hair and look chic.
Mini buns are very popular this year, so not only will you benefit from a trendy looking hairstyles, but you will be able to style your hair in just a few minutes.
This is a hairstyle perfect for "in a hurry" moments when you just don't have the time to style your hair.
To create a bun you will only need a scrunchy or a hair elastic. Pull your hair back as low or as high as you desire, similar like you would do for a ponytail. Wrap the elastic around once or twice, then twist and pull half of your pony through and continue wrapping the hair elastic until the hair is stable. The end of the pony will look great and you will look fabulous with no effort.
Loose wavy hairstyles
This hairstyle has become very popular as several celebrities are sporting this look. Ke$ha is one of the celebrities which has inspired girls all over the world when it comes to tousled wavy texture.
This look is very sexy and can be easily created in minutes. You will need a hair dryer with a diffuser and a strong hold hair mousse to create this hot look. Apply a bit of mousse into the palm of your hands and gently distribute it throughout the hair. Take the blow dryer, apply its diffuser, flip your head down and scrunch your hair before applying the diffuser. If you don't wish to receive hair volume, you can dry out your hair while standing straight.


Ponytail hairstyles


Ponytails are appropriate for casual as well as more formal occasions as you can easily dress it with fancy accessories to match any outfit you desire.
You will need a fine tooth comb and a hair elastic to create this lovely and easy to do hairstyle. Using the fine tooth comb pull your hair upwards holding it in place with one hand. Another option would be to flip your head over and pull your hair in the desired place.
Secure the pony tightly with the hair elastic and you're all set. With a rat tail comb your can lift some of your hair up to create a small hair bump at the base of the pony for a more glamorous look.
Braided hairstyles
Braided hairstyles look fabulous and can easily be created on any type of hair. You can choose braided pigtails, braided ponytails, braided bohemian hairstyles, etc. Learn different hair braiding techniques so you can benefit from a versatile hairstyle as often as you wish.
Make sure to allow yourself a little bit of time for styling as your hair will make you look gorgeous if styled right.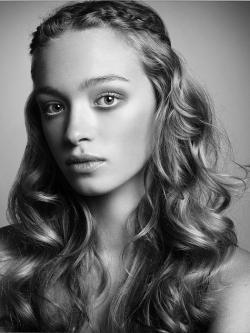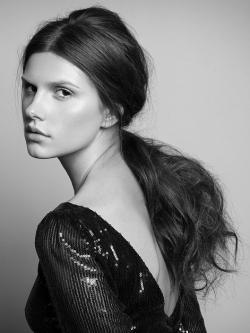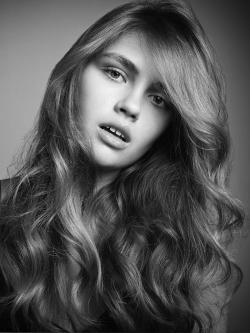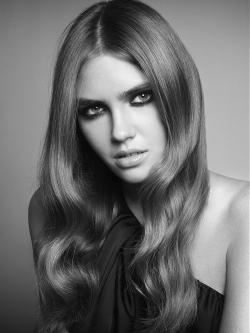 Hair and photos by: Headmasters Artistic Team