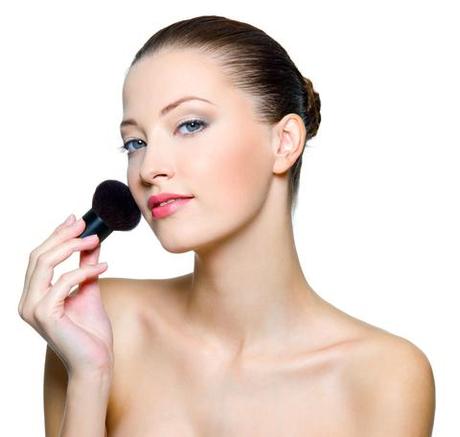 Welcome to the 2011 Annual Girl's Beauty Newsletter.  This year, I decided I would release this to all "The Girls" and not just my close circle of friends.  This newsletter was emailed out yearly until my son was born in 2004.  After a 6 year hiatus, a friend prompted me to write another one and a different friend compliment it: "You write well. You should write a blog." That is all it took. My blog style website was born. Thank you to all "My Girls" for their continued support.
Grab a cup of coffee and sit down so we can move onto this year's scoop.
Products:
I love product.  However after having to give several plastic tubs full of product to my sister upon our departure abroad (knowing that they would not survive 2-3 years and now 6 years in storage), I have stopped buying so much.
Here are my favorites for the past year: Senna cosmetics Form-a Brow kit, Mac Fluidline gel eyeliner in black, Chanel's Inimitable mascara in black, L'Oreal's Absolut Repair Masque, Jo Malone's Vanilla & Anise Cologne, and L'Occitanes's Cleansing and Soothing Almond Shower Oil.
Senna cosmetics Form-a Brow Kit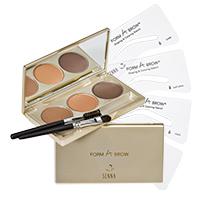 I go to movies because I love studying  facial features, eyes and brows in particular… the windows to the soul.  Have you noticed the varied shapes of women's eyebrows: thin, plucked, penciled in, immaculately shaped?  Nothing beats a good brow.  I have just never been able to achieve this "good brow" look.  And as we age, ahem did I say age, our brows thin. This can be worsened by over plucking and waxing.  So careful ladies with how much you wax off after you turn 30, you may end up "browless".
One day, I noticed my friend's brows on a trip as we got ready side by side, I watched her whip out a stencil put it over her brow, dab a brush into a pressed powder and instant gorgeous brows. Not over done just simply beautiful.  I wanted that!  She was quick to share as all our good friends are.
The kit comes in 4 color palettes with 3 shades in each palette (there is even salt and pepper), 2 brow brushes and 3 sizes of stencil: fine, natural and full. Surprisingly, I preferred the fine stencil.  It retails for $43 on their website which is a bit steep but I tell myself it will last a long time.
Bottom line:  If you want gorgeous immaculately shaped brows get the kit.
MAC Fluidline Gel Eyeliner in black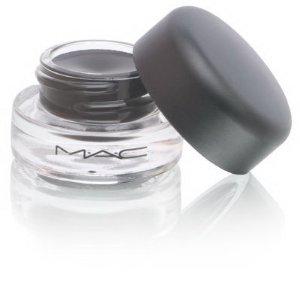 I bought the MAC gel eyeliner (Fluidline)by mistake.  I thought the above same friend (can you tell she has a good taste and style) was using MAC.  Turns out it was smash box gel eyeliner, not MAC.  The first time I applied the MAC, I was hooked.  It glided on with ease.  You can layer it to make a fuller line if you desire and it is easy to apply right to the lash line so there is no hideous gap between eyeliner line and eyelashes.  I felt compelled to try the smash box as well so I did and then later gave it to the above friend.  My vote is the MAC. It is slightly creamier thereby going on easier.  This was even before I knew it was listed in In Style's Best Beauty Buys for 2010.
Bottom line: Goes on easy because of the creamy texture and allows you the control to make a fine or full line.
Chanel's Inimitable Mascara in black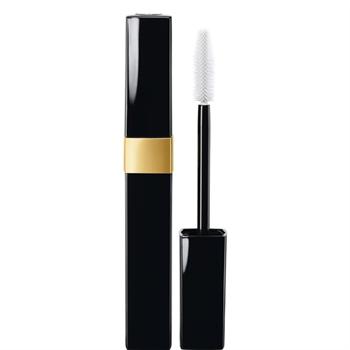 I have abandoned (perhaps temporarily) my previous favorite mascara:  Christian Dior's Diorshow Unlimited mascara in black for Chanel's inimitable mascara in black.  They are both very similar.  The Dior Show did allow for reapplication later in the day without clumping which the Chanel did not do as well at.  However, The Diorshow Unlimited did not last long.  It  needs to be replaced after 6-8 weeks vs. the Chanel which lasts  4+ months.  $24.50 for the Dior and $30 for the Chanel.
Note, I haven't given up my love affair with the Diorshow. It is really good but maybe it is the one I buy and only use for special occasions. Another girlfriend who lived in the region questioned whether it didn't last as long here due to the heat.  Will have to try it out over the summer when we are back in the United States and get back to you.
Bottom line:  For mascara that lasts and makes your lashes look gorgeously long this is the one to buy.
L'Oreal Absolut Repair Masque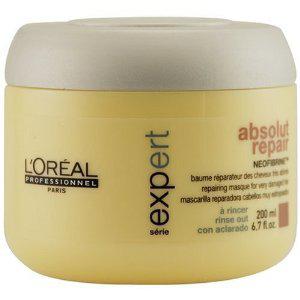 Kerastase was my former favorite.  But L'Oreal and Kerastase are reportedly part of the same company so this would explain why I like the L'Oreal so much.
Bottom Line:  It makes my dry sun, chlorine abused hair, super soft when I blow it out.
Jo Malone's Vanilla & Anise Cologne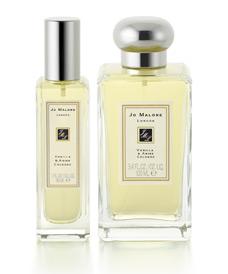 I tend to wear only one cologne for a long time.  Currently Jo Malone's Vanilla & Anise Cologne is my signature scent.  Sometimes I layer the vanilla & anise with English pear and freesia.  Although I just noted on their site that this is not what they recommend in combination (Orange Blossom and Nutmeg & Ginger is recommended)
I know a cologne is right for me when a friend or my sister says, I could smell you even after you left as they smile because they were reminded of my lovely scent.  My sister liked it so much, I bought her a bottle for her 40th birthday last year. Friends compliment this scent all the time.
In 2000, my signature scent was Yohji Yamamoto's Yohji (now discontinued which is the case with many of my favorite products). A sales associate at Nordies recommended the Yohji. In fact, most of my recommendations come from others. I wasn't convinced by the recommendation so I put it on and continued to run errands.  Within a very short time, 3 separate complete strangers commented on the cologne.  Not just saying that they liked it but raved about it.  It was an unusually positive response so I bought the cologne.
Other past signature scents have been: Light Blue by Dolce & Gabana, L'Instant  by Guerlain (this one I smelled on a friend and wanted to eat her. Get your mind out of the gutter, not in that way!).  .
Bottom line:  Absolutely beautiful.  The perfect scent for me.  If you don't like this one (would be surprised if you didn't),  there as so many others in the Jo Malone range that you can try.
LOccitane Cleansing and Soothing Almond Shower Oil
I received this product as a gift.  The scent is light.  I noted the  refreshing smell it left in my bathroom even a couple hours later.  Quite a novel idea to combine a cleanser with an oil.  My mildly eczematous skin loves it. It is not as oily as you would imagine.  Still, don't wash your face with it unless you have dry skin.
Bottom line:  Great refreshing scent and great skin cleanser/softener
The one product I tried but cannot recommend (despite it being on In Style's 2010 best beauty buys) is Sugar's Tinted Lip Treatment ($23 USD).  I wanted something I could swipe on for a bit of color at anytime of the day even while parked at a light.
Let me paint you a picture of how this looked on me.  Imagine I am 8 and I just got my first lip gloss in the widest imaginable size.  I put it on and look in the mirror and see perfection when I am 8.  But now I am an adult and with the wide size of the lip stain it is almost impossible to apply with precision so when I  finish applying I look 8.  I could use a lip brush but that defeats the purpose I bought it for. It is very expensive "play make up" for a toddler now.
In lieu of the above, I would recommend Clinique's Almost Lipstick in Black Honey ($22.50), a universal lip color. Don't let how dark it looks scare you as it goes on sheer. Or try Benetint's rose tinted lip and cheek stain($28 USD).  With the latter you would have to apply a gloss on top.  The Benetint gives your cheeks a nice rosy glow as well.
The product I haven't gotten around to trying but have been meaning to after being plagued by an endless infomercial is "Meaningful Beauty" of which Cindy Crawford is the spokesperson for.  Her French dermatologist developed it.   Because who wouldn't want to look like Cindy?  Let me know if any of you have tried this product line!
As a last little note, I was walking through an American airport last month; I couldn't help but notice a new beauty magazine, titled just that: "New Beauty".  My verdict is still out on this one.  At $9.95 an issue (ouch, I didn't' pay attention to the price when I bought it), it is packed with information but unfortunately, the layout made it difficult for me to determine if I was reading an ad or an actual article. But as the whole magazine is laid out this way then you have to assume was that it is an article.
What intrigued me was the "Test tube" offer.  Quarterly, you get to sample product and then report back.  It is not free as I initially thought; 24.95 for each quarterly shipment plus 8.95 for shipping.  It would be a good way to sample products at a fraction of the cost and not end up with tubs of wasted product.  I broke down and signed up for this only because you can cancel at any time.  I will let you know how it goes and whether the product makes it to Qatar via our US aramex address.
Normally the newsletter includes some fashion, life, and health tips but I have run out of space.  Let me know if you would like to hear more.  Love to hear what your favorite products are! Hope you enjoyed your cup of coffee and the product review.
Disclaimer:  Please note, I am not paid to promote any of these products aside from the few that are linked with Amazon which makes me a whopping 6% of each sale which I hope you realize is not enough for me to associate my name with unless I truly like and use these products. Additionally, I do not receive any product for free from any of these companies.  Although, they are certainly welcome to send them to me at any time!