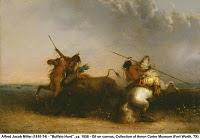 Prairie by Brian Evenson
is a "Zombie Tale" of our Pioneer Past, when Pioneers had to do things that were often left out of the annals of history.
 Genre: Zombie Horror
Length: 4 pages
Writers Craft Reviews
The historical blend of reality and fantasy makes an interesting read.    Evenson gives a diary of a pioneer family on the journey west and the tragedy that occurred on the way.  The story was influenced by The Silver Web Cabeza de Vacca's sixteenth century account of crossing North America after being shipwrecked.   The day to day account gives the story an immediacy that can not be ignored.  I found Prairie by Brian Evenson in the Living Dead Volume One Edited by John Joseph Adams.


We have consumed the remaining provisions.   We eat the living when we ferret them out, and have eaten the horses as well.  Still the prairie continues without cease. (227)


I also appreciated the amount of details that the author chose to put in the story.  When he describes a gruesome act he does not go overboard, but uses just enough information that we can see that it might be too much  for the character to record.


We struck a fire and ate what we could of the newly dead, then slit back the sack. Inside were two gray and curled women who stumbled away when released. We rode them down and coupled them severally. Later, we directed their movement by ropes slung about their necks. Later still, we ate their fleshly portions.



Often one does not need to be gross to be scary. (227)