The Tottenham home kit was leaked here a few short days ago, but it's now been officially released: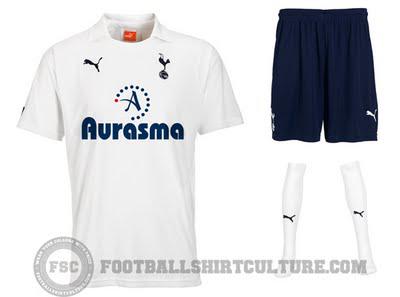 0/5 Stars
Oh how I rue shirt sponsorships. The plain-front version of this shirt was at least classy; the sponsored version looks flat out cheap. The lack of any secondary design or trim whatsoever draws unwanted attention (at least in the eyes of everyone outside of Autonomy - the parent of the Aurasma technology) towards the sponsor. Granted, it seems to have done its job. Looking into Aurasma a bit more, turns out it's a nifty little piece of technology. Check it out.
You're welcome, Autonomy.
--------------------------------------------------
Oh yeah, they went purple: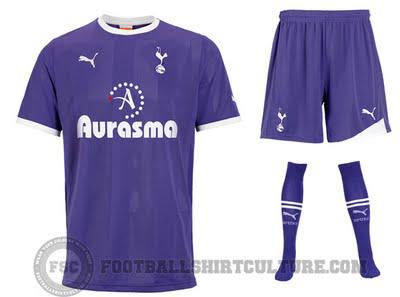 5/5 Stars
I'll preface this by noting not a single shred of fabric in my closet is purple. That said, if I were any kind of Spurs fan whatsoever, I'd have my pre-order in for this shirt ASAP. The color and fabric look very rich, and there is subtle, thick striping throughout the template. The white trim around the collar and sleeves is a perfect offset for the boldness of the purple, and it performs exactly the opposite effect on the sponsorship than the home whites do above; if I don't focus on it, I can barely tell it's there.
Oh but they didn't stop at the shirt. They went purple on the shorts and socks as well. Of course the color will turn off several critics automatically, but surely everyone can agree it at least trumps the lightning pink Everton away kit of the 2010-11 campaign. A solid five stars from this critic.
--------------------------------------------------
To complete the trifecta, here's a look at the Tottenham third shirt: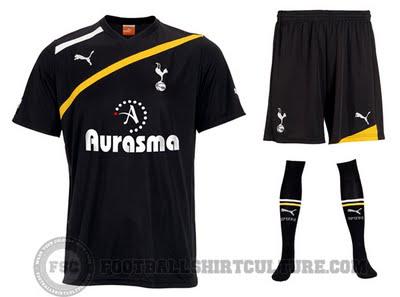 2.5/5 Stars
This third kit can be found somewhere in between its home and away brethren. By my estimation, in fact, it can be found exactly in the middle. I've admitted on record more than once that this is not my favorite Puma template, and this design certainly does nothing to change that opinion. The black is trimmed in white and yellow, which is a much less polarizing color scheme than the purples above. It will look good on the pitch, but it's certainly not an instant classic.
--------------------------------------------------
And here are the three keeper shirts for the 2011-12 season: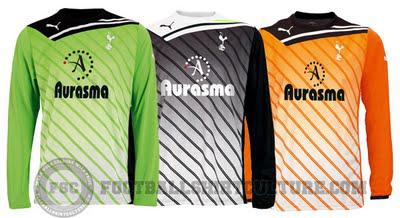 Typical for Puma. 


I like the black one the best.  




That is all.