Swansea Away Kit: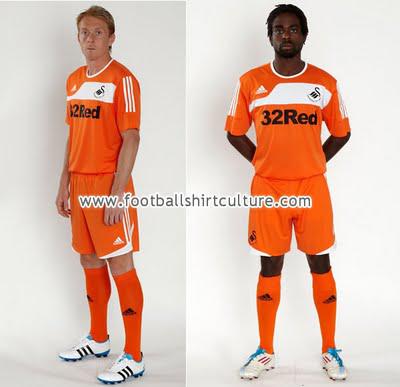 2/5 Stars
With a predominately white/black color scheme, Swansea City has a lot of freedom on the away kit.  I'm not exhaustively familiar with Swansea's kit history, so I boned up a little.  While their away kits remain a bit of a mystery, the Swans had about an eight year stint of orange integration into the home whites, starting circa 1959.  Well, they've brought it back in a big way.  Orange shirts, orange shorts, orange socks.  It's certainly a page out of the Dutch National Team's playbook.  
I'm a fan of the color.  In fact, I have sunburst metallic orange truck.  Also, here's a picture of a Gibbon I took.
I'm not going to say I'm in love with the shade though, and it certainly doesn't top Blackpool's 2010-11 kit.  I think it's the quantity of the orange.  Also, why is the Adidas symbol white on the shirt but black on the socks?  Either way, the shirt by itself is a winner, and I don't think any Swansea supporter will hesitate to rock it during their club's first Premier League campaign.