Last night was a Trivia Night for me, so I was busy preparing for the evening, but I did manage to catch the video of the ceremonies at Fenway Park honoring the 2004 World Series Champions.
The champs came in on duckboats from center field, with championship trophy in hand, and throwing baseballs to the fans. Great seeing Terry Francona, as well as Nomar Garciaparra and everyone else who could be there. (All players who wore the Red Sox uniform in 2004 were invited.) There were a few who obviously couldn't be there, like the guys on other teams now, such as Derek Lowe, Bronson Arroyo and Dave Roberts. There were all seen on the video with messages to the fans. (Interesting that there wasn't one of Kevin Youkilis.)
Noticeable by their absence was Curt Schilling, Johnny Damon, Doug Mirabelli and Bill Mueller. My pal Jere was there, and also noted that Pokey Reese and Curtis Leskanic were among the missing as well. And speaking of Jere, he was in attendance for the ceremonies last night, and took some great shots and video of the event. Check it out here.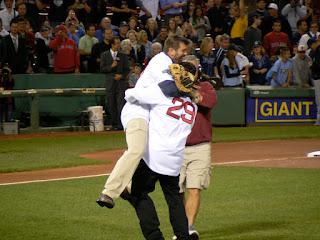 My favorite of Jere's pics is probably this one above. Keith Foulke threw out the ceremonial first pitch to Jason Varitek. And then Tek ran over to him and jumped into his arms, recreating the beginning of the celebration after that famous final out that ended the 86-year drought. Classic stuff.
For a brief time last night, it made us all forget the mess the Red Sox are right now. It brought back some of the most cherished memories I have as a baseball fan. Thanks always, 2004 Red Sox. For me, it will never, ever get old.