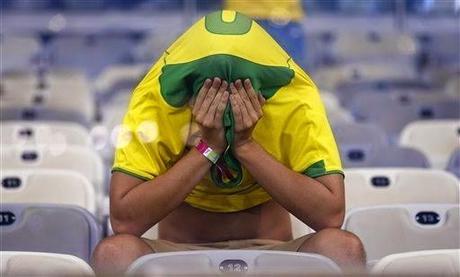 Germany stomped all over Brazil in yesterday's World Cup semifinal, 7-1. To say it shocked the sports world would be an understatement.
As the destruction was taking place, I was trying to find the best American equivalent to what was taking place. And I found it: Game 7 of the 2004 ALCS.
Germany scored early and often, and it was 5-0 by the 29th minute. On that memorable night in 2004, the Red Sox scored early and often, and it was 6-0 by the second inning. Both games were all over by those points but the shouting.
The Germans added on in the second half, and it was 7-0 by the 79th minute. The Red Sox added on, and by the fourth inning it was 8-1. Brazil added a late consolation goal, and the Yankees scored what amounted to runs that made the score look a little more respectable by the 7th inning, 8-3. But the Sox put it on ice late for a 10-3 win and a trip to the World Series.
The German win puts them in the World Cup Championship final on Sunday against the Netherlands-Argentina winner. (Technically the World Series isn't a World Championship series, although it is called one. Close enough.)
And of course, both losing squads were humiliated at home.
And if that wasn't enough, here's a cool clip of the great wrestling announcer Jim Ross, with his commentary put over yesterday's 7-1 German thrashing, courtesy of Deadspin. Good stuff.