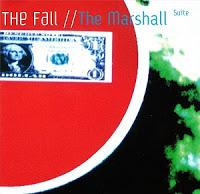 With heaving, clattering beats and lyrics that reference the Marx Brothers and Carry On films, the excellent (Jung Nev's) Antidotes was featured on the group's 20th studio album 'The Marshall Suite', which was released back in October 1999. "Jung Nev" is apparently a reference to co-writer Neville Wilding, who was The Fall's guitarist at the time.
You can listen to a two part mixtape featuring key tracks from The Fall's long career HERE.
More articles featuring Mark E. Smith and his band can be found HERE.