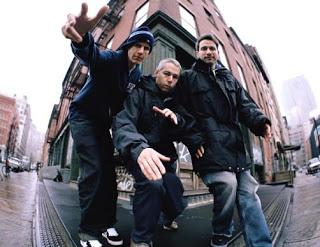 Listen to a selection of the best tracks from December 1998, which also includes some of the year's best album tracks and a few rare and underrated indie gems that didn't make the singles charts.
Every month I revisit the music that we were listening to 20 years ago, and compile them into a YouTube playlist for your viewing and listening pleasure. Ideal for nostalgic journeys and reliving your youth, or maybe you're discovering these tracks for the first time.
You can stream the playlist in full below, and read about each individual track by clicking on each title. If you enjoy any of the songs featured here, we encourage you to support the artists by purchasing their music from your local record shop, or through online retailers.
The December 1998 edition features music from R.E.M, Babybird, Six By Seven, Pulp, Mercury Rev, Manic Street Preachers, The Boo Radleys, Eels, Ash, Belle and Sebastian, Dark Star, Delakota, Astronaut, Stroke, UNKLE, Symposium, the Beastie Boys, Lo Fidelity Allstars, and Whistler.



R.E.M. - Lotus
Babybird - I Was Never Here
Six by Seven -Candlelight
Pulp - The Fear
Mercury Rev -Endlessly
Manic Street Preachers - Ready for Drowning
The Boo Radleys -She Is Everywhere
Eels - My DescentInto Madness
Ash - Folk Song
Belle and Sebastian- Is It Wicked Not to Care?
Pulp - I'm A Man
Babybird - First ManOn the Sun
Delakota - 555
Beastie Boys - The Move
Lo Fidelity Allstars- Kool Roc Bass
Manic StreetPreachers - You're Tender and You're Tired
The Boo Radleys -The Old Newsstand at Hamilton Square
Pulp - Seductive Barry
Dark Star -Graceadelica
Babybird - Take MeBack
Symposium -Impossible
Beastie Boys -Putting Shame In Your Game
UNKLE ft Thom Yorke- Rabbit In Your Headlights
Stroke - Internal Call
Astronaut - What You Gonna Do?
Belle and Sebastian- Dirty Dream #2
The Boo Radleys -Comb Your Hair
Eels - Climbing To The Moon
Manic Street Preachers - Black Dog On My Shoulder
Ash - I'm Gonna Fall
Whistler - If I Give You A Smile
BONUS TRACKS
dark star - graceadelica (remix)
Dark Star - Graceadelica - live at T in the Park