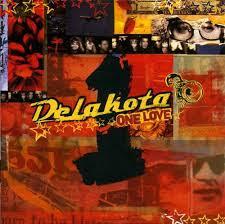 A pick from another one of 1998's best albums. Delakota's first and only album 'One Love' combined the big beat and hip hop sounds of the late 90s with strong indie rock songwriting and a lively, diverse range of influences. Described as an "alternative dance" act, they formed from the ashes of pop-punk outfit The Senseless Things, who split in 1995.
Following singles 'The Rock', and 'C'Mon Cincinatti', they released another track, '555', which brings to mind Primal Scream but with a more uplifting, playful approach. Described as "a soulful fusion of hip-hop, big beat and indie rock", the band also drew comparisons with Beck and the Beastie Boys. At times 'One Love' sounds not unlike The Charlatans making a record with Groove Armada, or The Chemical Brothers remixing The Stone Roses. Psychedelica mixed with country, gospel, Stax vibes, dub sounds and an unintentional touch of the early 90s Madchester scene. As well as playing at festivals and being hotly tipped by the music press, Delakota were played regularly on Radio 1's flagship alternative show The Evening Session. One of their live appearances was on BBC2's Newsnight, having been invited on the show to represent new British talent after a discussion about the state of the music industry.
The group parted company with their label GO Beat in 1999, and began working on a second album. They released two new singles, but after 2000 they were never heard from again. Either the band went on an extended hiatus, or completely packed it in after Des Murphy quit due to "major label pressure". Nicholls also released a number of singles and an album under the alias Morgan via Source Records in the late 90s, and after Delakota became inactive, he joined Muse as a live member, contributing backing vocals, keyboards and synthesizers to their shows. He also played as part of the Gorillaz live band in 2005 and 2006. Cass Browne was another Delakota band member who made contributions to Gorillaz, performing with them from 2001 until 2010. He was also the author of all the dialog of the vitual band's members, and scripting all the interviews as the characters for magazines who wish to interview Noodle, 2D, Russel and Murdoc.
Des Murphy released some of his own music, before becoming a member of Penguin Cafe, who also feature Cass Browne in their line up. In 2017, Browne, Nicholls and the other two original members of The Senseless Things decided to reform the band after a 22 year split.