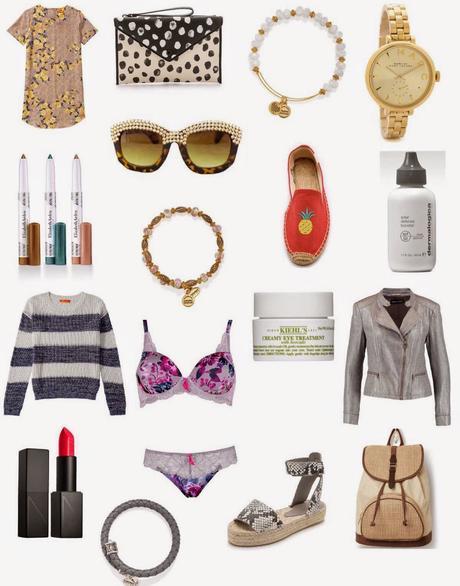 I don't know about you but spring time is when I like to splurge the most on a new wardrobe. The weather is perfect for jackets and layers, open toe shoes are acceptable, and also this is the perfect time to pile on accessories because its not so hot that they melt onto your skin. Since I frequent online shopping sites daily I figured I should put my internet surfing skills to good use and so I put together this list of 20 things you neeeeeed this spring. Enjoy!
 Floral Joe Fresh Dress
Marc by Marc Jacobs Large Envelope Clutch from Shopbop
Road to Romance collection from Alex And Ani (this collection also features new to the brand, NECKLACES, ohh, ahhh). 
Marc by Marc Jacobs Skinny Watch from Shopbop
Dermologica Skin Defence Booster with SPF
Gerry Weber just opened its first stores in Toronto. I was at the media opening earlier this week and spotted this gorgeous jacket. 
TOMS Backpack. I'm sure by now youve heard of TOMS 'One for One program. But did you know that
for every TOMS bag purchased, TOMS will help provide a safe birth for a mother and baby in need.
You NEED a pair of "Flatforms". Its not a flat but not a platform, hence the name. Vince Flatform Espadrille from Shopbop
Triumph lingerie. You may recognize the name, but you will be pleasantly surprised once you see the designs. Triumph has applied their decades of industry experience with a new fresh look. I'm loving this bra and panties set, I'm a supporter of the idea that whats under your clothes should be just as cute and fun as what you're showing to the public :)
Nars Audacious Lipstick in 'Grace'
$24 Joe Sweater
Elizabeth Arden Sun kissed Pearls Limited Edition Collection. my favorite from the collection is the creamy eye shadow in a convenient stick that glides effortlessly over your lids.
Crystal Cult Mason Sunglasses
An eye cream that gives back. Kiel's Creamy Eye Treatment with Avocado. Here in Canada 100% of the net profits will be used to adopt Atlantic Puffins with aid from the Canadian Wildlife Federation. And Puffins are hella cute in case you didn't know.