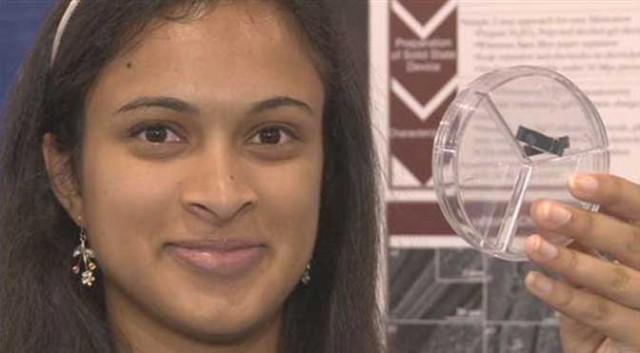 Today's smartphones and tablets are full of high-tech and amazing features. Actually, they can almost do everything you do with a computer. Basically, it's like carrying a computer in your pocket.  However, the most painful thing about mobile devices is that a smartphone or a tablet can only run for few hours before running out of battery. And then it goes off for another few hours for charging. This has been a dilemma for even the most successful tech empires, like Google and Apple. But, now an 18-year-old teenager named Eesha has found a new technology that can fully charge a phone battery in just 20-seconds. How awesome is that?
Eesha Khare, Indian-American teenage girl won the first prize $50,000 for Intel Foundation Young Scientist Award for inventing her new small device called "supercapacitor" which has the ability to super-charge a mobile battery in just 20-30 seconds. Even though she hasn't demonstrated this technology on a mobile phone battery yet,  the facts and testing data are there to backup the theory of this capacitor making a huge difference in the mobile technology, someday soon. Reports say that some folks from Google have already approached her to talk about this new technology.
I'm no genius to go into detail and explain the technology behind this tiny thing but, I can definitely see a future when we can just charge up a phone in just a couple of seconds.
Watch the CNN news coverage for more info or hit the source link.
[Via: Extreme Tech / CNN]
(All the images, trademarks, logo's shown on this post are the property of their respective owners)
Roshan Jerad Perera