20 Second Fitness : The 20 Second Fitness Creators ;
Spencer Larson - Is the spokesperson and creator of 20 Second Fitness which is the result of years of personal struggle to keep the weight off and stay fit and athletic.
Spencer tried to stay ahead of his family's history of slow metabolisms and weight gain by constantly working out or competing in organized sports. Marriage and a family slowed his life down a bit and the weight roller coaster began. His desire to race triathlons and compete was dwindling as he realized he might not be able to lose the 20 to 30 pounds he needed to race competitively. He was starting to believe the "bad genes" and "age" excuses.
A conversation with Dr. Charles Mok led him to see the value in maximum effort interval training. Spencer took these philosophies and created 20 Second Fitness.
Dr. Mok -  Is a triple board certified physician and the owner of one of the busiest medical spas in America. He sees thousands of patients each year who are struggling to lose weight. The number one excuse he hears from his patients about exercise is, "I don't have time for an hour a day." To overcome this excuse, he and Spencer developed 20 Second Fitness to be as quick and efficient as possible.
At 47, he is one of the fittest doctors in America.
So I have been eating skim milk with Special K (Chocolate) cereal for breakfast, and Weight Watchers, Healthy Choice Frozen dinners for lunch, portioning down my meals at dinner time, Slim fast bars for desert for a couple of week and have been drinking nothing but water and I stopped drinking soda for a few months except an occasional small drink when my Husband and I go to dinner. I have lost inches and maybe even a few pounds..But I'm still not happy with the way I look or feel. eating healthier is not enough! I do exercise but regular exercise gets boring. I'm sure you know what that is like. I have even bought workout stuff online, but yet again..It gets boring. Am I right?.. But I wanted a exercise routine that would kick my butt. So I was really excited to try a new kind of workout, called 20 Second Fitness. It came quick, and the personal service when I asked for a review was great! Thanks, Tiffany!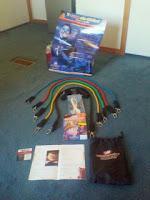 (5 Motion bands, jump rope, 6 20 Second DVDs, Recipe Booklet, Weekly workout Poster, Motivation Magnet, and a 20 Second Pull string bag)
 .. My package just came and I felt like it was Christmas! It had so much great stuff I couldn't wait to start my weekly blog post about it! (Stuff in picture Above).. I will be posting once a week about 20 Second Fitness so come back every Monday to check on my progress.
What do the 20 second Fitness HllT workouts look like?
Host, Spencer Larson, explains through a 1 minute video demonstration the idea behind 20 second Fitness. (Below)

Why it Works for Everyone
Customization:
•Customization is key. 20 Second Fitness and HIIT work because no matter the age, weight, and exercise history, you can still reach and exceed your fitness goals.
•Throughout the DVD, you will see different levels and ways to customize exercises to your strength, ability, and any inihibiting injuries. As long as you go at your maximum effort, the sky is the limit in terms of results.
Fits a Busy Lifestyle
•Remaining dedicated to an hour at the gym can be hard. This is why we packed that hour-long workout into 4-12 minutes with varying exercises to keep you focused. Our goal is to make fitness a daily part of your life…just like brushing your teeth. With 4-12 minutes, you CAN and WILL stick to the program.
 
 
 
20 Second Intervals Dr. Charles Mok explains why the 20 Second interval is effective and why it's called 20 Second Fitness.
 
 
 
 
 
 
 
4 reasons why 20 Second Fitness works for so many people and why it will work for you
1.It's easy to make a way of life and it fits into your lifestyle as easily as brushing your teeth!
Spencer always says, "It doesn't matter how good an exercise program is, if it can't become a way of life it won't get you lasting results." With 20 Second Fitness being as short as 4 minutes a day, it can fit into even the busiest of days!
2.It works with all ages and fitness levels!
20 Second Fitness is about starting where you are at today health and fitness-wise. Whether it's your first workout in years or you're an elite athlete, you do the workouts at your own personal, maximum effort and build on it from there. Disc X goes over every exercise and shows the variations that will fit with any fitness level.
3.It's up to 12 times as effective as other workouts.
We want fast and efficient. For example, we all prefer high speed Internet over dial-up. 20 Second Fitness is the high speed Internet of fitness. It's scientifically proven to burn up to 12 times the calories as other workouts. What this means is that 4 minutes can burn up to the same amount of calories as 48 minutes of traditional workouts. So think what 8 or 12 minutes could do for you!
4.No strict dieting or calorie counting
20 Second Fitness is about boosting your metabolism, building lean muscle and changing the way your body burns calories. This combined with healthy and sensible eating leads to lasting results. We believe in a real world approach to losing weight!
 
♥ You can find 20 Second Fitness on Facebook : Facebook
♥ You can find 20 Second Fitness on Twitter : Twitter
♥ You can buy 20 Second Fitness : Buy 20 Second Fitness
 
Want to read about 20 second success stories?.. You can find them here - 20 Seconds to real life.
 
 .. Intrested in buying 20 second fitness for yourself?.. Tiffany and 20 Second Fitness is letting my readers have "FREE" shipping when you apply the code ( laced kittens )
 
♥ I received no monetary compensation for this review.  I was provided  20 Second Fitness to try and give my honest opinion(s).