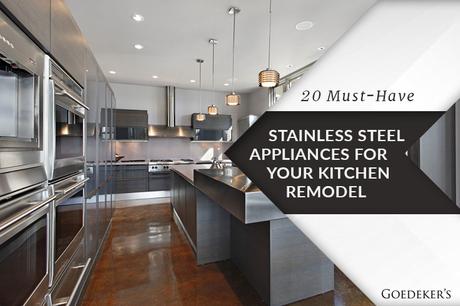 If you're on a quest for a timeless, attractive kitchen design that checks all the boxes-durable, family-friendly, and affordable to boot-then you've got to consider stainless steel. This ultra-functional, supremely stylish finish has been the choice of high-taste designers for more than two decades now, and it's not showing signs of slowing down anytime soon. These days, though, stainless steel appliances are a bit different from the supremely shiny, polished versions of yesteryear. Now, it's all about the smudge-proof, black, slate gray, and high-tech versions.
Why Stainless Steel?
At a glance, this enduring material is beloved the world over for its sleek look and low-maintenance charm. Stainless steel is an alloy of iron containing, at the minimum, 10.5 percent chromium, which produces a strong exterior layer that guards the product from corrosion and other forms of damage to the surface. Coupled with the fact that stainless steel provides your kitchen with a high-class, contemporary aesthetic, there's no reason why you shouldn't make this the prime finish of your well-appointed kitchen redesign.
Oh, and if you're thinking about re-introducing those old, borderline-outdated appliances into your kitchen design, consider that new appliances are still an excellent way to boost your home's value. In fact, the kitchen itself is one of the best places to make improvements if you're looking to crank up your home's market value. In fact, Consumer Reports specifically calls out installing new stainless steel appliances as one of the simplest ways to increase the price tag on your home. Add this to the fact that new appliances can use as much as 50 percent less energy (as long as you go Energy Star), and you've got a long list of reasons to upgrade!
With such popularity, there are thousands of options on the market, with Whirlpool, KitchenAid, GE, Samsung, LG, and others debuting some of the best-looking stainless steel appliances we've seen in years. If you're not sure which style or specific model to choose, we're here to help. Explore our recommended options below to get great ideas on how to take your kitchen overhaul from basic to extremely impressive. We've categorized some of our very favorite appliances into four of this year's biggest appliance trends to give you a glimpse of the best of the best.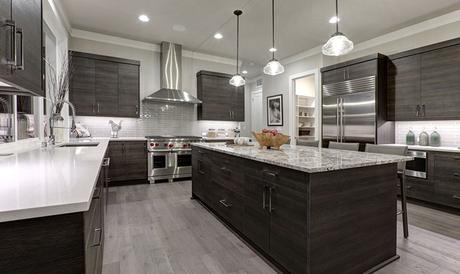 No. 1: Smudge-Proof Stainless Steel Appliances
Ah, fingerprints. Everyone's least favorite mess-maker. In the kitchen, where dirty hands are inevitable, it's vital that you choose easy-to-clean, easy-to-maintain surfaces. Enter smudge-proof stainless steel appliances. These appliances are generally finished with an outer layer that resists smudges and fingerprints but also makes the surface easier to wipe clean, simplifying after-dinner cleanup and weekly deep cleans. Luckily, all the top brands have introduced their own impressive, smudge-proof collections for your consideration. Some of our favorite smudge-proof options include:
Fridge: Whirlpool WRF767SDHZ - This attractive french door refrigerator is an excellent option for the bustling, family-friendly kitchen. It's also got in-door ice storage, as well as unique platter and pizza pockets to fit big meals for family dinners and holidays.
Dishwasher: KitchenAid KDTE334GPS- Appliance-shoppers in the market for remarkably easy-to-clean options will want to explore KitchenAid's collection featuring the brand's unique PrintShield finish. This finish is built to make appliances more resistant to fingerprints and smudges while also making the surface easier to wipe clean.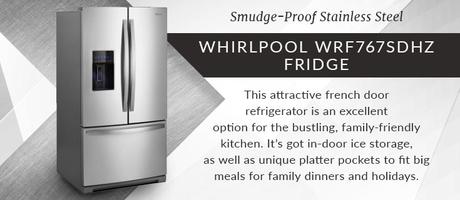 No. 2: Black Stainless Steel Appliances
If fingerprint-resistance is the biggest trend in modern kitchen appliances, then black has got to be the second biggest. Indeed, black stainless steel appliances are all the rage these days, with top-notch options coming onto the scene from Whirlpool, KitchenAid, and more. One of the reasons why we've seen this futuristic finish take off is because it, like smudge-proof appliances, helps conceal messes while simultaneously adding a sleek, modern aesthetic to your kitchen redesign. It also plays into one of the bigger kitchen design trends at large: black accents!
Check out some of our favorite black kitchen appliances to get an idea of what's in store in this category:
Fridge: KitchenAid KRMF706EBS-This good-looking KitchenAid fridge seems to have it all: a cool, black finish that's easy on the eyes plus an ingenious five-door configuration that keeps all your food ready and within reach. If you love the gray-black finish on this fridge, be sure to shop the complete KitchenAid Black Stainless Steel Collection for matching appliances.
Oven: Whirlpool WFE525S0HV- Designed to resist grease and fingerprints while also looking excellent, this attractive Whirlpool oven exemplifies the good looks and functionality of all-black appliances. It features the popular easy-wipe ceramic glass cooktop, too, which really simplifies wipe-downs.
Microwave: KitchenAid KMCS3022GBS - Offering the practicality and good looks of black coupled with KitchenAid's PrintShield finish, this is one of the best countertop microwaves for demanding households where greasy fingers are ever-present. It features electronic controls with an LED display, plus roast and grill functions for precise cooking.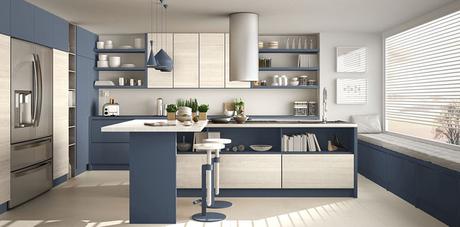 No. 3: Slate Gray Stainless Steel Appliances
The perfect middle ground between shiny stainless steel and deep black, slate gray breathes brand-new life into all kinds of kitchen designs. Surprisingly, this fresh, new look goes with a wide range of kitchen styles and color schemes, from poppy and teal kitchens to woodsy, rustic designs. Slate brings a bit of understated elegance, yet, like black, it better conceals messes so your kitchen looks cleaner after long days of cooking. The darlings of the slate appliance trend come to us from the GE Slate Collection. Here are our top picks from this trend:
Fridge: GE GSS23GMKE- This side-by-side slate refrigerator is the perfect pick for any designer who really wants to showcase the supremely cool look of smooth, smoky slate. It features contoured doors and ample storage.
Oven: GE JGB700EEJES- With an edge-to-edge cooktop, an integrated nonstick griddle, and heavy-duty grates that bring that trendy industrial feel, GE's slate gray burner range and oven deliver in both style and practicality.
Microwave: GE PVM9005EJES - Tie together your stylish new slate kitchen with this attractive over-the-range microwave. The integrated bottom control eliminates bulky, grime-loving buttons in favor of a sleek, easy-clean look.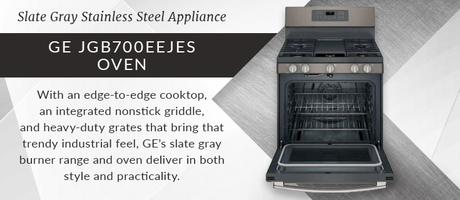 No. 4: Smart Stainless Steel Appliances
If it's high-tech functionality you're after, we've got some amazing new options in store for your connected kitchen. The latest stainless steel smart appliances come equipped with features you never knew you needed, from scan-to-cook technology to full-color touch screens that display your calendar and daily tasks. These brilliant additions are designed to help you manage your household, save energy, and make life just a little bit easier as you cook and entertain. The very best smart kitchen appliances available include:
Oven: LG LSE4616BD - Combining two of this year's hottest appliance trends-black stainless steel and full connectivity-this LG range and oven is equipped with the brand's gorgeous, glass controls and smooth design for easy cleaning. The best part is that it's a true smart oven that you can control remotely from your smartphone or with voice commands. Preheat, check the time, and turn the oven off or on from your phone!
Microwave: Whirlpool WMH78019HZ- If you thought you didn't need a Wi-Fi-enabled microwave, your mind will soon change once you see this amazing unit by Whirlpool. It features scan-to-cook technology, which allows you to scan a frozen food barcode to instantly send custom cooking instructions to the appliance, as well as smartphone controls for remote use.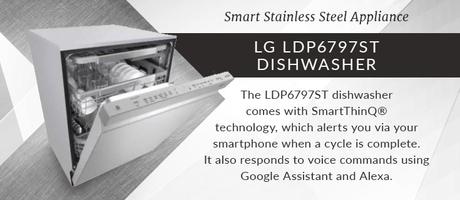 No. 5: Extra Appliances That Go the Extra Mile
The last trend on our list relates to the inclusion of non-standard appliances, meaning the ones that go far beyond refrigerating, cooking, and washing dishes. The beauty of adding these additional units into your fresh kitchen redesign is that it gives you extra opportunity to showcase the always-attractive look and low-maintenance feel of timeless stainless steel. Here are some of the appliance extras to consider as you're strategizing your rebuild:
Range Hoods - In the past few years, kitchen vents and range hoods have gone from clunky and obtrusive to sleek and desirable. This trend really took off alongside the as-of-late craze for professional appliances that bring a commercial feel to the residential kitchen. Add a range hood for an upscale, restaurant-inspired look.
Wall Ovens - All things mid-century modern have come back into the design landscape in the past decade or so, and why not the wall oven? Single and double wall ovens provide a classic, built-in feel that works well in roomy kitchens, as well as those with limited floor space.
Double Oven Ranges - Entertainers of all sorts will really want to hop onto this trend! The double oven range includes two distinct baking compartments that allow you to cook two different dishes at two different temperatures simultaneously. It's a must for Thanksgiving dinner and big parties!
Trash Compactors - The trash compactor is hardly a new-fangled invention, but it has seen a surprising resurgence in the past few years, thanks in part to the push for recycling. They can easily shrink down your waste volume by up to 80 percent, which means fewer trips of taking out the trash.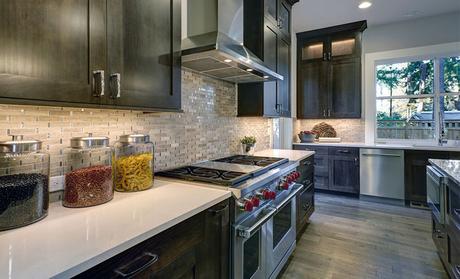 Will Stainless Steel Endure?
With all of these amazing appliances ready to give your kitchen an overhaul like never before, you probably want to consider whether or not they'll have staying power. The thing about stainless steel compared with other finishes and options is that it's remarkably durable-it's resistant to rust, scratching, fingerprints, and discoloration-which means it'll be easy to keep in tip-top shape throughout its life and will help retain its value more than other options, no matter how much use it gets.
If you've decided to outfit your kitchen remodel or refresh with gorgeous stainless steel options, Goedeker's is always the best place to shop. With easy, zero percent interest financing, free shipping, installs, and haul-away options, we've got you covered on your new appliance purchase!