With the NHL season just a week away it's time to start thinking about what could happen in the 2013 season. Because of the lockout and the shortened 48 game season your season preview magazines from the fall are pretty useless in my eyes. So, here is a list of things that I think could happen. Some more serious than others, but none really out of the complete realm of possibility.
If you agree, awesome. If you think I'm nuts, even better. If you have your own predictions let me know. Paste your links in the comment section if you've written your own predictions post.
Note: I understand that many hockey fans are still upset with the league and the PA and the entire lockout situation. Many of you have stated that you will not be back to watch NHL hockey this season and perhaps for longer. I get it. I was pissed when the World Series was cancelled back in the day. We all felt this way when we lost an entire NHL season only a few years ago. BUT if you are one of these fans please do not feel the need to ruin the new NHL season for the fans who are excited. Let them be. They love hockey and you do too. And they, like me, just wanna see the puck drop. Thank you.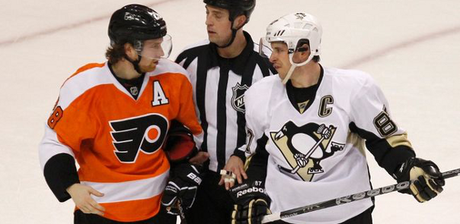 Montreal will beat Toronto on opening night, Saturday January 19, 2013.
Sidney Crosby will average 2.1 points per game and end the season with 101 points and the Art Ross Trophy.
The 1st squid/octopus will hit the ice in Detroit on Tuesday, January 22 during the home opener against Dallas
Edmonton will start the season hot, hot, hot – and make the play-offs.
Don Cherry will come out firing on Coach's Corner and be in mid-season form.
Scott Gomez will score on opening night for the Montreal Canadiens – oh wait nevermind, my bad.
Braden and Luke Schenn will get in a fight over who their mom likes best causing unrest in the Flyers locker room.
Justin Schultz wins the Calder Trophy in a landslide.
Mike Komisarek will continue to play his way into being cut/ bought out/ amnestied.
Steven Stamkos will score 36 goals and win the Rocket Richard Trophy.
The defending Stanley Cup Champion, LA Kings will earn the 4 seed in the Western Conference.
Evander Kane will buy dinner for the entire Winnipeg sports media and win their love back.
Brian Burke will have a new job before the end of the season – perhaps with the NHL league offices.
Matt Stajan will… actually I have no idea what Matt Stajan will do.
Cladue Giroux will dish out a 2 hander to Sidney Crosby and cause 0 damage but get a 2 game suspension.
Jaromir Jagr will score 15 goals in 43 games in Dallas and think about coming back again next season.
Cam Barker will make the Vancouver Canucks and play at least 27 games in the regular season.
Alex Ovechkin will be asked about the distraction of his new engagement after not scoring in the first 2 games of the season.
Ryan Miller wins the Vezina with a 2.15 GAA and 7 shutouts.
Montreal will beat the Islanders at home on my birthday, February 21st.
GAME ON!