Today is a special day.
Yes, yes it is. 
Instead of me running my mouth, I'll let Melissa do the talking ;)
Let me just preface this by saying...thanks for being awesome, Melissa!
................................................................
Hola all of Jessica's wonderful readers! I'm Melissa and I blog over at 20 Going on 80. I am excited to be hijacking Jessica's blog today to share with you a little craft project! 
As my blog name suggests, 

I'm a twenty something who often gets told she's a grandma. (It's also self admitted, so don't feel bad for me.) On my blog, you will find my favorite recipes, diy project ideas, free printables, design inspiration, my favorite outfits, a few other random things. Like, how I am a kitchen gadget hoarder. You know, the usual life of a college student. Oh wait...
And because people apparently like to see the person behind the blog, here's a photographia of da' gal behind the blog.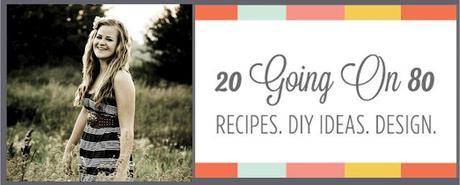 Disclaimer: This photo is 
deceiving
. D
on't let a photo of me frolicking in a field of flowers fool you. The other 75% of the time, I'm in gym shorts and a tank top.
By day, I am a Graphic Design student, as well as graphic designer at a large food magazine. By night, I am a blog designer over at my Online Studio,

Melissa Rose Design

. So as you probably have concluded already...I'm a bit obsessed with design. My days are crazy busy but I love every minute of it.
So like my true self, I decided to share with you all a free downloadable printable today. Since Jessica is the queen of fitness, I thought it would be fun to design a print with one of her favorite inspirational quotes on it. 
The quote she sent over was, "Have Less. Do More. Be More." Below, it is transformed into a 5x7 wall art personally for Jessica. But because it would be cruel to only send it to her, I've included the instructions on how you can download it below! :)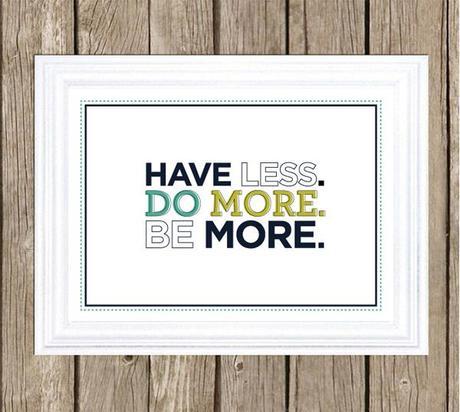 I love this quote & the message it sends! I constantly have to *attempt* to slow myself down and focus on the important things, rather than the million other things I have going on. This printable would be a great reminder in any space to slow down, prioritize, and get the most out of your time. CLICK HERE TO DOWNLOAD THE 5x7 FREE PRINTABLE And because I'm obsessed with design, I thought it would be fun for all of you to leave a comment with your favorite quote & I will pick a few to design into printable wall arts. From those entries, I will randomly chose one winner to receive a gift certificate to my shop!

(Mandatory Entries) 1. Follow my personal blog, 20 Going on 80. 2. Leave a comment on this post with your favorite quote.  (Additional Entries) Follow 20 Going on 80 on Twitter. Follow Melissa Rose Design on Facebook Follow Melissa Rose Design on Twitter Tweet about this post/giveaway and tag @20goingon80 in the tweet.
Thanks for having me today, Jessica! If anyone prints off the wall art above & hangs it up...I'd love to see a photo! For more free printables, head over and check out my "Printables" page on my blog. I have anything from home decor wall art to printables to help you meal plan!
lovelylittlethingsblog.com