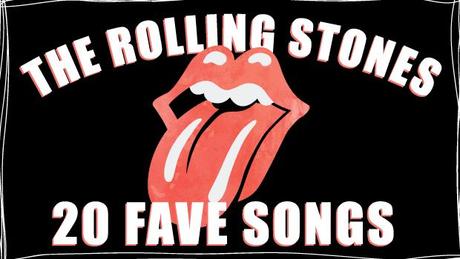 Since English rock deities The Rolling Stones recently and officially celebrated their 50th anniversary last year, we figured there would be no better time than the present to compile a list of 20 of our favorite songs. Working on this list was daunting, as these guys are absolute legends and have been turning out material for the last, well, 50 years. As we sifted through their extensive back catalogs, we tried not to be predictable. The following tracks were carefully handpicked, each one reflecting what we think to be the rawest embodiment of rock and roll, which as Keef himself defines as "music for the neck downwards." And so, without further ado, here are our 20 favorite Rolling Stones songs!
Spotify:
20. "Paint It, Black"
Psychedelic, man… With the opening track on Aftermath, Brian Jones utilized innovative and unconventional instrumentation to great success — "Paint It, Black" was the first number one single in the UK and US to feature a sitar. — Sara David
19. "Under My Thumb"
Ah, the pains of growing up and learning the enigmatic task of gaining leverage with a member of the opposite sex. It's an art after all, the skill of aligning the cross-hairs for that perfect long distance shot…and, if we wanted to use any instrument to metaphorically stabilize our proverbial sniper rifle of sexual prowess it'd be marimba. Well done, boys. You got her in your sights, and under said thumb, right between your skin and the corresponding trigger. – Sara David and Brian Cherchiglia
18. "Beast Of Burden"
With longing lyrics and intertwining guitars, "Beast Of Burden" is The Rolling Stones' quintessential slow jam — this song just oozes sensuality. – Sara David
17. "Country Honk"
Because it's the better version of "Honky Tonk Women." — Brian Cherchiglia
16. "Dead Flowers"
Here's what you need to know about this song: heroin, Gram Parsons, metaphors. – Sara David and Brian Cherchiglia
15. "Rip This Joint"
The Rolling Stones have never hit you harder and faster than they did on "Rip This Joint." A song about their deportation from the UK and the extradition process following their relocation to the South of France, the Stones go in as hard as humanly possible and deliver swagger on a level only comparable to the Stooges or the MC5. That, and Keith has admitted (in print) that it's the only Stones tune he has to "step back and take a deep breath" before performing, capiche? – Brian Cherchiglia
14. "Factory Girl"
Featuring 20th century context juxtaposed against folky instrumentation, and with Charlie Watts playing the tabla, Dave Mason on the mandolin and Ric Grech on the fiddle, "Factory Girl" has an almost Irish feel to it. I always associated this song with Edie Sedgewick, although now that I think about it, it's most likely about way more than just one girl. – Sara David
13. "Get Off Of My Cloud"
The follow up single to "Satisfaction" — these two could be cousins. "Get Off Of My Cloud" holds its own with Charlie Watts' prominent and omnipresent 4/4 beat fill and its ready made crowd pleasing call-and-response chorus. – Sara David
12. "Brown Sugar"
The lyrics are debatably metaphorical, "double entendre-able" or whatever for a plethora of debaucherous realms, but this song is about one thing: cunnilingus. Sorry kids, that's a fact. It's not just about any act of going down, either. It's about going down on a black girl as a white man…which nowadays is like, "okay, why does that make you special Mick Jagger?" Well, it was 1971. Though civil rights had been (ehem) "granted" in America, it wasn't exactly universally accepted to talk about licking the nether-regions of an interracial partner. – Sara David and Brian Cherchiglia
11. "Monkey Man"
It might just be their funkiest…it really might. But funk aside, this shit is mean. And on top of that, "Monkey Man" is one of those Stones songs people somehow forget about and toss on the back burner. Why? No clue. I mean,  this song was a no-brainer and for multiple reasons. 1) It's on Let It Bleed, which is an honor one can't dispose of. 2) Bill Wyman gets down on that bass line, 3) Mick Jagger somehow engineered yet another euphemism to tell girls how awesome it was to sleep with him, and 4) Keith Richards. Slide solo. Monkey Man. Yes. M-m-m-m-monkayyyy! – Brian Cherchiglia
10. "Shine A Light"
Soulful and oozing in Gospel in both instrumentation and context, "Shine A Light" is just beautiful. Billy Preston gloriously bangs out both the piano and the organ on this track, while Mick Taylor provides not one, but two wailing guitar solos, and a choir backs up Mick as he bestows the blessing "may the good Lord shine a light on you." While there is speculation on who "you" may be referring to, "Shine A Light" is a touching tribute about wishing the best for them in this world and the one beyond. That, and it's on Exile on Main Street. – Sara David
9. "Miss You"
Most likely a result from too much hanging out at Studio 54. Everyone did a disco record, it was the late 70's, and they had to. Originally almost nine minutes long, it was eventually cut down to about three and a half for the radio. Check it out in all its eight minutes, 45 seconds and 12" of glory. – Sara David
8. "Street Fighting Man"
I don't know how many times this song has come on and someone's been like, "Dude, I love 'Jumpin' Jack Flash!'" and I've cringed in my bubble of music snobbery and debated whether or not to correct them. Granted, the feel is similar, but this one is all about Mick Jagger. Not only does he mock false rebellion, but he also pokes fun at The Beatles. If you've ever seen the Stones bust this out live, it's vicious. Mick struts around the stage like an androgynous rooster, belting out one of their best choruses, antagonizing his bandmates and stirring the stage into a torrent of maximum rock and roll. I mean, come on, who can't get behind "I'll shout and scream, I'll kill the king, I'll rail at all his servants," as a legitimate call to arms? Fuckin' right. – Brian Cherchiglia
7. "Can't You Hear Me Knocking"
Two songs in one: "Can't You Hear Me Knocking" starts out pretty gritty with that nasty intro riff, but completely switches gears ⅔ of the way through into a groovy jam with congas and saxophones. They take you way out there, too, leading the listener into a personalized tour of what late '60s psychedelia truly represents: wanderlust. That, and it's just a kick ass rock and roll song at its core. – Sara David and Brian Cherchiglia
6. "Loving Cup"
Rugged yet tender, "Loving Cup" is hands down without a doubt the best Rolling Stones ballad. Anchored behind a complexed arrangement lead by Nicky Hopkins' absolutely gorgeous grand piano, "Cup" is a timeless testament to love in an instant. A confessional by Jagger, the lyrics are a no-bullshit plea to fuck despite Mick's admission that he's not the most desirable man beneath his projected exterior. – Sara David and Brian Cherchiglia
5. "Jumpin' Jack Flash"
"I was born in a crossfire hurricane." Yep. 'Nuff said. Watch the Stones rip this tune to shreds in 1972. – Brian Cherchiglia
4. "Sympathy For The Devil"
I always loved "Sympathy For The Devil," or at least thought I did. A radio staple, this was probably the first Stones song I ever heard, and one of those songs you hear so much you forget to appreciate how awesome they are. One day I spent an hour and a half watching footage from the recording session at Olympic Sound Studios in 1968 featured in the Jean-Luc Godard film One Plus One. Although I had heard it a million times before, watching and listening to the song develop from the stripped down, folky blues version into the samba featured on the album was incredibly intimate and revivifying. – Sara David
3. "Bitch"
"Bitch" might actually be the most underrated Stones song out there. Being a B-side off Sticky Fingers, one could see how the average listener would get distracted by the singles, which is almost excusable. But it isn't. Leading off with Keith Richard's nastiest riff (they don't call the man 'Keef Riffhard' for nothin', ladies), this song is a firefight of rock and roll fury. Charlie Watts is a powerhouse, Keith is Keith and this is Mick Jagger at his slimiest. So grimey; so proud of himself. – Brian Cherchiglia
2. "Rocks Off"
Right now, 60% (not a real statistic) of our readers are saying: "What?! These guys are stupid. I've never even heard this song before! Where's 'Satisfaction?'" Well, first of all: you know this song. You've heard it before. It's the shit-kicking, in-your-face rock and roller that starts Exile On Main Street. Secondly: shut up. Not only does "Rocks Off" start what might actually be the best rock album ever made, but it's the hallmark of the ultimate. It's the beacon of bravado. Its the Don King analogy of awesome. Now put on Exile, turn that shit up loud and try to tell us we're wrong. Boo-yah. – Brian Cherchiglia
1. "Gimme Shelter"
The obvious number one. Everyone loves this song. And with good reason, as this song has one of the best Fender Rhodes tones of all time. I mean, that tremolo is perfect and this is in a time before tap tempo. They must have worked on that shit forever. Alas, we digress. While it's easy to get swept away with the Rhodes and that exceptionally dark Telecaster tone, you have to give it up to the vocal performances on this tune. It was producer Jimmy Miller's last minute decision to get Merry Clayton to belt the way she did (which was so powerful it would result in a miscarriage) culminating in what would be a legendary performance and the most important contribution to a Stones track from a female vocalist.
1969 was tumultuous year in American history, and the apprehensive lyrics of "Gimme Shelter" reflect the tension of political and social unrest. Conflict over the war in Vietnam clearly had an influence, while conflict between the Stones may have also played a small part. Although a combined effort, Keith began working on "Gimme Shelter" while Mick was away filming Performance with Anita Pallenberg, which even in the zeitgeist of free love put an unspoken strain on their relationships.
History aside, "Gimme Shelter" is our #1 because it's an absolutely fantastic song. Period, point blank. Let's continue, shall we? – Sara David and Brian Cherchiglia
Honorable mentions:
"Sweet Virginia"
"Satisfaction"
"I Know It's Only Rock N Roll (But I Like It)"
"Shattered"
"Jigsaw Puzzle"
"Mother's Little Helper"