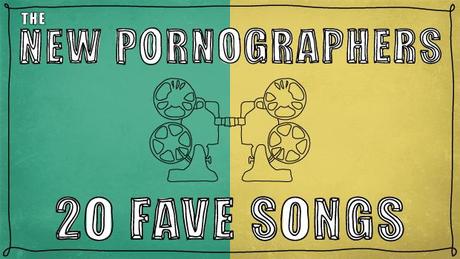 Graphics By Madeline Rosemurgy
When I was first asked to do a '20 Faves' feature on The New Pornographers, I jumped at the opportunity. The Vancouver-based band united as a supergroup in the late '90s and has since gained a solid following of devout fans. The three leaders include alternative country solo artist Neko Case, solo artist A.C. Newman, and Dan Bejar of Destroyer. Additional members include Kathryn Calder, John Collins, Kurt Dahle, Todd Fancey, and Blaine Thurier, who exhibit their artistry through side projects as well. Taking it one step further, accompaniment by Annie Clark of St. Vincent, Will Sheff of Okkervil River, Zach Condon of Beirut, and members of Sharon Jones and the Dap Kings, amongst other talented musicians, exemplifies the band's ability to collaborate with an innovative and diverse crowd.
With such a strong list of allies, it's no surprise that the band has shown substantial development from album to album. Mass Romantic, Electric Version, and Twin Cinema are all along the same raw power-pop vein, and a shift occurs when Challengers and Together come along, portraying a slower-paced, but no less exquisite, example of The New Pornographers at their finest. Each album has its shining moments, and most fans have their (very outspoken) opinions on the rankings. In writing the top twenty, I've found what I consider to be a nice balance between my own favourites, the highly acclaimed tracks, and the glorious place where those two join forces.
Check out the list and let us know what you think in the comments below. What songs would you have liked to have seen make the cut?
Bonus: You think you can rock like A.C. Newman? You can certainly try, because the song "Electric Version" is featured on the video game Rock Band!
Spotify:
20-16
20. "From Blown Speakers"
19. "The Fake Headlines"
18. "All For Swinging You Around"
17. "Sing Me Spanish Techno"
16. "Testament To Youth In Verse"
15-11
15. "Execution Day"
14. "Challengers"
13. "Mass Romantic"
12. "Go Places"
11. "Your Hands (Together)"
10. "The Laws Have Changed"
Electric Version was released in 2003 as The New Pornographers' second full-length album, and, aptly named, it featured a higher amp volume in comparison to the album's predecessor, Mass Romantic. "The Laws Have Changed" is one of the obvious stand-outs on Electric Version, with Newman and Case cheerfully tossing the spotlight back and forth throughout this uber-poppy song.
9. "Letter From An Occupant"
The New Pornographers' debut LP, Mass Romantic, made it onto shelves in 2000 after years of songwriting and collaboration by the highly-populated group. "Letter From An Occupant" was the only single released, serving as the standout track with its strong instrumentation and Case's noteworthy vocal performance. This pop-punk influenced track, the style of which is the reason the group has such a strong fan base, represents the early days of The New Pornographers.
8. "Twin Cinema"
Rhythmic electric guitars, complimentary percussion, and synthetic sounds act as a backdrop for Newman's feisty vocals in the title track from the band's third LP, Twin Cinema (2005). This is an album that's been praised for its presentation of noteworthy craftsmanship, and the title track demonstrates the band's ability to create powerful pop-hooks that don't cross over into bubblegum territory.
7. "All The Old Showstoppers"
When The New Pornographers recorded Challengers, they adopted a subtler, more intricate sound. In contrast to their previous albums, which were more bold and up-tempo, this new style caused some waves amongst fans and critics. I personally prefer the minimal twangy guitars and simplistic vocals, and think that the saying "less is more" applies here. "All the Old Showstoppers" in particular is unforgettable and proves that quality music isn't always the most complex.
6. "Crash Years"
Another New Pornographers classic, "Crash Years" has a sound that becomes ingrained in your mind after just a few listens. Case takes on a nonchalant vocal approach, complemented by tambourine, whistling, and precisely placed harmonies, in one of the sunniest tracks on the band's 2010 release, Together.
5. "Myriad Harbour"
Let's get this straight right away for anyone who isn't incredibly familiar with The New Pornographers: this song is not sung by a female. Okay, now that we've cleared that up — Bejar's unique vocals are matched with comical lyrics, and both of those elements set the tone for this odd yet lovable track from Challengers, the band's fourth LP released in 2007. Cleverly insserted bits of harmonica and strings act as subtle but flattering details, and after a few listens, you'll be chanting right along with the harmonious chorus and stamping your feet to the thumping percussion.
4. "Sweet Talk, Sweet Talk"
The sugary track "Sweet Talk, Sweet Talk" is one of the more familiar songs from Together. Calder plays the vocal lead here, as subdued harmonies sweep the song into a cheery chorus. A blend of steady guitar, tambourine, and hand clapping throughout create a minimalistic, yet bold, feel.
3. "Adventures In Solitude"
One of the most poignant songs released by The New Pornographers, "Adventures In Solitude" shows off the band's low-key beauty and narrative songwriting — they are, unfortunately, underrated qualities. A simple piano part opens the song, and Newman sings the majority of the vocals, paired with the touching harmonies, "We thought we lost you… Welcome back." A little past the halfway point, the pace picks up slightly, the percussion increases, and the addition of resounding strings carry Case's signature vocal styling from the bridge to the softened banjo closing.
2. "Moves"
Within just a few seconds of hearing the well-known solo guitar riff that opens up "Moves", it's difficult not to get excited about the forthcoming chanty chorus of "oh oh oh oh oh oh," that warrants a sing-a-long. This track is the quintessential New Pornographers song, melding together pop-meets-rock instrumentation, AC Newman on vocals, and a plethora of percussion.
1. "The Bleeding Heart Show"
This is it, folks. While the majority of the top twenty was a toughie for me, the number one track was a conclusion I came to very quickly. As it happens, this was the very first song of theirs that I heard, and I've been a loyal fan ever since. However, this isn't the only factor that contributed to my decision. "The Bleeding Heart Show" is the perfect balance between the band's old and new styles — an upbeat tempo laced with booming percussion enhances its gleeful vocal components. In classic New Pornographers fashion, Newman has the main vocal part, but Case shines and steals the show with a powerful bridge solo as the song picks up and becomes increasingly intense. Every element that makes The New Pornographers the illustrious band that they are is exhibited in this musically passionate track.