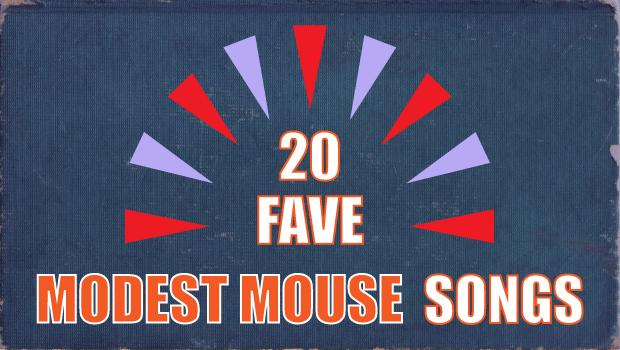 Graphics By Madeline Rosemurgy
Modest Mouse is often characterised by front man Isaac Brock's distinctively lispy vocals, their memorable guitar riffs, and their truly unique musical style. It's difficult to compare any other band to Modest Mouse in both sound and consistent quality, as they've grown from album to album, but kept true to their roots. No matter what type of social situation you're in, it seems there's a Modest Mouse album appropriate. With a fan base that tends to be either all-or-nothing, I've compiled my list with consideration to both the fans who are highly committed and to those who only stick around for the popular radio tracks.
The band's latest release was an EP called No One's First And You're Next. Since then, Outkast's MC Big Boi has released news that he's collaborating with Modest Mouse on their next upcoming album at his own Stankonia Studio. He told MTV, ""I've been a fan of the band for a minute… We're all musicians and producers and artists, and it's just like a big-ass brainstorm, a brain-stormin', tsunami, typhoon, tectonic-plates-movin' kind of thing." That's enough to keep us patient while the album is in the works. Alongside finishing the album, the band is doing a bit of touring this summer in Europe, and hopefully will give us a hint of of a release date to come.
In the meantime, check out our favorite Modest Mouse songs thus far, and we'll keep you updating on forthcoming releases.
Also, check out this amazing piece Pitchfork did on The Lonesome Crowded West.
20-16
20. Missed The Boat // Listen
19. Interstate 8 // Listen
18. Cowboy Dan // Listen
17. Medication // Listen
16. Never Ending Math Equation // Listen
15-11
15. Paper Thin Walls // Listen
14. Tundra/Desert // Listen
13. Parting Of The Sensory // Listen
12. The World At Large  // Listen
11. Beach Side Property // Listen
10. "All Night Diner"
"All Night Diner" is a quirky track with affected strumming and shakers building into a twangy, repetitive singsong. Brock's voice sways from gentle and nonchalant to more powerful vocal thrusting. One of my top picks on Building Nothing Out Of Something, "All Night Diner" is pretty typical of Modest Mouse's songwriting style during their highly experimental days.
9. "Dashboard"
Being the popular radio hit off of We Were Dead Before The Ship Even Sank made "Dashboard" one of the most memorable Modest Mouse tracks. Highly rhythmic percussion is accompanied by perfectly placed vocal harmonies and symphonic sounds via strings and trumpets. This track is pretty much impossible not to sing along to — especially the last ten seconds as the song comes to an impactful close.
8. "Gravity Rides Everything"
This track is one that displays the softer side of Modest Mouse. The instrumentation and lyrical choice are on the same page here, as the optimistic lyrics "everything will fall, fall right into place" soothe the listeners, if only to give them a period of rest between the chaotic and melancholy sounds that prevail on The Moon & Antarctica.
7. "Float On"
"Float On", their first big radio single, is the song that got many fans hooked, but that doesn't discount the track in the least. Modest Mouse has an incredible way of writing ridiculously catchy songs, and here you'll find a strong testament to that claim. When deconstructed, each instrument/vocal part has a pretty basic sound, yet, when all combined, they become a genuine work of art that engrains itself into the listener's memory.
6. "Dramamine"
"Dramamine" is my favorite track on the album that got me "into" Modest Mouse (This Is A Long Drive…). Carrying the signature Modest Mouse juxtaposition of a mellow melody paired with a more aggressive hook, "Dramamine" has a steady rhythm and quivering guitar, which give this track a subtle, lulling effect. It's got a bit of a somber feel to it, as does most of This Is A Long Drive…, but that only adds to its appeal.
5. "Tiny Cities Made of Ashes"
On "Tiny Cities Made of Ashes", an unassuming start leads into a hook that's awesomely coarse and jerky — which is something I believe few bands could pull off as competently as Modest Mouse does. It's difficult for me to really articulate what it is about this song that makes it so great, but it's just one of those tracks that I consider to be nearly addictive, as I find myself literally craving it from time to time.
4. "3rd Planet"
Within the first few seconds of hearing "3rd Planet", I get butterflies and fall back in love with Modest Mouse — hard. Despite its basic musical structure, this track is incredibly charming and full of soul. Throughout the song, you can hear little embellishments of seemingly random percussion and vocals that give the song character. Numbers four and five on this list really highlight the band's potential to accomplish great contrast, and The Moon & Antarctica is certainly one of their most musically diverse albums to date.
3. "Black Cadillacs"
"Black Cadillacs", a pretty simple yet super popular song, is memorable thanks to its angst-fueled chorus. The track imbues a cheerful meets cynical vibe via bright pianos and pessimistic lyrical content. Percussion crashes as the chantey singsong tapers off to a gentle close. You'll probably find yourself singing along with this one over and over.
2. "Florida"
I can't help but dance every single time I listen to the upbeat track, "Florida". From the impactful start to the smooth harmonies, tempo changes and brilliantly hostile bridge, this song is perfectly constructed. "Florida" embodies everything that makes Modest Mouse the band that we all know and love. Enough said.
1. "Ocean Breathes Salty"
This was a really tough call for me to make — and I mean really though. Any devout Modest Mouse fan (and there are lots of them) would be absolutely taken aback by the mere thought of naming a number one track. Is the selection based on musical skill? Popularity? Or just my own preference? With "Ocean Breathes Salty", I find all of those things are present — my own love for the track, an extreme popularity in the mainstream music world and the skilled musicianship that exists throughout all of their albums. Good News For People Who Love Bad News is, without a doubt, one of the best Modest Mouse albums, and "Ocean Breathes Salty" serves as the perfect example of a band that's able to retain their unique sound while also evolving into something that will one day be considered a "classic".
What do you guys think about the list? Totally agree? Disagree? Were there songs you think should've made the cut, but didn't? Give us your feedback by commenting below.