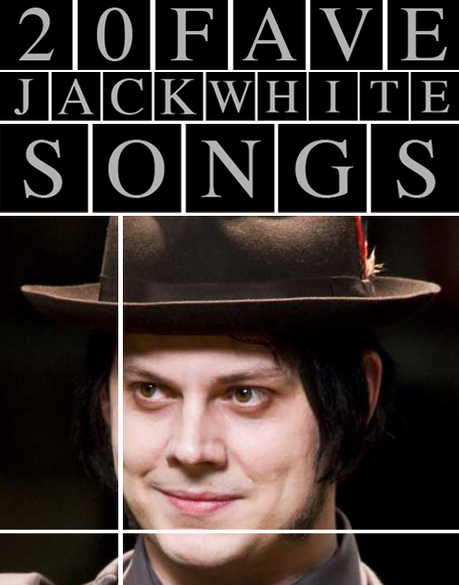 Jack White is already a living legend in music. Though he constantly evolves his style through different bands and collaborations, he manages to remain true to his blues and rock beginnings. Indie and mainstream fans alike embrace his talent, along with his mysterious introverted personality. It's certainly not too presumptuous to consider him rock royalty, having had the Midas touch when it comes to all of his musical endeavors.
The many configurations of Jack White's musical genius range from soloist to supergroups and a few others in between. With The White Stripes saying a final goodbye earlier this year and The Raconteurs current plans to perform in September, the future is relatively wide open for Mr. White. The only way (not really) to celebrate all of this is with a list of our 20 favorite songs featuring the brilliant musician.
Photo credit: Alba Tull, Courtesy of Sony Pictures Classics

20. "Suzy Lee"- The White Stripes – Listen
19. "Icky Thump"- The White Stripes – Listen
18. "Intimate Secretary"- The Raconteurs – Listen
17. "Go It Alone"- Beck with Jack White – Listen
16. "One More Cup of Coffee"- The White Stripes – Listen

15. "Level"- The Raconteurs – Listen
14. "300 M.P.H. Torrential Outpour Blues"- The White Stripes – Listen
13. "I Want to Be the Boy to Warm Your Mother's Heart"- The White Stripes – Listen
12. "Store Bought Bones"- The Raconteurs – Listen
11. "I Cut Like a Buffalo"- The Dead Weather – Listen

"Wayfaring Stranger" — Jack White – Buy
White puts just the right amount of American twang in this rendition of the classic British folk song for the 2003 film Cold Mountain. The song's style is unlike any of his others — it's simple and delicate, accurately channeling the sounds of historical America that compliment the movie perfectly.

"Little Acorns" — The White Stripes – Buy
Finding inner-strength and dealing with life's problems using a squirrel monolog isn't very rock 'n roll, but "Little Acorns" somehow manages to send a feel-good message in the midst of gritty guitar riffs. This is rock blended with morals, which can generally be the equivalent of mixing oil and water. As expected, though, Jack White found a way to make the two concepts exist together. Who knew self-help could rock so hard?

"The Big Three Killed My Baby" — The White Stripes – Buy
Simply put, this is just one of those songs that smashes you in the face. Jack sings at the top of his lungs while Meg thuds her way through like a loud heartbeat. It's best heard at the highest volume your ears can stand.

"Two Against One" — Danger Mouse & Danielle Luppi featuring Jack White – Buy
It's rare to stumble upon songs that make you drop everything and just listen, but "Two Against One" does exactly that. White lent his talents to the first single of Danger Mouse's 2011 album Rome, which elegantly combines his tender vocals with the sweeping background vocals of Danielle Luppi. It was love at first listen.

"Blue Blood Blues" — The Dead Weather – Buy
"Blue Blood Blues" is a funky headbanger that encapsulates of the essence of this supergroup: 60s soul with the right amount of rock, grit, and swagger.

"Catch Hell Blues" — The White Stripes – Buy
This has always been one of my favorite songs to listen to when I'm annoyed with everyone and everything. The changing rhythms and good guitar work make you feel justified in the frustration. However, am I excited that there'll be a dance number set to my fifth favorite Jack White song in the remake of Footloose? Not so much.

"Steady, As She Goes" — The Raconteurs – Buy
"Steady, As She Goes" has one of my favorite melodies from this supergroup. The song is a straightfoward, upbeat track that's as steady as the title is.

"A Martyr for My Love for You" — The White Stripes – Buy
Only Jack White can make the pining for underage love sound so right and amazing. In "A Martyr for My Love for You", he recalls his relationship with a girl who was "sixteen and six feet tall" and the dilemma he faces between his head and heart. Through his voice and lyrics, you're able to hear and feel his internal emotional battle and surprisingly empathize with what he's going through. By the end, you notice goosebumps on your arm that weren't there before. It's that good.

"Fell in Love with a Girl" — The White Stripes – Buy
This song truly put The White Stripes on the map of mainstream music. Hollywood ate up its manic beats and used it to sell as many items as possible to impressionable young minds. Here, Jack White best showcases the art of telling a complicated love story in less than two minutes. With "Fell in Love with a Girl", the duo puts the pedal to the floor, making the track fast and fun.

"Seven Nation Army" — The White Stripes – Buy
Containing one of the most catchy and memorable bass/guitar riffs of the 2000s, "Seven Nation Army" tops my list. I would love to channel my inner hipster and say I knew about The White Stripes BEFORE "Seven Nation Army", but I can't. This was the song that made me fall in love with the duo and every musical endeavor Jack White has attempted since.