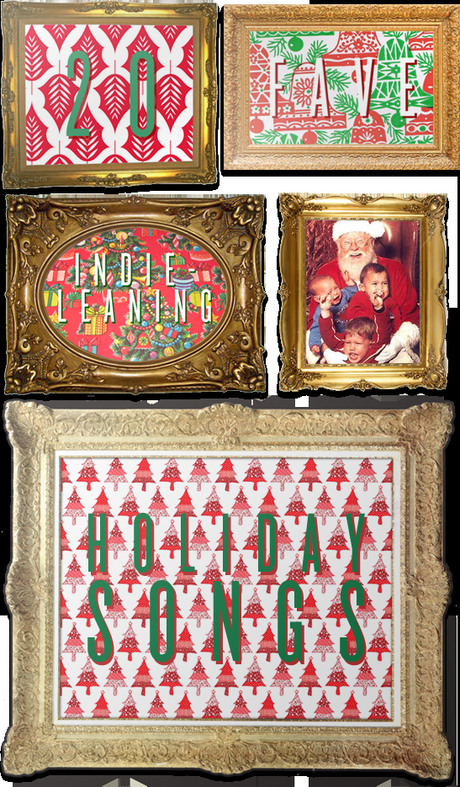 The holiday season is upon us (also basketball season, finally). But mostly, it's the season of ugly sweaters, drunk uncles, and, if you're a teenager, enough gift cards to paper your walls because nobody knows what to get you. We here at The Wild Honey Pie are better at Christmas shopping than your great Aunt Mildred, though. We put together a holiday playlist full of classics and indie favorites that will keep your earbuds warm when the weather outside starts to get frightful. There's no better soundtrack to accompany the decking of halls, the nogging of eggs, or the regifting of snow globes.
To hear any of the songs below, just click the song title!  And if you want to listen to this playlist on Spotify, simply click here.
We wish you all a very, very Merry Christmas and Happy Hanukkah.  The support of the people that read our site, tweet at us, and comment on our Facebook page has been the best present of all.  Thank you and see you in 2012!

20. "Winter is Coming" – Radical Face // Buy
19. "Go Tell It On The Mountain" – Branches // Buy
18. "B.Y.O Cheer" - Sun Hotel // Buy
17. "Christmas Song" – Alvin & The Chipmunks // Buy
16. "Winter Vacation" – Atlas Sound // Buy

15. "I Wish It Was Christmas Today" – Julian Casablancas // Buy
14. "Come On! Let's Boogie To The Elf Dance!" – Sufjan Stevens // Buy
13. "I Hear The Bells" – Mike Doughty // Buy
12. "Hey Parker, It's Christmas" – Ryan Adams // Buy
11. "Getting Ready for Christmas Day" – Paul Simon // Buy

"Get Behind Me, Santa!" - Sufjan Stevens // Buy
Eschewing the demure, banjo-heavy folk that dominates most of Sufjan Steven's catalog, this track is bright with horns and swirling organs. "Get Behind Me, Santa!" also proves that Sufjan isn't all about crafting delicate numbers. In fact, the song really sounds like a Wilco holiday single and makes me wonder if Jeff Tweedy was actually a silent partner in the studio. Either way, this bouncy tune will give you something to smile about.

"Winterlong" - Pixies // Buy
This Neil Young cover showcases the Pixies at their best with bright harmonies and gritty guitars. Simultaneously brash and twee, the band offers up a sweetness that fans may not be used to. But isn't it even nicer to get some holiday happy from the guys who gave us "Where Is My Mind"?

"I Heard the Bells on Christmas Day" - Pedro the Lion // Buy
Pedro the Lion gives us a good song to wake up to on Christmas morning. Distant jingle bells and upright piano match David Bazan's velvety croon. Soft and simple, this is a soundtrack for the first snowflakes falling past your window on December 25th.

"The Christmas Song" - The Raveonettes // Buy
Half 60's rock and half shoegaze, this song sounds like Christmas in Los Angeles. With lines like "Santa's coming to town with sequins in his hair" and the overarching surf vibe, this track from The Raveonettes is ideal for West Coasters who spend Christmas in convertibles.

"Happy Xmas (War Is Over)" - John Lennon // Buy
With so many countries around the world in a hotbed of revolution, the words of John Lennon ring as true as they did when he released this song in 1971 with Yoko Ono. Here, Lennon takes the idealism of "Imagine" and flips it around for a realist take on the holidays. "So this is Christmas" seems to be accompanied by a helpless hand gesture to widespread pain, but ending with "war is over if you want it" reminds that the power to change has always been with the people. Doesn't get much more Lennon than that.

"A Hazy Shade of Winter" - Simon & Garfunkel // Buy
Built on driving drums, "A Hazy Shade of Winter" is one this quintessential duo's best. Punctuated with clarion calling trumpets and lyrical themes focused on maintaining optimism in bleak times, Simon & Garfunkel will have you bobbing your head as you window shop on an overcast day.

"That Was The Worst Christmas Ever" - Sufjan Stevens // Buy
This is my favorite song from the Sufjan Stevens Christmas catalog. Painfully nostalgic and dark, this track rides on the pleading tone of Sufjan's banjo as he tells the story of a broken home during the holidays. The final knockout line of "silent night, holy night/silent night, nothing feels right" makes this one that is not to be missed.

"Christmas Time is Here" - Vince Guaraldi // Buy
Best known as your favorite song from the Charlie Brown Christmas Special, "Christmas Time is Here" is a true holiday classic. Although most everyone is familiar with the version that accompanies the Peanuts gang ice-skating, the actual album has an instrumental version that's twice as long and definitely worth your time.

"Christmas Card from a Hooker in Minneapolis" - Tom Waits // Buy
Tom Waits knows that the holidays aren't always happy times, so he wrote this song for the wistful dreamers who just can't catch a break. With Ray Charles piano lines and an Allen Ginsberg worthy poem to match, the narrative at work here is astounding. I won't ruin the ending if you're a first-time listener, but there's a twist that's a perfect heartbreaker for the holidays.

"White Christmas" - Bing Crosby // Buy
This is hands down the best Christmas song ever recorded. First written by Irving Berlin for the movie "Holiday Inn"(1924), it has since gone on to become a holiday classic with hundreds of commercial versions ringing from mall speakers across the world. But, as is usual, to get the good stuff you've got to go to the source. Sweet violins match Bing Crosby's mahogany baritone to create a song of the ages that sounds instantly familiar on first listen. Imagine you still have an old timey radio when you listen to it. It's worth it.