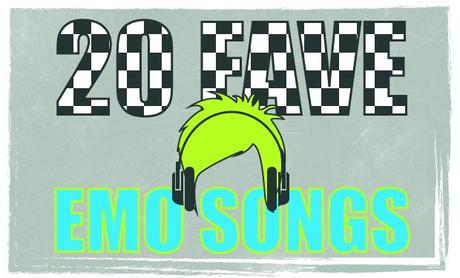 Once upon a time, in the golden days of our youth, there was the Emo phenomenon. Remember those days? The days of eyeliner, sadness and men wearing women's jeans (ok, that still happens). The days when the only songs lining our brick-like iPods expressed the deep emotional and existential angst we were experiencing. Those days were awesome. We decided to get nostalgic and relive our emo-kid past with a 20 Fave list. We laid some ground rules for the list to make sure it didn't become the 20 Weezer, Fugazi and Cursive songs list — namely nothing that's actually more punk than emo, only songs released in the late 90s and early 00s with no Death Cab for Cutie or Bright Eyes. All in all, we're excited at the playlist we came up with. These are songs that are tied to that time and that phase of our lives — songs we still not so secretly listen to on the train. Let's be honest, emo is how we all got here anyway. So without further ado, sit back and enjoy the 20 best emo songs according to us — or as I like to call it "Slumber Party Jam 2004". —  Hannah Angst
Spotify:
20-16
20. "The Future Freaks Me Out" – Motion City Soundtrack
19. "Understanding In A Car Crash" – Thursday
18. "Everywhere in Denver" – The Promise Ring
17. "Stuck At Sea" – The Honorary Title
16. "Helena" – My Chemical Romance

15-11
15. "The Best of Me" – The Starting Line
14. "Sugar, We're Goin Down" – Fall Out Boy
13. "Pain" – Jimmy Eat World
12. "Blood Red Summer" – Coheed & Cambria
11. "Jesus Christ"/"The Quiet Things That No One Ever Knows" – Brand New
10. "Swing, Swing"
I'm not sure if this song by All-American Rejects made the list because it's actually a legitematly amazing pop-punk song, with all the hooks and raw tween-angst emotion you could ask for, or because I rocked out to this several times a day for the majority of middle, and lets be honest, high school. Better question, does it even matter? Listen to this and I just dare you not to enjoy every freaking minute of it. — Hannah Angst
9. "Lying is the Most Fun…"
Nothing screams teenage resentment and naïve interpretations of love like this gem from Panic! At The Disco. The track, taken from the Nevada group's debut LP, was the tune 17 year-old me blasted on my second-generation iPod (the one with the buttons that surrounded the wheel) as I attempted to heal my consistently broken heart. For the most part, it worked. And that, my friends, is what emo music did oh-so-successfully. — Eric Weiner
8. "Call N Return"
Before they truly broke into the mainstream with their MTV hit "Here (In Your Arms)",
Hellogoodbye
put out one hell of a debut EP. "Call N Return" is about as hook-filled as they come. The hopeful line, "Say that you're into me, let me know how it will be, If you don't know just say so. I'll wait till the perfect time, think of all the perfect lines, I'll make sure if I let you know," always struck a chord with me. Not to mention, the claps certainly helped make this one over-the-top catchy. — Eric Weiner
7. "Poetic Tragedy"
The Used mix anger and sadness perfectly into all their songs, but there's something about this one and the cathartic screams that make it stand above the rest. And that's what makes emo great — catharsis and anger. – Hannah Angst
6. "Cute Without The 'E'"
No other band did Long Island emo quite like
Taking Back Sunday
, and no other song was as angsty as their "Cute Without The 'E'". The duetting vocals from Adam Lazzara and John Nolan are never stronger than when they scream, "the only thing that I regret is that I, I never let you hold me back." Few songs have tackled the blame game like this one. — Eric Weiner
5. "Radio"
While the majority of these emo bands took themselves pretty seriously, none did it like
Alkaline Trio
. More punk than a lot of the others on this list, their ballad "Radio" is angry to the point of asking for a suicide attempt. "I've got a big fat fucking bone to pick with you my darling, in case you haven't heard I'm sick and tired of trying. I wish you would take my radio to bathe with you, plugged in and ready to fall." Whoa now, fellas. — Eric Weiner
4. "In Circles"
This song by Sunny Day Real Estate is where emo comes from in my opinion. With it's motoring guitar, Jeremy Egnik's detached vocals and heartbleeding lyrics, "In Circles" was one of the first emo songs, and not much else was ever better. Trust me, listen to it next time you're feeling sad –there's a reason it helped start the movement. – Hannah Angst
3. "Screaming Infidelities"
Oh-my-fucking-God you guys, how much did you love this song when you were in high school for reals? These are probably the best lyrics ever: "I hope you're as happy as you're pretending." It doesn't get much more amazing than that. Dashboard Confessional is the quintessential emo band, and this is the most Dashboard-y song in their catalog — with an angry acoustic guitar and a broken heart, these boys taught us how to feel. – Hannah Angst
2. "If Work Permits"/"My First Single"
I'm sure there are plenty of you out there who were listening to Nate Ruess long before 
fun. 
cracked the mainstream with "We Are Young". With his previous band,
The Format
, Ruess navigated the indie pop end of the emo spectrum and opened the door for countless bands that wouldn't be caught dead calling themselves emo. I couldn't pick just one
The Format
song, so you're getting my two favorites. — Eric Weiner
1. "Konstintine"/"Hurricane"
Pop punk all-stars Something Corporate were a no-brainer for the top spot on this list. More than any band here, they were able to strike a unanimous emotional chord with their fans, proving that we, whether we want to admit it, are all romantics (maybe some more than others). Clocking in at a whopping 9 minutes 37 seconds long, "Konstantine" is so emo-tional and personal that it defined the emo ballad more than any other song of its time and genre. Again, though, I couldn't choose just one song from this band, so we have two listed. Naturally, that choice is a near-opposite of "Konstantine". Off their debut full-length, Leaving Through The Window, "Hurricane" was one of the first songs that I dialed into after I peeled the plastic off the CD.  Though I already had a demo of the track, it quickly became my favorite song on the album, in large part due to that piano/drum breakdown that always hit so hard when I blasted it in my mom's SUV. — Eric Weiner