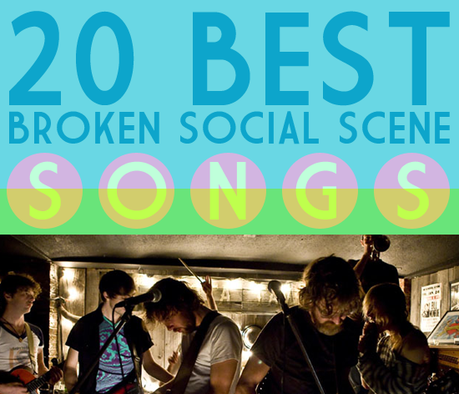 I really, really love this band. Based out of Toronto, Canada, Broken Social Scene is a musical collective comprised of anywhere from six to nineteen members. Kevin Drew and Brendan Canning continue to be the backbone of the group, while many original members have used BSS as a starting place for later careers (Leslie Feist, Metric, Stars, Do Make Say Think, etc.)
Their sound covers an enormous range, moving easily from high-energy, chaotic, 'baroque pop' to simple instrumental and electronic soundscapes. Lyrically, their songs can be completely nonsensical, and oftentimes unecessary; but even without a clear meaning, there is often an allusion that creates a sort of relatable intimacy. With such a diverse scope of sounds, choosing a Top 20 was certainly tricky!
Listen to the songs individually below, or simply click play on the YouTube playlist below to hear them all in a row!
20. "KC Accidental" — Listen
19. "Texico Bitches" — Listen
18. "Aging Faces / Losing Places" — Listen
17. "Marketfresh" — Listen
16. "Backyards" — Listen
15. "Windsurfing Nation" — Listen
14. "Stars and Sons" — Listen
13. "Bandwitch" — Listen
12. "Major Label Debut (Fast)" — Listen
11. "World Sick" — Listen
10. "All My Friends" — Buy
This short and quiet song from the EP To Be You and Me is just Kevin Drew and a guitar. Though it talks about BSS members moving on (specifially referring to some songs by Metric, Stars, and Apostle of Hustle), his smooth voice and the bittersweet line "May I request that you slow down?" makes it seem a bit more universal.
9. "Fire Eye'd Boy" — Buy
A true classic, this track is a genuine example of the passionate energy that BSS is known for. It makes me want to jump and dance around, and I love the pause at 0:37 before it breaks back into the chorus.
8. "Cranley's Gonna Make It Feel Good" — Buy
Feel Good Lost is my go-to sleep album, coming to my rescue during countless nights at shitty hostels full of snoring kids. That being said, I usually don't get past track four, and it wasn't until recently that I ever even gave this song a (conscious) listen. Unlike the rest of the album (almost exclusively instrumental and primarily used as the soundtrack for the film Half Nelson), "Cranley's Gonna Make It" stands apart as a strong representation of BSS' ability to combine non-traditional layers of ambient, electronic sounds with orchestral additions. The use of mandolin and trumpet turn the song into a simple, upbeat jam.
7. "Anthems for a Seventeen-Year-Old Girl" — Buy
Metric's Emily Haines' childlike vocals paired with simple violin crescendos and banjo plucks are positively haunting. For anyone who was once a 17 year old girl, the repetitive "Park that car/Drop that phone/Sleep on the floor/Dream about me" evokes an awfully nostalgic feeling.
6. "Swimmers" — Buy
I have a total crush on Emily Haines' voice, and the instrumentals on this track are  beautiful and uncomplicated. The lyrics of, "If you always get up late, you'll never be on time" are also some that I should start living.
5. "Safety Bricks" — Buy
Though I didn't include anything else from the BSS:Presents series, this gentle song off of Kevin Drew's ..Spirit If certainly deserves a spot. Basic drums, acoustic guitar, banjo, and Drew's achingly soothing voice make this one sweet and simple. It discusses love, responsibility, the eventual 'house and kids,' and even throws in some cute "ooh, ooh, ooh"s.
4. "Cause = Time" — Buy
This is simple: catchy beat, cool instrumental/symbol-heavy chaos, and a good electric guitar solo — who doesn't like that? (This one also ranked #145 on Pitchfork's 'Best 500 songs of the 2000s'. Nice.)
3. "Lover's Spit" — Buy
From their breakthrough album You Forgot it in People, "Lover's Spit" has been included in multiple soundtracks and is arguably their most popular song. I can't fully explain how Kevin Drew's magical pipes can turn maybe-distasteful phrases like "all these people drinking lovers' spit" and "grow old and do some shit" into something so melancholic and beautiful, but this is truly one of their most intimate and heartbreaking songs. (Shout out to the alternate version on the Bee Hives EP, featuring Leslie Feist and simpler piano-based instrumentals.)
2. "All to All" — Buy
BSS's latest release, World Sick, is a bit more electronic than their older stuff. This song is built on top of a choppy, mechanical bass line, synth noises, violin, and features the smooth vocals of their current touring front-lady, Lisa Lobsinger. The lyrics are stellar in this one, and the speedy second chorus ("It's like the all to all/the ultimatum") gets me every time.
1. "7/4 Shoreline" — Buy
This song embodies pretty much everything I adore about Broken Social Scene: Feist's killer vocals, spot-on harmonies, and a groovy build-up to fuel the explosion of high-energy during the sweeping "It's coming/ it's coming in hard". I also love the last saxophone/trumpet bit (for which they pulled a whole mariachi band onstage at a show I saw in Mexico City!). As the title suggests, the fast-paced drum beat is in the unusual 7/4 time signature, which makes it not only an amazing song, but structurally unique as well.