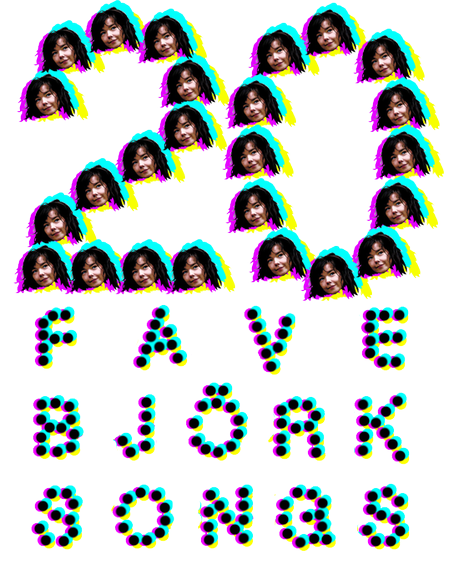 In the pantheon of those who are truly original, the iconoclasts who did whatever the hell they wanted and damned the consequences, Björk (@bjork) has a cemented place. Her influence can be felt far and wide, from The Knife and Radiohead to, most obviously, Lady Gaga. Björk's stunning creativity is only amplified by her extraordinary voice.In celebration of the (slow) release of her new album/app Biophilia, we compiled our absolute favorite Björk songs — the ones that make us dance and the ones that make us cry.
Graphics credit: Dylan Clancy

20. "There's More to Life Than This (Recorded Live at the Milk Bar Toilets)" – Listen
19. "Hunter" – Listen
18. "Possibly Maybe" – Listen
17. "Venus as a Boy" – Listen
16. "Violently Happy" – Listen

15. "Innocence" — Listen
14. "Hidden Place" – Listen
13. "Oceania" – Listen
12. "Alarm Call" – Listen
11. "All is Full of Love" – Listen

"Earth Intruders" — Buy
The driving tribal beat, the blaring horns and Bjork practically screaming "Turmoil! Carnage!" is infectiously catchy and incredibly unique, obtuse and immediate. This track is the perfect definition of the artist herself.

"I've Seen It All" — Buy
Collaboration between Bjork and Thom Yorke is about as close to musical perfection as you can get. While the use of a train's thumping as the primary beat is incredible, the aching sadness and hope that it portrays in the devastating film Dancer in the Dark is truly where the song's genius lies.

"Big Time Sensuality" — Buy
Pure dance music, this is the song that branded Bjork as a flighty pixie. It  bursts with joy punctuated by her guttural animalistic noises near the end. It was her first song that charted in the US, and it's not hard to see why.

"Isobel" — Buy
The combination of strings and light electronic beats, a theme in many Bjork songs, is never more stunningly beautiful or haunting as it is here. "Isobel" is a celebration of nature, independence and beauty that unfolds slowly and wraps itself around you.

"Unravel" — Buy
This is a fair time to admit that the album Homogenic almost always makes me tear up a little, and "Unravel" is the primary reason why. Thom Yorke, in fact, named this melancholic love song his favorite of all time. Bjork uses her vocal power here to sound like she is breaking down, and as a result, so do I.

"Army of Me" — Buy
Industrial darkness is not one of the many reasons I worship at the feet of Bjork, but "Army of Me" proved that she could create nightmarish music as well as the best metal bands. The depth of her voice, and of course, that amazing grinding beat, make it an impossible song to forget.

"Bachelorette" — Buy
This is a perfect example of what I love most about Bjork — the epic stings, the crushing electronic beats and that damn voice. Can anyone else in the world place that much emotion into a note or belt with such sustained power? Bachelorette makes me quake every time I hear it.

"Pagan Poetry" — Buy
Delicate, serene, spacious and erotic, "Pagan Poetry" has to be one of the most romantic songs of all time. The beautiful harp and its dissolution into the monk like repetition of "I love him, I love him" is absolutely devastating.

"Hyper-Ballad" — Buy
There is probably no better illustration of the fear and tension of giving yourself over to someone than "Hyper-Ballad". Amongst all the morbid throwing of "car parts, bottles and cutlery" off the cliffs, there is always the promise to be "safe again with you." It is optimistic and realistic about relationships and has the power to make a lover out of anyone.

"Jóga" — Buy
I hold firm that "Jóga" is one of the most beautiful and affecting love songs of all time. The orchestra softly cradles Bjork's extraordinarily tender voice while she sings, "All that no one sees, you see deep inside of me/ Every nerve that hurts you heal, deep inside of me," easily the most romantic lines I have ever heard. "Jóga" is the reason I fell in love with Bjork.