Just as in previous weeks, HBO have released 2 short clips from the next episode of True Blood, "We'll meet again", which airs on Sunday. The good news is that both Sookie and Eric are featured again this week.
Firstly our girl Sookie decides to do the decent thing and confess to the police about the killing of Debbie  Pelt. Of course, the police also happens to be her big brother, so something tells me he won't be handcuffing her and taking her down to the station any time soon!
And secondly we see Eric back at "Fangtasia", along with his best buddy Bill, when Pam returns to the club with her brand new progeny.
God damn, that viking looks so incredibly hot all menacing and brooding on his throne there, but what's he going to think of Pam making him a granddaddy, to Tara! Can't wait to find out.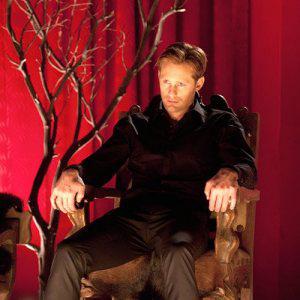 Let us know what you think of the new clips. Do they make you more or less excited for Sunday?