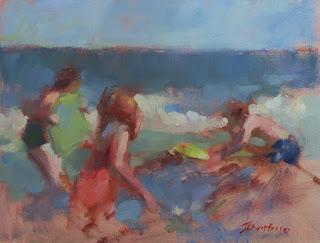 One Day Composition workshopFeb. 24Kelowna, BCFCA COC 
I'm excited to be invited back to Kelowna, BC in February to teach 2 workshops over 3 days.  This is a new format for me, and one that I think will be really effective as the second workshop, though it's a stand alone, is enhanced by having taken the first. 
I'll be starting with a 1-day compostion workshop which is open to painters working in any medium and which will be done from photo references that each painter brings along. 
Yes: photo references!  I know I've gone on about the lying, cheating nature of photos, but I also know that this is what most of us use when we work in our studios.  So this workshop is to help artists to interpret and maximize their photos to create good paintings.  Our job is not to copy, but to arrange, alter, and filter those photos through our own, personal aesthetics.  It's this filtering and editing that makes a work of art both personal and illuminating for the viewer.  It shows the audience how that painter sees the world; what matters to him or her, and what the artist finds fascinating and wants to show to the people who look at that work. 
Our approach to composition will be playful and varied, based on the creation of dynamic shapes -even where the photo has few- and gesture.  Artists will learn to avoid excessive detail, and design abstractly for maximum effect.
If you work from photos, and don't think you're clearly transmitting an idea or aesthetic in your work, this intensive 1-day will help you to identify and communicate your vision.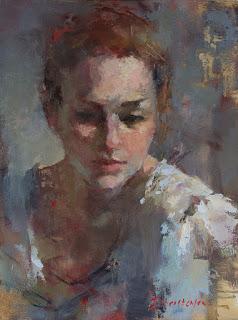 2-day Alla Prima Portrait WorkshopFeb. 25 - 26Kelowna, BCFCA COC
Following this workshop, will be a 2-day alla prima portraiture workshop.  A limited number of painters will have the pleasure of working directly from a model, exploring both the subject of portrait painting, and the techniques for working wet-in-wet.  Participants will learn how to create loose, yet accurate portraits while tackling the complexity of skin tones, color temperature,  and brushwork. 
I hope you'll join me for one or both of these workshops.  For more information and registration, please contact the Federation of Canadian Artists Central Okanagan Chapter.
Happy painting!