Have you tried bamboo rice recipes? If not, for this year's Vinayaka Chaturthi, try this bamboo rice kozhukattai recipe in two flavors - savory and sweet.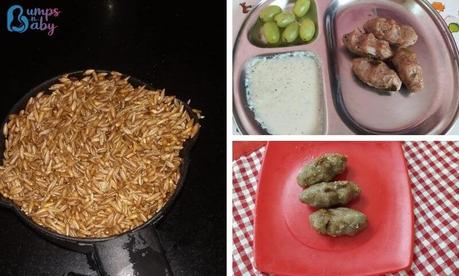 Millet based food varieties are trending these days for their health benefits. Millets like finger millet, pearl millet, foxtail millet, little millet, etc are now common in the market. Millet recipes are being added to restaurant menu cards too as recommended recipes for the health-conscious.
Like millets, many long-forgotten rice varieties are making a slow comeback to our dining tables. People have started to understand the benefits of traditional rice varieties over modified ones. Recipes with rice varieties like black rice, mappillai samba rice, etc are slowly becoming a part of our daily menu. One such grain variety, that is becoming a trend now, is bamboo rice which is packed with lots of surprising health benefits.
I have been including bamboo rice recipes in my family menu for quite some time now. Its unique flavor makes it an excellent ingredient for desserts, breakfast, and snack items. So for this Ganesh Chaturthi, to make the occasion more special, I decided to prepare something with this exotic grain.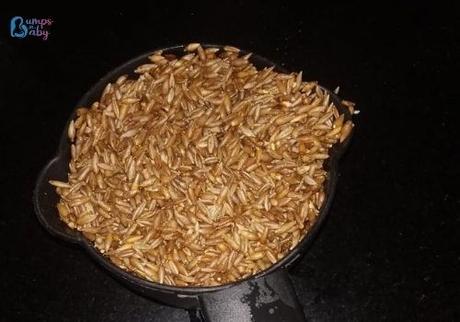 Bamboo rice, known as mulayari in Malayalam and moongil arisi in Tamil, are the seeds produced by the bamboo shoot. Bamboos have a lifespan of 40 to 60 years. In the last stage of the lifecycle of a bamboo shoot, it flowers and produces bamboo seeds. Once the seeds are produced, the bamboo dies. It takes anywhere from 40 to 60 years for a bamboo shoot to mature, flower, and then produce seeds making bamboo rice an exotic rice variety.
Health benefits of bamboo rice
Bamboo rice has many health benefits and its nutritional values are better than normal rice and wheat. It is safe for kids as well. It can be included in your kids' menu from the age of 9 months provided it is well cooked. Benefits of bamboo rice are as follows -
Baboo rice cures and removes toxic substances from the body.
It has a large amount of calcium and a good amount of phosphorus
Rich in fiber
The low glycemic index compared to other rice varieties makes it a better substitute for normal rice.
Reduces sugar level
It improves fertility
Contains carbohydrate, fiber, and protein.
It helps to develop bone health and relieves joint pains.
This rice has no fat.
It is also rich in Vitamin B
Good for people who experience fatigue often
What recipes can be prepared with bamboo rice?
The bamboo rice is also known as tribal rice and is tastes sweet. The sweetness of the grain is one reason why it is a favorite food of elephants too.
It can be cooked like any other rice. Once cooked it has a moist and sticky texture and is chewy when consumed.
Bamboo rice can be used in many recipes. While bamboo rice puttu and mulayari payasam are popular varieties in Kerala, we here in Tamil Nadu make pongal, kheer, dosa, porridge, and dumplings with bamboo rice. Here I am sharing my exotic bamboo rice dumplings recipes in two yummy flavors - Savory and Sweet.
August being the month of festivals, my main job is to prepare elaborate menus fit for each auspicious occasion. Be it Sreekrishna Jayanthi, Vinayaka Chaturthi, or any auspicious day, I always like to put together traditional recipes apt for the occasion. It gives me a chance to teach my kids about our traditional food and culture.
Modak/Kozhukattai for Ganesh Chaturthi
Modak and kozhukattai being the main prasad for Ganesh Chaturthi, this year also steamed rice kozhukattai and ragi dumplings are on my menu. But, I also want to include something special apart from the usual items. That's when the idea of trying kozhukattai recipe with bamboo rice came to me.
I have tried both sweet and savory versions of bamboo rice kozhukattai. Trust me these are so yummy. It is best to have them as breakfast. You can also have this kozhukattai as an evening snack.
It is best to soak the bamboo rice overnight or for a minimum of 8 hours. We have to add idly rice also along with bamboo rice for both of these kozhukattai recipes. I have used equal quantities of bamboo rice and idly rice. Just three hours of soaking is enough for idly rice. The soaking part is very important and should not be skipped.
After soaking grind both the rice together. The batter doesn't require fermentation making it an easy recipe.
The same batter can be used for both the sweet and savory versions. So, I usually divide the batter into two halves and use one for sweet dumplings and the other for savory dumplings.
Do not keep this batter in the refrigerator for more than one day. I tried once and it didn't taste as best as the fresh batter.
Savory Bamboo Rice Kozhukattai Recipe
Firstly, let us see how to prepare the savory version. This is an easy kozhukattai recipe that tastes amazing and is full of nutrition.
Ingredients
Bamboo rice - 1 cup
Idly rice - 1 cup
Onion - 1 cup finely chopped
Green chilies - 2
Curry leaves - a few
Mustard - 1 tsp
Channa dal just for tempering - half a tsp
Hing ( Asafoetida powder ) - a pinch
Sesame or groundnut oil - 3 tablespoon plus 1 spoon.
Salt as needed.
Method
Soak bamboo rice for 8 hours or overnight. Soak idly rice for a minimum of 3 hours. Soaking both the rice varieties is a must.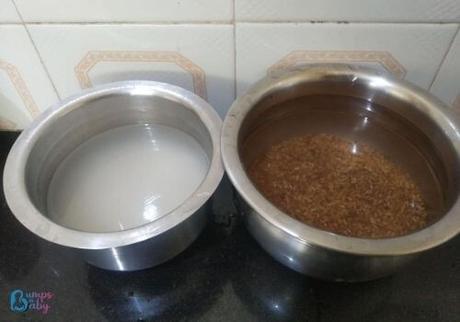 In a mixie jar add both kinds of rice together and grind it by adding very little water. But make sure it's not a very tight batter.
Heat the pan, add oil. Once the oil is hot add mustard seeds. Once it cracks add channa dal followed by onions, chilies, hing, curry leaves, and salt.
Make sure the gas is in a low flame. Now add the rice batter and stir continuously. After a minute everything will get combined as shown in the figure below.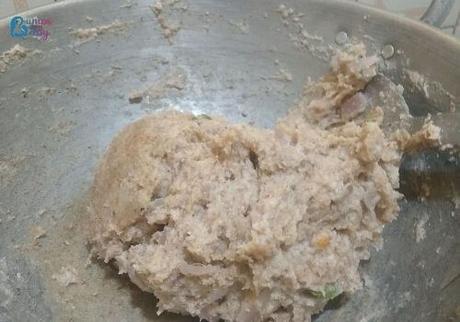 Keep mixing, now the color and texture will change. Just wet your hand and touch the batter. It should not stick to your hands. If it sticks cook for a few more minutes. Once it is cooked, let it cool down a little.
Apply oil in your hands and take a small portion and make the shape of the dumpling as shown in the picture.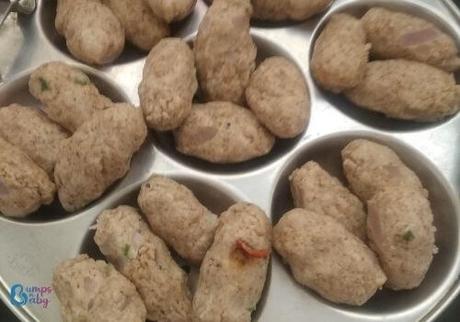 In a steamer place all the dumplings and steam for ten minutes.
Serve with coconut chutney. My kids love to have it with ghee and jaggery mix too.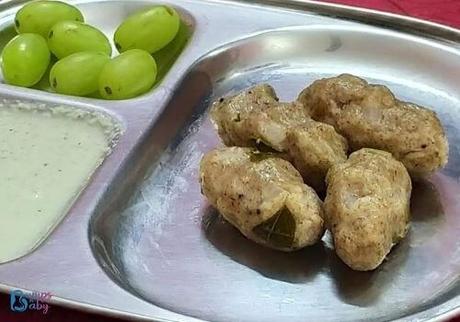 Note: I have added lots of onion in this savory version. You can reduce the quantity if you want.
Sweet Bamboo Rice Kozhukattai Recipe
Bamboo rice has a natural sweetness to it and makes a good substitute for usual flours when making sweet dumplings. Here is my healthy sweet bamboo rice kozhukattai recipe.
Ingredients
Bamboo rice - 1 cup
Idly rice - 1 cup
Coconut - half a cup
Jaggery - ¼ cup
Cardamom - 2 no's
Ghee - 3 to 4 tablespoon
Salt a pinch
Method
Soak bamboo rice for 8 hours or overnight and idly rice for a minimum of 3 hours. Grind both kinds of rice together using very little water. Make sure the batter is not very tight. Keep it aside. No need to ferment.
Now heat the pan and put ghee. Roast the coconut in this ghee for a few minutes. Add the jaggery and just mix with coconut.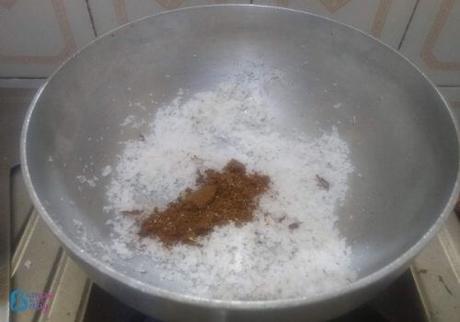 Add the cardamom and switch off the flame. The filling for our dumpling is ready.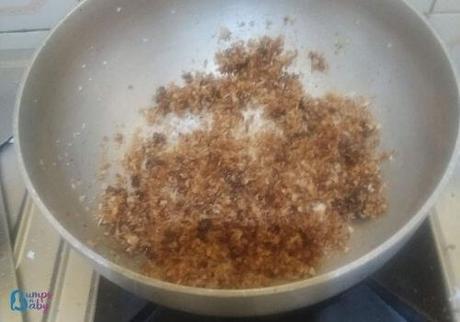 In another pan add ghee and add the batter along with a pinch of salt. Make sure the flame is low.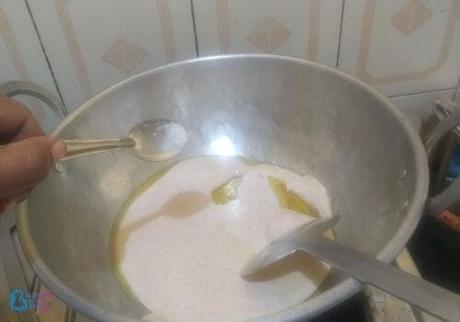 Keep on mixing the batter until it combines well and comes together as a ball.
In this stage cook for a minute more and then just wet your hand with water and touch. It should not stick. If it sticks to your hand cook for a few more minutes.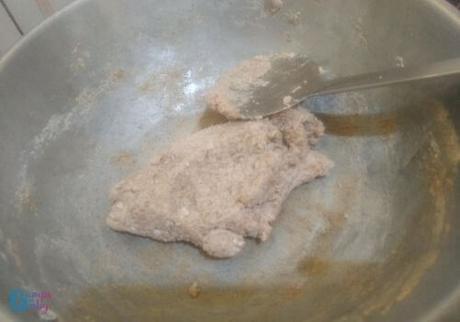 Once it's cooked, let it cool down a little. Once it cools down a little, apply oil in your hands, and take a small portion of the dough and flatten it with your fingers. Keep the coconut jaggery filling in the middle and tightly close your palm to fold the dough to get the shape of a dumpling.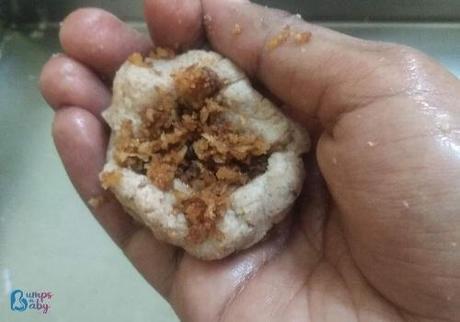 In a steamer place all the dumplings and steam it for ten minutes.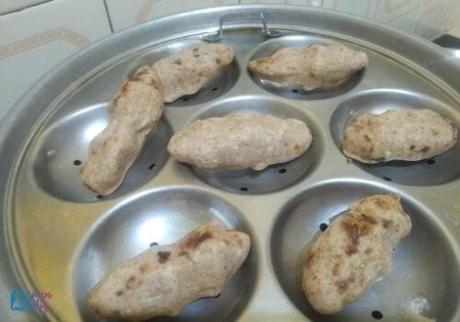 The sweet bamboo rice dumplings are ready.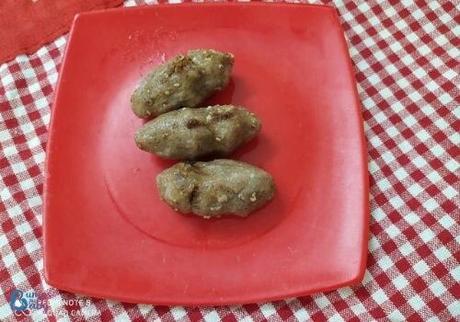 The kids can have this sweet dumpling for breakfast or snacks.
♦ Read: Chocolate Modak Recipe and Fried Modak Recipe
So, these are the two delicious kozhukattai varieties that will make to my Ganesh Chaturthi lunch menu and prasadam offering. Do try this bamboo rice kozhukattai recipe for this Ganesholthsav. I will be eagerly waiting for your feedback in the comments.