Searching for easy DIY teacher's day gifts and ideas?
Or are you planning to help your child make a DIY teacher's day gift?
Teacher's day is almost here and kids are busy searching high and low for the perfect gift for their favorite teacher.
DIY Teacher's day gifts:
Don't worry; this is a situation where I can help you. I have something that will ease your worries and put a smile on your little one's face.
Today's post is about getting crafty so that you can help your child make the best gift for teachers' day.
I have two very easy gifts for teachers that you can make at home - the pen/ pencil holder and the monster bin.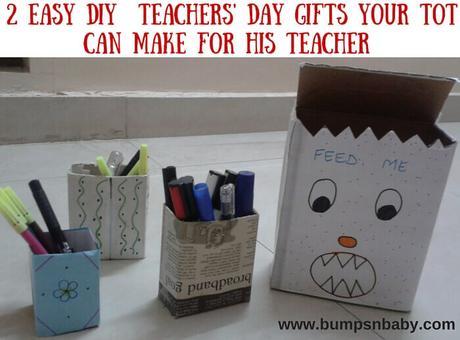 The pen-pencil holder will help keep the table well organized. It can hold multiple pens, pencils and sketch pens.
The monster bin, true to its name eats chalk and scissors and all things big.
#1. DIY pen/ pencil holder from recyclable box
Gifting a pen/pencil holder to a teacher is a perfect idea. She can place it on her desk and use it to hold all her pens and pencils.
Materials required:
A rectangular box (of biscuits/ toothpaste or any rectangular boxes will do)
Scissors/ cutter
Glue
A plain white or a decorative paper
Transparent cello tape
Sketch pens
Process
Take a rectangular box and cut it into the required size (as shown in the picture) depending on the size of the materials you are using the holder for. Then cover the box with plain white paper with the help of glue and transparent cello tape.
You may also directly stick the decorative paper to the box and skip the step mentioned above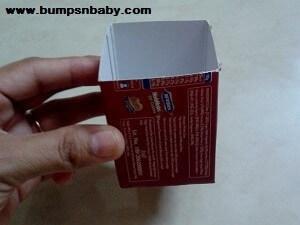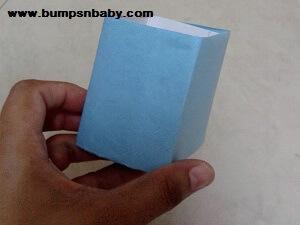 .
Ask your kid to decorate the holder with the colorful sketch pens. I prefer decorating it with different designs on all four sides of it, so that it has a different look from the different sides.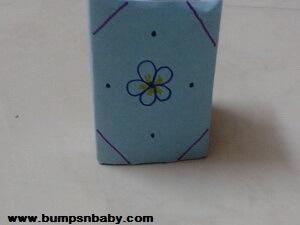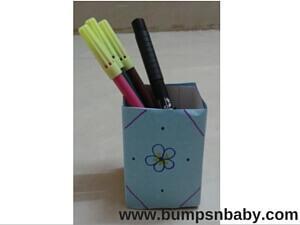 Your pen/pencil holder is ready.
You can make different pen pencil holders wrapped with white paper, decorative paper, newspaper etc.
Isn't it really easy? Join your kid and get creative with your own ideas like cutting the box into different shapes, sticking the two holders together etc.
You can also write the teacher's initials, or cut it from a colour paper and stick it on to the holder to make it personalized and even more beautiful.
#2. DIY monster bin from cardboard box
Gift a monster bin to help your teacher organize her chalks, scissors, cello tapes and craft items.
Materials required
A medium to big sized rectangular cardboard box (I used a box of detergent, you may choose something similar)
Plain white paper.
Glue
Scissors
Sketch pens
Process
Take a rectangular box and cover the whole box with the plain white paper using glue as shown in the picture. Now cut the thin strip of the lid and remove it.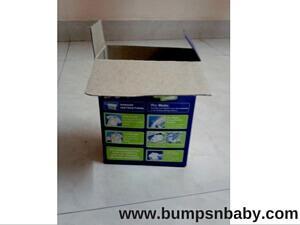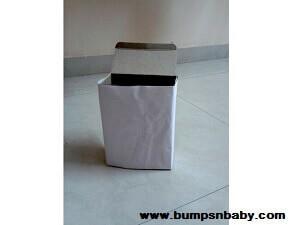 Cut the remaining lid of the box into zigzag shape. (You may also use zigzag cutter or scissors for this step). This is going to be the monster's open mouth as it is hungry zzzzzzzzzzz!
Draw monster eyes over the lid. You may also draw another monster face on the front side as I did and shown in the picture. You may also write the words like "Feed me", "Grow well, Give my food, I am hungry" etc for fun.
Use the sketch pens to color the monster and the empty space on the bin.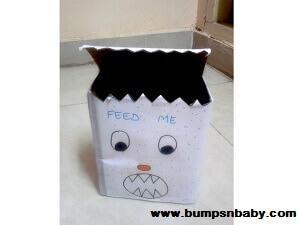 Monster bin is ready.
Make these recycled materials crafts with your kids. These crafts are so simple that your kids can also make these crafts themselves or with your help/supervision in using scissors and cutters.
I am sure your kids will love to craft these easy DIY for their teachers and they will also be really proud and happy as these are made by them.
Did you/ your kids love these ideas?
Do you have any teacher's day gift ideas?
Do share with me in comments.