Two days to go and behind the scenes here at the opening ceremony, there are some exciting and innovative ways that the show accomplishes so much!  You better read this one, there are some things here that Russia would HATE for me to "spill the beans" about.  Perhaps people are amazed at how something like this comes together, but it's no secret - it takes a LOT of people working many hours, but sometimes we get so close only to change something at the very last minute, at the very last rehearsal.
In 2014 in Sochi, we performed the last dress rehearsal for broadcast supplemental video.  For instance, if something went wrong during the actual ceremony, then a correct version could be put into the broadcast - you know where I'm going with this.  Although the whole world saw the asterisk, click the video below the picture to see what Russia saw!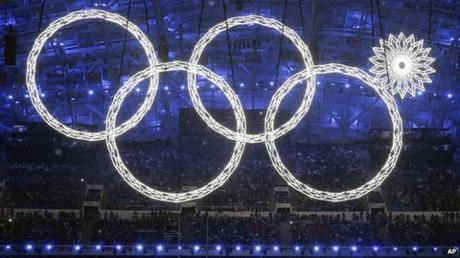 Another interesting change from the 2014 Sochi rehearsals and the final result was the cauldron lighting. Sochi had a domed arena and an outdoor cauldron.  One way to fix this would be to light an indoor cauldron that would ignite a series of flames through the top of the stadium and run all the way out to the outdoor cauldron.  The following is a concept video of the Sochi cauldron.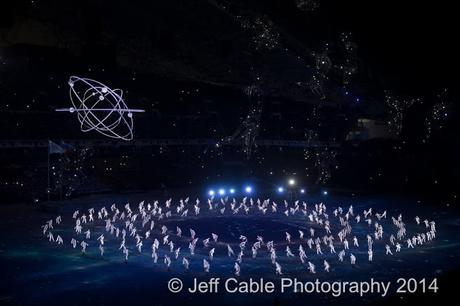 I remember this being poorly covered up in the stadium; there were frequent attempts to fix the movement.  It never worked well, so it kind of flew in and out unnoticed in the ceremony.  It was to appear like this, then flatten out before an inner ball being lit.  The inner ball was removed before the ceremony.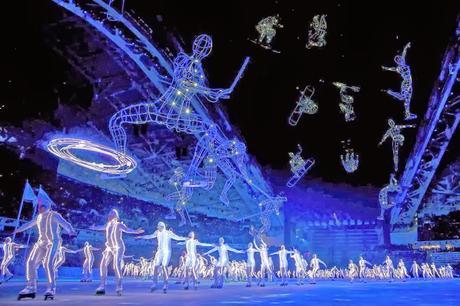 Here it is flattened.  Once lit, a series of fireworks/fire cannons would string the "flame" to the roof where for weeks there were fire cannons being tested, before they "pulled the plug" and just decided to have two runners light the very last of the fire cannons near the cauldron.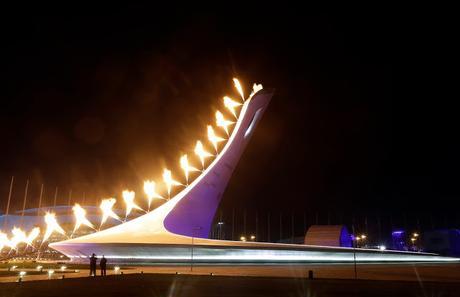 Final cauldron test with fire cannons
Here was what actually happened after the concept was scrapped.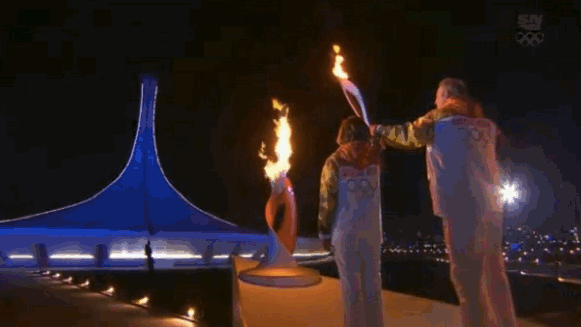 So, sometimes a LOT of change happens between the final dress rehearsal and the actual show.  Tomorrow I'll have several more "behind the scenes" elements to talk about - you won't want to miss it.  As always, if you want to see every summer Olympic opening ceremony, go to www.olympicceremony.org.
Today's teaser - remember yesterday's (if not, you have to click "Behind the Scenes: Rio 2016" on the green bar above).  This was some construction work only few weeks ago!  Wonder what it looks like now?  There are more secrets behind the curtain...