2 - Day Figurative Workshop
September 17/18
Kelowna, BC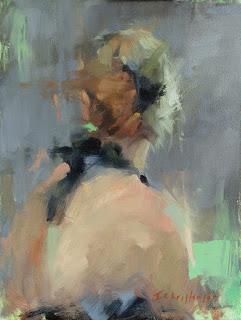 I'll be teaching in the gorgeous Okanagan Valley in September and it's my favorite genre: figurative! The workshop is hosted by Ellis Art Studios in Kelowna, BC; I hope you'll be able to join me.  
Following is an outline for the workshop:
I find it deeply moving to paint a person from life: to make a connection through careful observation and personal interpretation of the subject in front of me.  A painting of a person should reveal and celebrate both the model and the painter's unique vision, and it's this dual intention that I'll be focusing on during the workshop.  
Painters will learn techniques for capturing the amazing and powerful connections that link the body together in a graceful gesture, and discover the liberating fact that they can paint the most complex poses accurately, with only a brush and a squint.
Using group demonstrations and individual instruction, I'll help painters solve the mysteries of flesh tones, body proportion, and light temperature. Students will work on short studies and longer poses over the course of the workshop, developing confidence in both the layering technique that I use, and in their ability to render a figure with their brushes and their singular visions. 
This workshop is designed for artists with some experience though it need not be in the figurative genre.  It's suitable for both acrylic and oil painters. Demonstrations will be in oil.