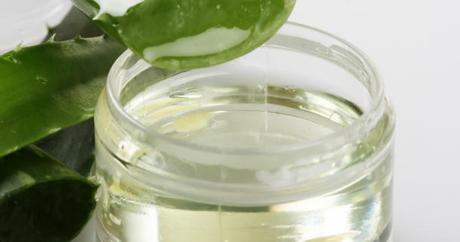 Aloe Vera is one of the best ingredients to have in any skin care product. Not only does it soothe the skin, it also combats sunburns! Since this all-natural ingredient is so commonly used, it's pretty easy to find in drugstore skin products. Unfortunately, a lot of these can be expensive and filled with chemicals that aren't good for the skin. If you're into experimenting with creating your own lotions at home, you might want to consider making an Aloe Vera moisturizer. It can prove to be well worth your time since it's affordable, easy and natural.
Recipe #1
- 1 tablespoon extra virgin olive oil (high quality is best)
- Gel from 1 large aloe vera leaf
Using the gel straight from the leaf is going to be the best, but not everyone has access to these. If you are not able to find one, purchase some all-natural aloe vera gel from your local drugstore. Read the ingredients on the back to ensure there is only aloe vera in it. A lot of products add things in the bottles.
Once you have both of these ingredients, mix them together. Use this once in the morning and at night, or just once per day. This smells really good and will make your skin soft as well. Some people say it even helps combat their eczema or extreme dry skin. Since eczema lotions can be so expensive, this is a great alternative to consider.
Recipe #2
- 1/2 cup purified water
- 3 drops rose essential oil
- 3 drops rosemary essential oil
- 3 drops chamomile essential oil
- 2 tablespoons aloe vera gel
- 1/8 cup witch hazel
Some of these ingredients might sound like they are difficult to find. The key is to know where to shop, especially when looking for the essential oils. Health food stores are going to be the best choices for finding them. Normally they carry a wide variety of oils and other natural ingredients you can use for skin care.
Once you have found the ingredients, mix everything together. Once it's well combined, pour the mixture into a spray bottle. Shake the bottle and then spray on your face so a list mist covers it. Once you have done this, let the spray soak into your skin until it's dry. Do this daily after washing your skin with an aloe bar of soap. This toner should reduce redness and create smooth skin you can enjoy!
Both of these recipes are great options for putting aloe vera to work. They smell really good and are easy to make at home. You could also bottle these to give as gifts during the holidays. The results you see from using these could end up with you making all your own skin care products! It's worth trying out to at least see what you can achieve. When a bunch of chemicals aren't on your skin it will be much healthier.
Bruce is an expert who has studied healthcare and beauty for many years. He writes articles for RemoveSkinMoles.Com, which is a site that has free beauty tips and information on the most effective skin mole removal methods.