Things that all 1
st
 base coaches should say to runners at first base: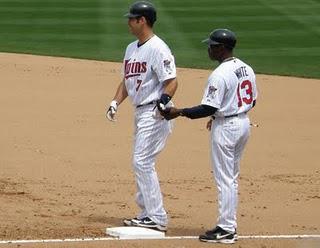 Number of outs.

"On your own past the catcher & pitcher" – if a ball gets past the catcher or if the return throw gets by the pitcher, the runner decides for himself whether or not to go.  He can't wait for the coach to tell him to go.  He must see it and just react using good judgment.
"Watch the snap throw from the catcher" – shuffle off and come back correctly as described

HERE

.
"Score on a ball in the gap" – this is a way of telling the runner he doesn't stop running hard unless the 3

rd

 base coach holds him up.

"Know where the outfielders are" - A runner should know where they are before the pitch so when the ball is hit to the outfield, they will know beforehand whether an outfielder is in that area.

If less than 2 outs:
"get a good read on a line-drive" – read this previous post on line-drives

 for an explanation.

"break up a double play" – how he does it must be in accordance with the rules at his level.
If  two outs:
"

beat the force at 2nd base" 

– many infielders will take the easy force at second base with two outs.  An outstanding play for the runner at first is to beat that throw.  It shows tremendous hustle and extends the inning with a runner now in scoring position.
Misc: Anything else that may be said by the coach probably will be situational.  A base stealer may be told the times for the pitcher to home or tips about his pick-off move.  If losing by a lot, the coach may tell the runner to take less chances and so forth.