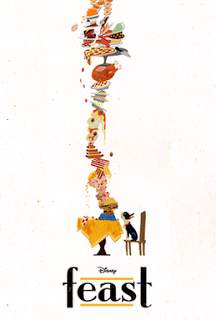 Directed By:
Patrick Osborne
Starring:
Tommy Snider, Katie Lowes, Ben Bledsoe
Trivia:
This movie won both an Academy Award for Best Animated Short Film at the 87th Academy Awards, and the Annie Award for Best Animated Short Subject at the 42nd Annie Awards
The 2014 Disney short Feast tells the story of a dog who eats anything he wants, only to discover there's more to life than food.
From the time he was a puppy, Winston was given all sorts of treats by his owner, James (voiced by Katie Lowes). From pizza to nachos, burgers to French fries, Winston had it all… and loved it all. Then, when James meets Kirby (Katie Lowes), a waitress at a health food restaurant, poor Winston's menu options start to change. All at once, the cookies and fast food are gone, replaced by veggies and other less-tasty morsels. When James and Kirby split, things go back to the way they were, and Winston, who gorges himself on ice cream and cakes, is happy again. But James is not, which forces Winston to make some tough decisions.
That's the basic premise of Feast, but like Winston, we don't realize what's going on until the movie is half over. That's because the first part of Feast is told exclusively from Winston's point of view, with James and the other characters pushed to the background. Throughout these scenes, there are hints as to what's happening in the outside world; early on, James is obviously living in a college dorm, so Winston benefits from the steady stream of junk food that typically goes hand-in-hand with that lifestyle. When the pup is first given veggies, he spits them out, and later, as he stares at the unappetizing contents of his bowl, we spot James and Kirby dancing happily in the next room. When Kirby walks out on James (again, we see this only in the background), Winston's now-despondent owner returns to his unhealthy routine. It isn't until Winston finds a stray sprig of parsley lying around that James finally enters the forefront (while Winston can't stand the parsley, James gazes at it longingly, a reminder of the love he's lost).
Like Winston, we suddenly notice James, and realize that he's suffering. It's here that the film takes a sharp turn, transforming from a humorous short into a story with heart. While the opening few sequences of Feast will give you something to laugh about, the second half is sure to bring a tear to your eye.