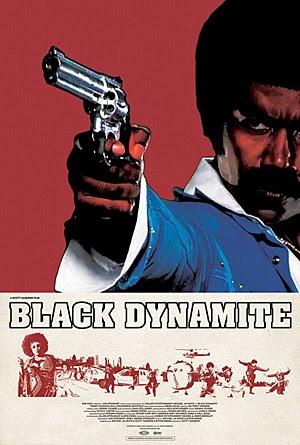 Directed By:
Scott Sanders
Starring:
Michael Jai White, Salli Richardson, Byron Minns
Tag line:
"He's a powder keg of black fury that's about to explode!"
Trivia:
Michael Jai White first had the idea for the movie while filming
Undisputed 2: Last Man Standing
in Bulgaria
"He's a powder keg of black fury that's about to explode!" cries the tagline for 2009's Black Dynamite, an action / comedy that takes aim at '70s blaxploitation films, and with Michael Jai White in the title role, Black Dynamite does explode in just about every scene (and believe me, you do not want to be in his way when he does).
When his brother Jimmy (Baron Vaughn) is killed by "the man", Black Dynamite (White), a former Vietnam vet / CIA agent who's also an expert at kung fu, vows to track down those responsible and make them pay. As the clues build up, Black Dynamite discovers that Jimmy's death was linked to a new drug called "smack", which is sending kids (including orphans) to the hospital. Joining forces with a group of militants led by Saheed (Phil Morris) and aided by his soul brothers Bullhorn (Byron Minns) and Cream Corn (Tommy Davidson), Black Dynamite takes the fight to the streets, facing off against pimps, gangsters, martial arts masters and corrupt politicians, all the while cozying up to a fine fox named Gloria Gray (Salli Richardson). Before long, Black Dynamite and his friends have cleaned up the neighborhood, but a covert operation known as "Code Kansas" soon rears its ugly head. What is "Code Kansas", and how will it affect the black community? If anybody can find the answers to these questions, it's Black Dynamite!
Shot on Super 16mm film stock, Black Dynamite looks like the movies it's satirizing (right down to their over-saturated colors). What's more, the film pokes fun at the low production values that plagued the era's blaxploitation offerings, with boom mics making their way into the shot and cameras going out of focus at exactly the wrong time. Many of the staged goofs are hilarious, like the rear projection we see through the car windows as Black Dynamite gives chase to Chicago Wind (Mykelti Williamson), or the "roaming teardrop" on the cheek of Honey Bee (Kym Whitley) that appears and disappears continuously throughout the scene. As for the acting, Michael Jai White is as boisterous as he can be, delivering each line as if it was the most important one in the film. More often than not, his over-the-top mannerisms will have you laughing out loud; the scene where he's telling his wartime buddy, CIA agent O'Leary (Kevin Chapman), about his most traumatic experience in Vietnam is as good as it gets. As for the supporting cast, Byron Minns does a great Dolemite impression, and both Phil Morris and Tommy Davidson have their moments as they help Black Dynamite take down the city's drug lords. And keep an eye out for Arsenio Hall, who makes a brief but very funny appearance as a pimp named Tasty Freeze.
In addition to its comedic moments, Black Dynamite is also a fine action film, thanks in no small part to star Michael Jai White's martial arts expertise (he holds black belts in seven different styles). As fun as some of the shootouts are, it's the hand-to-hand skirmishes between White and the bad guys that'll keep you in stitches (an early scene where he's "practicing" his kung-fu with a few Asian pals is a definite highlight). This, along with its barrage of sidesplitting sequences, makes Black Dynamite a movie you won't want to miss. See it once, and then immediately see it again.