What is the point? No, really. What is the point of ever doing anything even remotely exciting or pleasurable? Why waste your time doing what you want to make yourself happy? The end result is always going to be the same; eternal darkness. Hmmm… perhaps one of the darker introductions to UAE Uncut, totally devoid of levity, but an accurate appraisal of how I felt when I was spooling through the papers this week.
Sad news for those with a desire to develop diabetes and for those who aspire to be obese: the Supersize drinking vessel is now banned. Gone the way of the unlicensed firearm, phone hacking, and the right to ride a horse, nude, through downtown Dubai. It is now illegal, and no more will the charming lady behind the counter at Hardees be allowed to ask you to "up-size".
However, this being UAE Uncut, we have been ceaselessly picking our brains to try and work out how you might get around such legislation. And after a great deal of thought and practical experiments we think we may have found a loophole. If you wake up in the morning with an insatiable craving for a Supersize Diet Pepsi, because you're watching your weight, but the catering personnel are bound by law not to provide you with your desired size, buy two large size drinks instead.
There, problem solved.
I spent 11 years of my life growing up in Blair's Miserable Britain, 13 if you include that charlatan Brown too. One of New Labour's party pieces was the incessant banning of everything; fox hunting, smoking, community sports center lights being on past 10pm, smacking your children's bottoms, hoodies, the banning of gold from British soil, truthful dossiers, putting food stuff in the paper bin, the right for a weapons inspector to carry on with his life and not be killed… the list is endless. For all the hundred reasons why not, it was always the one or two reasons why.
So, in essence, the news of the banning of Supersize should have been water off a duck's back to me, but it grated, because it is such a tedious effort to curb the diabetes issues. Why stop at only the Supersize cup? If you can still legally buy two large size drinks then why not simply throw the machine away and sell only water? Better yet, to really make a dent in the public's sugar levels why not simply replace all the Big Mac's and Mega Buckets with celery and cabbage?
While we're at it, why not deal with the fattiest food of them all; hotel food. It doesn't matter if you go for a bowl of gruel at an underwhelming 2-Star hotel, or if you spend AED 45,000 on dinner at Chamas or some stupid pretentious restaurant in Dubai, hotel food expands your waistline as quickly as injecting your bottom full of lard. Anyone who thinks hotel food is good for you is deluded.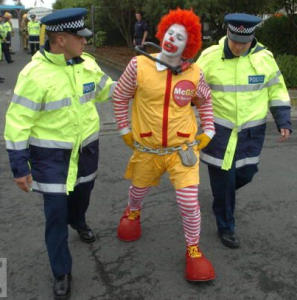 Mr. McDonald, it is the decree of this court that you be taken from this place and hanged for the crime of class-A sugar abuse.
I too am victim of weight gain. My favorite food in the whole wide world is a nice spicy curry. But it is loaded with so much ghee that there is every chance that each breath could very well be my last.
I have witnessed parents over here feed their offspring with so much sugar that it is a miracle that they don't just spontaneously combust. Everything is dealt with in sweets. You barter for peace with sweets, you barter for order with sweets, you barter for bed time with sweets, and you barter for sweets with sweets. A UAE Uncut made-up study suggests that in the average class of 30 children there is a total of only 16 teeth.
Sadly, none of what I have said can come true. You can't walk around the city banning McHardees and Kentucky Fried Gristle. First, business is business, and the point of a business is to make money, no other. Take the fast food establishments away and the treasury will be left with some very empty coffers. Secondly, if people want to inject their veins with lard and feast on an indeterminate puck of gristle sandwiched between two prosthetic pieces of so-called bread, then that is their God-given right, and who are we to stop them? If a parent wants to replace his or her child's blood with sugar then go ahead, I'm sure they will thank you for it when they attempt to squeeze their 78 inch waist into a plane's seat while hobbling with only one foot. Thirdly, you can't stop globalisation. If you try and oppress people's freedom then you end up with communism.
This is not the UAE's fault. They are just another country to join a long list of those wishing to improve their nations' health. But the ban culture is not the way to go. It starts with education in the classroom, and no cutesy crap either, and certainly no tip-toeing around the issue at hand. They need graphic imagery of someone having their foot amputated or a diseased kidney being fed to a dog to give them nightmares. Blood, gore, and the violent truth are the best medicines. Watch how much sugar they eat then. It's not propaganda if it's true.
So in summary, the banning of the Supersize cup is totally and utterly pointless. Solutions? None. But do what you want, trek to a pole, do a sky-dive, and live life to the fullest. The end result will be the same as someone who has spent their life gorging on deep fried chicken, but at least you'll go through the pearly gates with a smile, and both feet.