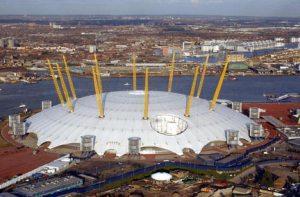 FOR SALE: One large tent, barely used. Seeks loving home where it won't be asked to do much.
UAE Uncut resurfaces its muddy head this week after another unscheduled sabbatical. Over the past few weeks there has been much going on in the Emirates, and only if you have been living in a cave will you not have heard that Dubai won the right to hold Expo 2020. The world, well, the four cities bidding, kept up with the mad voting system via that cornerstone of news, Twitter, and as Dubai was named the champion several thousand people from all over the world cheered in the same way that the English might if they were to win the World Cup. Mass hysteria on a curious scale, and then bizarrely all the schools were declared closed the following day.
Within moments of the news being announced, social media was awash with cheers and praise for the UAE, much of the lyrical waxing coming from those who seem to have no idea what the event actually means, or indeed even is.
Those with dollar signs in their eyes may want to think long and hard about what that means for them, as a quick buck for one means a quick buck for another…
Why don't we begin by explaining a little bit about what the Expo 2020 actually is, to spare some from the embarrassment should the subject arise with your friends. Dubai will be hosting a Universal Registered Exposition, not to be confused with a Universal Recognised Exposition. This means little. Every few years some countries wish to improve their image and host an event that usually lasts for about six months. These expositions are usually given themes, such as an Elvis theme, or mermaids. In Dubai's case, the theme is "Connecting Minds, Creating the Future", which I find vague enough to mean something halfway between nothing and something else.
Once the Bureau of International Expositions sit down to vote on the winner, said winner must build a building and pepper it with lots of things relating to the theme. Usually the structures built are temporary, with some notable exceptions; such as France's Eiffel Tower. London's Crystal Palace was supposed to be permanent, too. But it caught fire and burnt to the ground.
Anyway, Dubai is basically going to be spending billions on the whole thing and when you look at the rivals it's easy to understand how it won the bid. Sao Paulo gave it a good go, but I'd bet my left wedding vegetable that you've never heard of the other two places: Yekaterinburg and Izmir? That was as easy to predict as Spain winning a World Cup group comprising England, Andorra and Lichtenstein.
So what does it mean for the great city of Dubai to have been picked to host such a wonderful event? Go on, tell me. Because I sure as Hell can't work it out. Don't get me wrong, I totally understand that there will be plenty of builders, project managers, and plumbers required to put everything together, and that they will all be paid what will be in essence a normal wage depending on their nationality, but then what?
I have read the Expo 2020 website back to front, and all I keep reading are the words "Sustainability, Mobility, and Opportunity" over and over again. Where's the creating minds and connecting people part? There is a lot in there about recycling, and that instead of building the buildings with steel RSJ's and mortar they will use twigs and moss instead.
The plans sound a little mad. When it talks about "Mobility", it goes on to say that it is important that people can get around Dubai, and that new creative solutions are needed. I agree, but what has that got to do with the Expo? If you stop building pointless flyovers and ban the white trucks and Land Cruisers from the roads then we will all be able to get around much easier. The paragraph on "Sustainability" is just a load of eco-jargon that seems as pointless as some solar powered Christmas lights, and the "Opportunity" page just says that people will do business. So? People have always done business, and so long as we don't all stray into the evil grasp of Communism, then people will continue to do business.
All this blurb is just useless text, Expo or not Dubai will continue to build flyovers, it will continue to sustain itself with whatever it has at its disposal, and opportunities will exist for as long as there is money here. So why does Dubai need to spend a billion-gazillion Dirhams on a six-month event where people will be told with a grin that the future is inevitable? We know the future is inevitable. Tomorrow will happen, I can tell you that for free.
I want to make it clear that I am one the first to acknowledge how much Dubai has achieved in the last 42 years. I've seen the pictures of Sheikh Zayed Road surrounded by nothing but a barren sea of featureless desert, and although I feel uncomfortable addressing the labor issue, it has gone from rags to riches quicker than any country before it. So why does it need an Expo?
An American man with a bald head answered some rather dull questions on the matter and he seems to think that "Dubai will do well out of it". For the 1200 words printed from his interview, the only thing of note was that people would stay in hotels, and Dubai is best for finance and shopping. Great. So anyone wanting to make a special visit to Dubai for the Expo will have to spend a fortune on flights, an obscene amount on a hotel as the prices will go up especially, not understand what they're are supposed to do with the word "finance" when they're on holiday, and then go to Dubai Mall to shop for things they can't afford.
Oh, and then there's property. Always the key thing with Dubai. Apparently rents will go up because that's natural, and those who can afford to live in certain places will, and those who can't afford it won't. Same as usual.
Not that I want to see Dubai's Expo adventure fail, on the contrary, I owe a lot to the UAE and would very much like to see it prosper. But I just don't see the point. Any information you want about the world is available on the internet, apart from what will actually be in the Expo building, of course.
If they want people to go, then cut out the eco-jargon and nonsensical blub about finance and flyovers, and kit it out with lots of bars and lots of Sega Rally machines.