What is the most annoying thing in the world? Vevuzelas? Bluebottle flies? Kardashians? The answer is none of these; it is in fact the bureaucratic mentality that prevents anything from happening within a reasonable timeframe.
It seems that wherever you go, local councils and governments want to spend as long on any given project as possible, seemingly to do nothing more than justify their existence. Take for example a very British conundrum; do you have any idea how much red tape you need to tear through to get a new park bench installed? No, neither do I. But only because when I stumbled across the procedure online I fell asleep after page 74. It is horrendous. Why does it need to take so long to put a bench in a park? You buy a bench, engrave the brass plaque with the name of a locally renowned goose, and place it in situ. A bench needs planning permission. Why? Put it there, and if enough Guardian readers complain about it then pick it up and move it somewhere else.
This type of mindless bureaucracy, it seems, is a global pandemic. Even those whom reside in the most remote outback wastelands of Mongolia need permission to paint pots. Why can't those running the show just get things done? Why wait? Alex Salmond wants his vote on Scottish independence, why keep with him waiting until 2015 or whenever it is, just let him do it so we can all get back to work.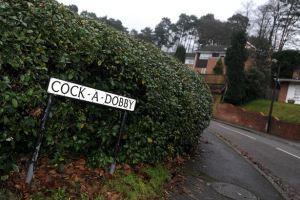 Cock-A-Dobby, Jumeriah Lake Towers, please.
It therefore came as no surprise to me yesterday that it is to take five years to rename all the roads in Dubai. Allow me to explain the situation: The road naming system in the UAE is, by its own admission, a joke. There are snippets of sense, such as the main motorways being given numbers like E11, E22, E66 and so on, and of course we have the big landmark roads like Shiekh Zayed Road which are easy to identify. But everything else is a mish-mash of incomprehensible balderdash.
In order to understand the incumbent numbering system you need a mind of such ability that you would be able to crucify Stephen Hawking on Countdown, in the same way that a ferret could outsmart Kim Karsdashian in a game of Battleships. It is all so dreadfully hateful.
Along with the numbers there are also roads named after Sheikhs and prominent Emiratis, and that is normal. It's no different from road names like Victoria Avenue, Kings Road, Albert Road, Elizabeth Street, and so on. But it can get confusing sometimes. If I'm navigating the Dubai traffic looking for Khaled Bin Khalifa Street, invariably I will get confused and end up on Khalifa Bin Khaled Street.
The new system means that every single road in Dubai is to be renamed, and in keeping with global tradition, the names are to reflect the local district and its history. Take the coastal area, Jumierah. Roads along the coast are to take their names from fish, famous boats, and an array of other nautical paraphernalia. Great, it will be like Portsmouth; Fish Street. Cod Cresent. HMS Ark Royal Avenue. Navy Mews.
The Trade Centre area is to be named after various currencies, which sounds fine, but there are only a finite amount of currencies in the world, so expansion of the Trade Centre would be halted should the limit be reached. Unless they build more roads off Dollar Drive, in which case they can raise the debt ceiling to whatever fictional level they like…
The thing is, this renaming programme is going to take five years, and for the life of me I can't fathom why. How hard can it be? You break the city up into zones, as they have done, and just go nuts. Honestly, if they were to get in touch with me then I could rename the whole city in a day. Just give me a copy of the Viz Profanisaurus and immunity from prosecution and before you know it you'll be driving through Uphill Gardens and Bell End, past Busty View and before you know it you'll be back home on Penistone Road.
Problem solved.