As I like to mention a lot of the time, I have lived in the UAE for a considerable while. Well, I like to think that nigh-on six years is a healthy crack. In that time I have, in all honesty, barely done anything. My former employment commanded that I work every weekend, and that prevented me from "doing something" interesting. Resultantly, I was only able to go out and drink my spare time away to the milieu ambience of atrocious hotel bands who couldn't find a key in a locksmith's and some overpaid Premier League footballers falling over on TV. It was an uninspiring existence.
I have worked continuously since the age of 15, and that meant that I also spent the vast majority of my weekends working and seemingly missing out on what life had to offer. But now life is different. Now I am a free agent, a man whose daily tasks extend to little more than stockpiling the kitchen with crisps. I am therefore unaware of what the world, and more specifically the UAE, has to offer.
So to find out what the life of Riley is really all about, I went to the latest installment of the Sandance franchise on the Palm Jumierah, which if you live on Mars, or in Milton Keynes, is off the coast of Dubai. The day didn't start well. Our party awoke the morning of the event with a collective headache that, if measured, would very likely shift the galaxy from its axis. No matter, with heavy heads and oscillating stomachs we hailed a taxi and set sail for Atlantis.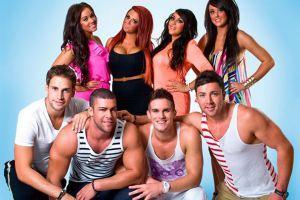 This is Dubai
A friend had suggested previously that to avoid the traffic, congestion, and damn-right hassle of everything involved in the journey, that we do a brunch at Saffron. My first worry was to fathom whether to use the term "brunch" as a noun or a verb. Do you "do" brunch or go for "a" brunch? Before I could get my head around it, we were whisked through to our table and pointed in the direction of wriggling crowd.
For those non-UAE readers, you must have heard about the famous Dubai brunches. You pay about 500 Dirhams, which is about 100 Disney Dollars, sorry, Euros, and it is all you can eat and drink within a specified timeframe. Inevitably, the halls are usually decked with quivering wrecks and dribbling drunks fairly quickly.
With my stomach going up and down like an elevator, I headed for the counter with the smallest gathering and set about piling my plate with two pieces of salami, some steamed rice, and a piece of bread that had very recently been on the floor. While negotiating through the masses I couldn't help but pass judgment on the clientele in attendance. It was like The Only Way Is Northumberland's Christmas party. There were fake tans, earrings the size of banquet tables, shirts with strategically undone buttons, cleavage, vajazzle, facial henna tattoos, the lot. Most seemed to be British.
We tackled our way through the – delicious – food and gave the alcohol a good go, well, my friends did. And before we knew it, it was time to mosey down the road to the beach concert. The sweaty walk helped as booze from the night before oozed gracelessly from every pore. Once the ladies in our group had had their handbags poked with a stick we were in. After six years of living in the UAE I was at my first ever Sandance. We made a beeline for a spot on the beach and got the ciders in, and it was then that it hit me: where was I?
No, really. If you were to be teleported into Sandance from anywhere else in the world then you would be unable to work out which part of the world you were in. One of my childhood friends came to visit the other week, and before his trip had asked a whole manner of reasonable questions about Dubai, such as "am I allowed to drink?" Or "is it ok to hold hands with my girlfriend?" I'm not surprised, we read in the British media all the time about how Dubai operates with an iron fist like the USSR did in the good old days of communism. But the penchant for modesty couldn't be further from the truth.
At the Sandance music extravaganza there were haircuts, bottoms, men in sleeveless vests (no, by the way, just no, it's an appalling style), puddles of what I assumed to be custard with carrots in them, and bikinis of such minute proportions that you could be forgiven for thinking it was a nudist colony. It was like the last days of Rome versus 1965.
Such wild hedonism was occasionally interrupted by some live performances. There were The Wailers, minus Bob Marley who had been signed off ill, Of Monsters And Men, whom I have never heard of before but were actually quite good, and then The Killers. Who were f****** brilliant.
All the while I was looking around at the sprightly youths that surrounded me, getting increasingly envious over their perfect complexions and very wealthy parents. It must be nice not having to worry about much. Living in the UAE, and Dubai of all places, not needing to work and being able to enjoy all it has to offer whenever you like. You have no idea what the real world is like. I wish I didn't need to go to work, and that I could go out every weekend and definitely get served, and that I could hang out by the beach all day.
…Hang on, wait a minute…