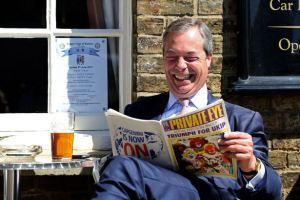 "Britishisation… Now there's a vote winner with the middle classes…"
Next week is the Islamic holiday of Eid Al Adha, and to mark the occasion everyone has been given some time off. This doesn't make too much difference to me since I currently spend most of my time sitting down watching TV and eating crisps.
Those who work in the public sector, such as teachers and government employees, have the entire week off. Coupled with the two weekends at either end, that is nine whole days. That is a superb result. However, those who work in the private sector will only get three working days off – Monday to Wednesday. This means that they will work Sunday and Thursday.
On the face of it that doesn't seem like such a big deal, but it does kind of underline the fact that things aren't very balanced. There are many things I admire about the UAE, chief of which is the Emiratisation project that is currently being championed. If such a thing were to ever happen in the UK then we would all be calling Nigel Farage the Prime Minister…
For those who may not be aware, Emiratisation is a drive to get more Emiratis working in the private sector. As you will all know, we expatriates are all here to earn a decent wage and to give something back to the former British protectorate. The UAE population is vastly outnumbered, making up only 10% of the overall population. As such the government is keen to ensure that their own people are not lost in the wilderness, and that they will lead the country to international glory.
Sadly, there does seem to be one small flaw in the plan. Gun against your head, if you had to choose between a cushty government job that paid a hansom salary and offered you shorter working hours and more time off, and a private sector job on a quarter of the money, longer hours, and less holiday, which would you take?
No prizes for answering correctly, I know what I would do. And why not? The drawback is that the parameters between the two sectors cannot be balanced. In the private sector, what you earn is a reflection of how well your company performs. If your business is tanking then your money and subsequent job security is in jeopardy. You are sheltered from this in the public sector to an extent.
You cannot place someone in a private firm and pay them a government-akin wage, unless it was some faceless multinational corporation. If you want to bring balance to the sectors, then conversely you cannot cut every government employee's wage by 75%; that would have a crippling effect on the economy. I presume.
If you want to devise a balance and make the private sector more appealing you are kind of stuck. The only thing that I can suggest is to keep the salaries as they are, but switch the holiday allowances around. Why not? Make the public servants work longer and those who work for private companies get more time off during special celebrations.
Of course, that wouldn't work either. Nothing works. Ultimately you just have to leave it be and hope that it all kind of sorts itself out in the end, like Tulisa's recent drug misdemeanour. But it does, at last, bring me to the point of today's missive: aviation warning lights.
Once a problem with no obvious fix is in situ, you are kind of stuck with it. One such problem is the luck of living in a tower block and there, right outside your window, is the red warning light that flashes morning, noon, and night, protecting you from stray helicopters and para-gliders.
Can you imagine how annoying that would be? Sitting in your living room watching TV and there, outside your window on the 50th floor, is a red beacon constantly flashing and lighting up your apartment like some dodgy Dutch nightclub. Not even Blitz-standard black-out curtains could stop the incessant red flashing.
Much like the disparity between the employment sectors, there is no solution for such a thing. Those warning lights are a legal requirement, and if a Hughes MD530F did pop in through your window during the middle of X Factor then you'd be up in arms wanting to know why there weren't any warning lights to remind the pilot.
In fact there it is; the epiphany! I think I have cracked the case and found a benefit of moving into the private sector: you won't be at home often enough to go insane with the constant flashing.