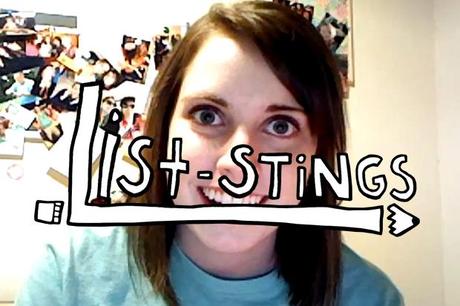 Even the strongest of us do it. We get on Facebook to respond to an invite to some party or to check up on the news from our friends, then suddenly, the overwhelming urge strikes you — the stalking urge. Now, you're deep into the Facebook rabbit hole, checking up on those exes, the ones that you probably should have un-friended the moment that the relationship went sour. We've all been there, friend, so we decided to make you a list of all the songs that you should listen to when flipping through pictures and status updates of an ex.
1. Every Breath You Take – The Police
After all, this is the quintessential track for all stalking, Facebook or otherwise. It's just subtle enough to be misconstrued as romantic and creepy enough to really bring home exactly what you're doing (which is being silly and looking at pictures of an ex).
2. No Children – The Mountain Goats
When Facebook stalking and ex, it's good to remind yourself of the bad times as well as the good times, and nothing says bad times quite like this Mountain Goats anthem of terrible relationships. Purge all that sadness with some good, unadulterated anger.
3. Dancing On My Own – Robyn
Lets be real, this song is the reason that you started down the stalking rabbit hole in the first place. Keep telling yourself that "you just came to say goodbye." I'm sure that it'll stick this time.
4. Knife – Grizzly Bear
After having a self-pity dance fest, it's time to cool down with a track that mournfully reminds you again just how bad that breakup was.
5. Youth – Daughter
Around the moment when you hit the first picture of your ex starring moonfaced at a new significant other, you'll likely need to stare blankly at the wall and think about how everyone is in love but you.
6. Best Thing I Never Had – Beyonce
Ha! Look at that picture — your ex looks so grossly hung-over and a little fat in that picture. Vindication!
7. Your Ex Lover is Dead – Stars
You will never have any trouble remember any ex-lovers names now thanks to Facebook. Thanks, Facebook, for making it impossible to get over anyone, ever.
8. People Ain't No Good – Nick Cave
You know who was especially no good, your ex. So, click on over to that friendship history page and think in your minds eye what sending a "valentine in blood" would feel like.
9. I Knew You Were Trouble – Taylor Swift
It's actually a scientific fact that listening to any Taylor Swift song will help you get over a relationship 5-times faster than if you were not listening to a Taylor Swift song. The more you know!
10. Bad Religion – Frank Ocean
If loving someone who will never love you back is a bad religion, then Facebook is your cathedral.
11. Glendora – Rilo Kiley
Ugh, you're probably saying to yourself, why do you make the same mistakes so many times. I guess we can all take comfort that even the mighty Jenny Lewis has the same problem.
12. Better Off – Haim
Never forget that you are so much better off now, and learning that your ex is still working as a barista in your hometown will remind you of that.
13. Love is Hell- Ryan Adams
There's literally no better song to sulk to than this Ryan Adams track. Honestly, this whole album would work — if you're still interested in sulking after this playlist ends, just throw that baby on.
14. Fuck and Run – Liz Phair
At a certain point, you stopped looking up exes and started looking up everyone you've ever had a fling with ever. That's really emotionally healthy of you. Good job.
15. Hood – Perfume Genius
The problem wasn't you in that relationship — the problem was that your ex was super immature.
16. A Crime – Sharon Van Etten
This is the exact song that needs to be playing when your defenses have finally worn down, and you're just drunk enough to send your ex a message that you'll immediately regret.