Faithful readers of UAE Uncut will know all too well that I am not the biggest fan of the iPhone. I hate how people chose to live and die by it. I hate how it has become the peripheral human organ and that without it we would all foam at the mouth and die. I loath those who walk around wearing Apple T-Shirts as if they are the Barmy Army on their way to watch the Ashes. I cannot stand how every 6-8 minutes a new version is released that is differentiated from its predecessor only by the color of the on/off button. But most of all I despise how it consumes everyday life. You forever see groups of people in coffee shops huddled around a table simply WhatsApping each other or Tweeting friends who aren't there. Society is dead, killed by the poisoned Apple.
That said, can I let you in on a little secret? They are quite cool and one day I will probably end up with one. But for now I am happy with my Blackberry Curve, which is about three years old and has not let me down once. Why do I love it so much? Well, for a smart phone it is simple to use, functional, it is as tough as nails, – and considering how many times I have dropped it, that is important – and finally it is not garish.
I don't like brash, gaudy things, I like simplicity. Take my choice of cars for example. I love cars, but there are many things within a car that I do not need, therefore I will not spend money on having them. I have never used a SatNav in my life since I don't see the need; I don't really need electric windows, either. I like my cars to look simple, that's why my favorite cars are generally older, like a MKII VW Scirocco, a Ford Capri, Peugeot 205GTi and so on. Give me a Ferrari 458 or a Rolls Royce Phantom and I will scratch my head and ask why it is so?
The same is true of my home, and where I choose to stay when I am away. My hotel choice is always based on how simple and how cleverly decorated it is; I cannot stand tacky hotels. Once, many years ago in Brighton, I was looking for a place to stay the night and stumbled across one hotel that offered themed rooms. All that was left was the Elvis room, but I didn't fancy that. It was horrendous in the extreme. Plus, the Maitre D wouldn't have looked out of place presenting Top of the Pops in the 1970's…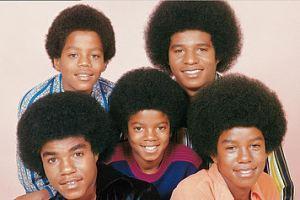 I only know one of them! And they're getting their own hotel!?
Neatly, this brings me onto the point of today's missive; how many millions of Dirhams would I have to be paid to stay in the Jackson Family Hotel and Resort that has been proposed for Yas Island? The answer, thus far, is infinite Dirhams.
Forgive me, and I'm only being honest here, but the UAE does have a tendency to be a bit tacky. You only have to walk around Home Centre or Homes R Us during one of their seemingly never-ending 70% off sales to see the kind of monstrosities that people buy. Purple velour cushions, gold painted wingback armchairs, chesterfield sofas; it's all so hateful.
But put the shopping basket down for a moment and step outside. Do you see Ferrari World? Is there anything more self-indulgent than or as horrific as that? What about the homage to the Elizabeth Tower of The Palace of Westminster (incorrectly referred to as Big Ben) on Sheikh Zayed Road? My, there's even a fake Alp in Mall of the Emirates.
It's on a smaller level too, what possible use is vending machine that pays out gold? If you are city trader who understands how the value of gold fluctuates then you will invest your money correctly and accordingly. You wouldn't see Gordon Gekko stroll up to the gold ATM in Dubai Mall and take out a wedge of bullion, would you?
When things are done properly over here they are incredible. For all its pointlessness, the Burj Khalifa is impressive. The Anatara Resort on SirBaniyasIsland in the Western region is also nicely done; but a Jackson 5 and Janet and Michael and Michael's kids themed resort? How can this go well?
I'm trying to think of the themes; and I can't pen them all down without offending everyone. I mean, in their original guise they were a revolutionary and very popular band, but there was so much better out there at the time; The Beatles? The Rolling Stones? That's like living in a world where Aston Martin, Ferrari, and Lamborghini make the best super-cars, and then Rover come along and open a theme park. Why? They weren't the best, and in all honesty, were a little bit of a joke.
Besides, Michael's personal foibles were a global scandal, how can that then be used as the face of a welcoming family resort? What next, Jimmy Saville Land? The Jackson's were popular, I'm not denying that, but Michael was always the one who epitomised them. I just had to check Wikipedia for the names of the others; and if I don't know who Tito Jackson is then how will the expected clientele know? Are there enough Jackson family fans in the UAE to justify its construction?
I doubt it. But I'm sure that just like when people un-necessarily upgrade their iPhones, whether it is needed or not, it will happen anyway. I knew society was dead, but sense too?