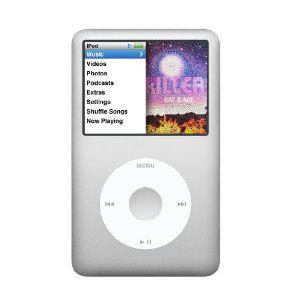 Anyone who knows me, knows I love music. It's always been a big part of my life. I worked in the music industry for nearly 20 years. And for a long time, I resisted getting an iPod. What was I thinking?
I finally got one in 2008. And I think it is one of man's greatest inventions. The music you want to listen to, right at your fingertips. I caught the "iPod disease" right after I got it. It made me go out and get a lot of the music I didn't own, first through iTunes, but then I went out bought a whole slew of used CDs from different places. The two best I can recommend is Academy Records in Manhattan (on W. 18th Street), and Amazon.com. I've picked up some great stuff from Amazon for as low as one cent (with a $2.99 shipping charge).
I'm now on my third iPod, and I got the 160 GB Classic silver one in October 2010. I've been filling it up, and a couple of months ago I reached the 15,000 mark in total songs. (This iPod can hold at least 20,000 songs when it reaches its capacity.) My musical tastes are all over the map. Lots of classic rock, classic jazz, soundtracks, and stuff from the 60s, 70s and 80s. (Although I have no rap songs in it. Never acquired a taste for it.) The Beatles have the most songs in my iPod, with 433.
About 95% of the time I like to put my iPod on shuffle and just see what pops up. That's always fun. Last year I realized there were so many songs that I put in the iPod that had never played before on it, so I set up a section called "Never Before Played" and stuck them in there. I would put the new CDs I would get in there as soon as I downloaded them in.
A month ago, I still had about 1600 or so songs that had never played. (I froze the total number of songs I had at 15,374.) So I decided to play them all at least once. So I went about listening to them all. I carefully went through my iTunes library and found every song not played. Even yesterday I found three songs that somehow fell through the cracks and wasn't in the list. (For individual artists that still had many songs left, I played them in blocks. That was fun. But the shuffle method was the preferred method, even in those blocks.) And I also wondered, what song would be the last one played?
Late last night, I was down to the last 25. And shortly before midnight, "Nature Boy" by George Benson was the very last song in my iPod that had never been played, and I was finally done. (BTW, the first song I ever played on my first iPod was "One Way Out" by The Allman Brothers back in late 2008. On this iPod, "Aqualung" by Jethro Tull was first in 2010.)
Now as I write this, my iPod is on (shuffling the entire catalog, of course). I love the fact that anything from Steely Dan to Chet Atkins, or Bob Marley to John Lee Hooker can pop up at any time. And I will be adding more music to the collection, until at least I fill up this iPod.
The iPod is a beautiful thing. Thank you, Steve Jobs, wherever you are.