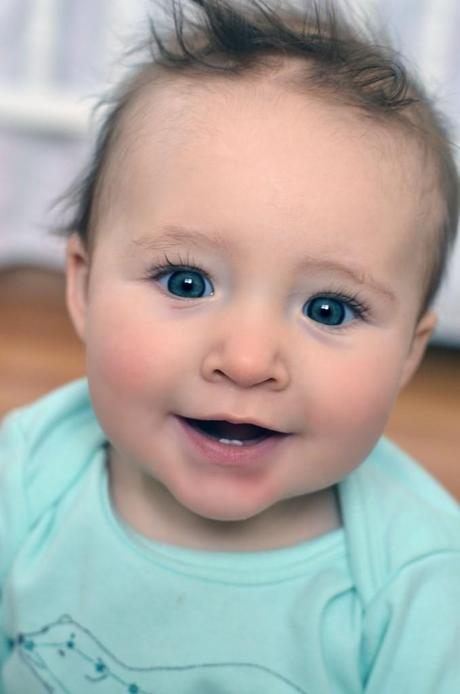 "a portrait of my daughter, once a week, every week, in 2014″
This is my first time participating in this community, and I'm glad to be joining them. Thanks to the ever lovely Jodi for inspiring us all…
I don't know how it's happened, but suddenly, we're on the short end of the stick. Lucy will only be an infant for a little less than six months. Toddlerhood will soon be upon us! And so, I'm learning to slow down and savor the little moments of her infancy. Moments like this:
Lucy sat between my legs as we threw that squeaky green ball for Margot on Tuesday night. As the dog bounded across the living room, Lucy's eyes grew wide. I clapped in praise when Margot brought the ball back….which Lucy found hilarious. She threw her head back and laughed. Again and again. I couldn't stop clapping. She couldn't stop laughing. And I thought, "this is the best part of life…watching your child experience such unchecked joy."
And then there was Monday. We celebrated her grandmother's birthday (which meant a houseful of aunts, uncles, cousins, and good food). Lucy didn't mind being passed from person to person, each of them loving her typical "Lucy" interactions (wide smiles, bites on the nose, scratches on the face). We let her rest, stomach down, on the carpet, and she made valiant efforts to push off and crawl. We all went home happy and tired. I already know she's going to be an extroverted child (just like her papa).
But perhaps my favorite moment this week? Watching Lucy's delight when Papa brings her into our bedroom. Usually, Ryan lets me sleep an extra thirty to sixty minutes in the morning because I still wake up at night to feed our girl. So when it's finally time for me to wake from my beauty sleep, Ryan brings Lucy into our room. The moment our eyes meet, her face lights up, and she flails her arms up and down in excitement. How perfect to be loved with such unabashed abandon.
Monet
Anecdotes and Apple Cores