Guest Post by Kristy Ramirez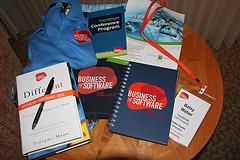 (Photo credit: betsyweber)
One of the biggest advantages to come from the advent of the internet is the ability small business owners now have in researching small business advice  for any subject under the sun.
If you treat the information that is out there with an educated caution you will find the answer to what you are looking for, especially if you are looking for advice for small business entrepreneurs on what to do at various stages of their development.
Here are 15 websites you will find hard to beat as you seek information on a variety of issues on how best to handle a plethora of situations in your new small business:
Smart Company
This is a site that keeps you up to date on the latest in business news, both local and from around the world, as well as keeping you up to speed on business trends. You are able to access expert advice on social media marketing, legal advice, in fact almost anything any small business owner would want to know.
Business Enterprise Centres (BEC)
A particularly useful website that tells you where your closest Business Enterprise Centre is located if you want to drop in for a chat regarding your small business. It is one of the most widespread small business oriented non-profit organisations in Australia that is not owned by any particular commercial organisation thereby ensuring unbiased business advice on all kinds of issues.
Business.gov.au
- An easy and convenient way to access all types of government information. Especially the documentation and services that are available to small business operators. A great resource of small business advice for those planning, starting or growing their businesses.
Dynamic Business
A business news site that offers forums, franchising news, cash flow advice and anything else a small business might want to know about.
StartupSmart
For anybody starting a small business this site can point you in the right direction and kept you posted on the latest business news items.
MySmallBusiness
This is a Sydney Morning Herald website dedicated to small business growth in Australia. It has loads of news and expert advice on all small business matters.
FlyingSolo
- A fast growing small business website that has nearly 40,000 members. This site has a very active forum that covers a large range of business interests.
Small Business Australia
An Australian government web site that takes you to all the relevant government sites that you may need to help your business grow and prosper.
MyFuture
A primarily career information website that contains the above page with invaluable information on where to go in all states and territories of Australia when starting a small business.
Small Business(HQ)
A site primarily concerned with giving small business advice on how to go about selling.
Action Coach
Much like a mentoring site that offers a coaching service to small business operators.
Australian Small Business Blog
A forum where small business owners can talk with each other exchanging and floating ideas for the betterment of their businesses.
NETT Better Business Advice
A reasonably new site that offers a lot in the way of maximising SEO ratings for your small business website as well as giving general technological and business advice to start up businesses.
Small Business Works
A site mainly concerned with offering advice on registering and structuring new businesses.
The Small Business Advisory Centre
This site has been operating since 1992 and is designed to help small business owners in starting up, as well as purchasing an existing business.
There are many choices when it comes to getting advice on how best to operate your small business. From registration and the start up stage, obtaining finance, how to manage cash flow, legal advice, taxation alerts, employment, government requirements etc. right through to how to go about selling what you have created. It can be quite a minefield for the unwary but whatever your query you will find an answer among the above web sites available online at any time you happen to be working on your business.
Whatever stage your own small business is in, the proper professional advice is always there. Many a small business operator has had to stand by and see his or her enterprise fall down around them because of a wrong decision being made. Experience in small business can help you avoid making such a mistake and it is that sort of experience you can tap into with some of these websites. If in any doubt always seek advice from another.
You don't always have to heed the advice given but at least you will know what the dangers could be if you took certain action. The future of small business in Australia is sound as long as you are aware of the pitfalls, and the above websites can help make journey easier and more enjoyable.
Kristy RamirezVisit My Website / View My Other Posts
Kristy Ramirez is an online entrepreneur and freelance writer for Life Insurance Finder where you can read about all about key person risk and whether its something your small business needs to consider.